IESE SEP New York-Miami Starts
Program geared for executives based in North America
22/10/2012 New York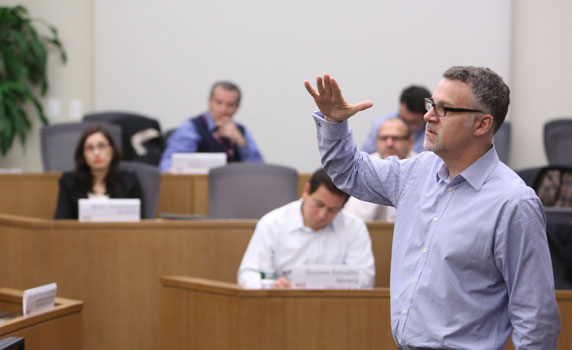 This week one of IESE's premier programs for executives based in North America kicks off, the Senior Executive Program New York-Miami.
The program consists of four 5-day modules - two held at IESE's center in mid-town Manhattan and two in Miami. The SEP provides a unique opportunity to network with other senior-levels business leaders, while strengthening leadership skills and deepening knowledge about the global business enviornment. Participants who successfully complete the program earn the SEP diploma, which is a highly valued credential in the corporate world.

The academic directors of the SEP New York-Miami are IESE Prof. Luis Cabral and Prof. Javier Estrada. Other professors teaching on the program include Marta Elvira, Paddy Miller, Pankaj Ghemawat, Pinar Ozcan, Alejandro Lago, Juan Roure, Maximilian Torres, Sandra Seiber, Pedro Videla, Eric Weber and Josep Valor.

All of the participating faculty members are experts in their respective fields and hold degrees from top institutions such as MIT, Stanford, Berkeley and Harvard.

The venues of Miami and New York provide excellent vantage points for exploring international business dynamics. Miami is the world's main gateway to Latin America and one of the most culturally diverse cities in the U.S. The New York City modules, meanwhile, provide the chance to gain a first-hand view of the center of banking, finance and communication in the United States and home to the New York Stock Exchange, the largest in the world by dollar volume.

More information on the program.