Chinese Automotive Industry Study by IESE, CEIBS & CEDARS
Agreement to produce the second edition of the publication
05/05/2014 Barcelona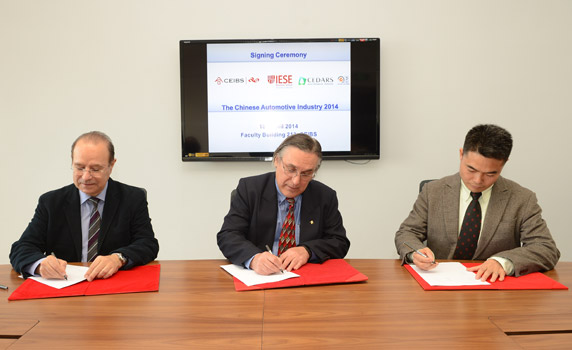 IESE professor Jaume Ribera, CEIBS professor Tom Callarman and Clark Cheng, managing director of Cedar International (Hong Kong) Limited, during a signing ceremony to mark the launch.
April 10, 2014. Shanghai – IESE, CEIBS and CEDARS have joined forces to launch the research publication "The Chinese Automotive Industry in 2014."This is the second edition of the publication, and it will be produced as a result of the collaboration between the three parties.

The study will include an analysis of the Chinese automotive industry, including both the Chinese companies and the foreign ones operating in the country. This second publication will be more comprehensive since it will also include a study about the industry suppliers.

The study's main areas of focus will be: the 'Development of China's Automotive Industry,' 'Development of Chinese Branded Automobiles,' 'Globalization of China's Automotive Industry,' 'Export of Chinese Automobiles,' a brief introduction to the auto parts industry in China, 'The Future of Electric Vehicles in China' and 'The Global Role of Chinese e-Vehicle Manufacturers.'

As one of the main conclusions, the first study looked at the increased quality of the cars produced in China, and how it is drawing closer to the standards of the industry in the West. It also explained the regional differences of the legal framework and discussed overproduction.
Further information about the first edition:

IESE Insight
CEIBS (pdf)