Balancing Act
MBA Women in Business Conference looks at how to define success
26/01/2018 Barcelona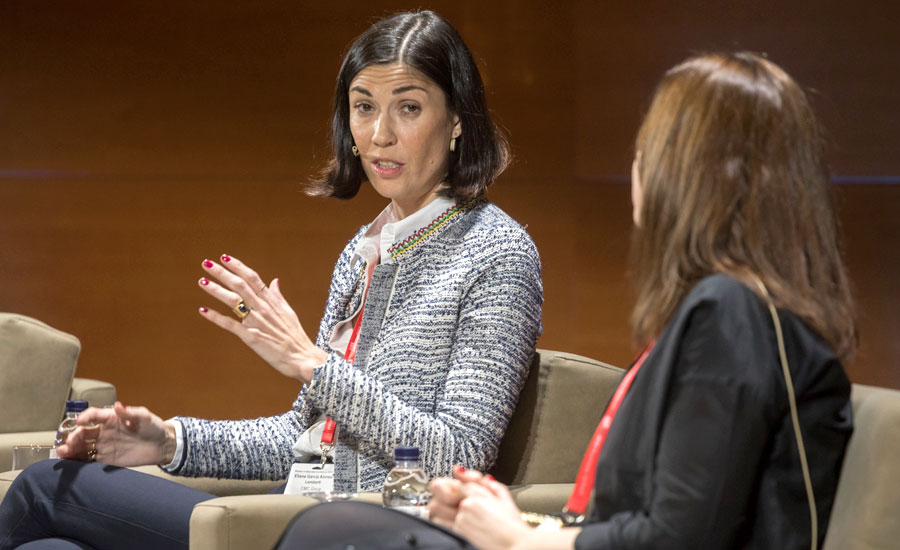 Eliana García Alonso-Lamberti and Blanca López discuss the work-life balance | Photo: Roger Rovira
Decades after the work-life balance became part of the conversation on professional success, are we any closer to finding equilibrium? Has technology tipped the scales? And what does success even mean?
The 3rd annual student-run Women in Business Conference took place in Barcelona recently under the theme The Power of Balance: Defining and Owning Your Own Success. The conference brought together business women working in a range of sectors – from automotive and finance, to energy and technology – and in companies of all sizes. They discussed ways to balance work and personal commitments, and how to find and define success.
Here's a handful of takeaways from the day:
It's not just about motherhood. "The work-life balance is everyone's issue," said Isabel Abellán Serna, head of institutional sales at Banco Sabadell. While much of the discussion inevitably centers around the demands of motherhood, the conversation must encompass all interests outside of work – whether that's children or charity or a hobby – regardless of gender.


Company culture matters. Companies more adverse to work-life balance often have deeply ingrained cultures that prize clocking long hours. Some simple indications that a company is different: employees who generally go home on time, and formal personnel policies that allow for part-time work, work from home, and other flexible arrangements, which technology enables. Another indicator can be the gender mix of employees, though aggregate figures can mislead: It may be true that half of employees are women, but how about management? And are women in the core businesses?


Bosses matter, too. The right boss – even in the most inflexible companies – may make balance possible. A number of the speakers stressed the need to lose the fear of talking about the work-life balance with management. "Nobody is surprised when you raise these kinds of topics with your boss," said Eliana García Alonso-Lamberti, investment director at CMC Group. "You need to lose the fear of facing these topics."


Liking your job is key. Competing demands on time become much easier to handle if you truly like what you do and feel that your work has purpose. "You have to stop and think about what you're doing and what you want," said Mireia Ribot of Gas Natural Fenosa. "A moment arrives when you ask yourself does what I'm doing have real meaning?" said Isabel Buil, director of reputation for Affinity Petcare and head of its foundation.


Resilience is required. Even in the best of circumstances, the work-life balance can be tough to achieve, especially for women with young children. Having a supportive partner is crucial, as is the knowledge that it normally gets easier over time. Speakers stressed the need to cede control of some things at home and at work. "Don't think that you have to be perfect," said Marta Ortega, senior relationship manager at Commerzbank.


Seize opportunities. Concern over demands on their personal lives may make some people – especially women – hesitant to take on additional responsibilities at work or go into certain sectors such as finance and consulting. Laura Ros, general director of Volkswagen Spain, encouraged women to seize opportunities, even if they weren't 100% sure it was the right time or they had the right profile. "Don't wait for someone to ask you to do something. Raise your hand. Participate," she said.


Speak up and stand your ground. For a wide variety of reasons, many times we're hesitant to stand our ground when it comes time to respecting the work-life balance. But you have to be firm with co-workers, clients and others. This is where technology is tricky, since it allows for flexibility but also for 24/7 connectedness. "In my case it's learning to say no," said Blanca López, who founded Belles Maisons. "Nothing is urgent. We've created this culture of urgency."


Education is freedom. Continuous education – throughout your career – gives you greater freedom and flexibility to chart your own course. It's crucial in all industries, but particularly those such as technology that are constantly changing. "You have to be learning all the time," said Raquel Tejedor, account executive at Microsoft. Beyond formal courses, education can take lots of forms – from receiving industry newsletters to listening to TED Talks.


Define success the way you want. Time and again, the speakers stressed that there is no single definition of success. "For me, absolutely, it's not about a position. It's a combination of my personal and professional life," said Anna Mialet Rigau of CaixaBank. And that definition changes over time. "For me success has evolved to this concept of purpose in life," said Priscilla Lavoie, founder and CEO of Bida. "It's about what I am really going to leave behind."