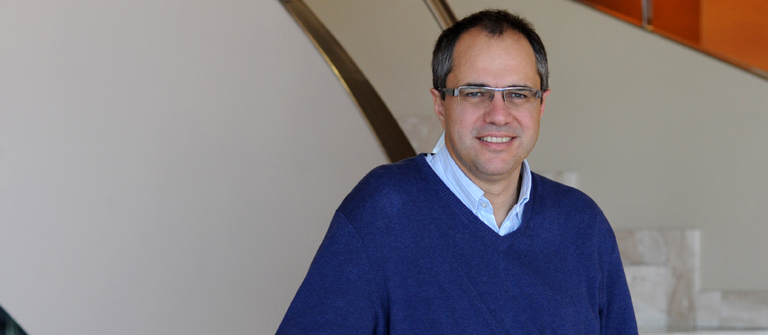 PROF. ANTONIO DÁVILA
Holder of the Chair
Antonio Dávila, is Professor of Entrepreneurship, Accounting and Control, holder of the SEAT Chair of Innovation and also of the Alcatel-Lucent Chair of Management of Technology.
From 1999 to 2006, he was part of the faculty at Stanford University's Graduate School of Business, where he still teaches periodically.
Prof. Dávila earned his Ph.D. from Harvard Business School and his MBA from IESE. His teaching and research interests focus on management systems in entrepreneurial firms, new product development and innovation management, and performance measurement.
In 2005, he was awarded IESE's Research Excellence Award. He was also granted the Ramón y Cajal Scholarship awarded by the Spanish government (2004). Other prizes and awards he has received include the Carlos Cubillo Valverde Accounting Research Paper Award (2003), the Management Accounting Section of the American Accounting Association Best Dissertation Runner-Up Award (1999) and the McKinsey Best Paper Award from the Strategic Management Society (1998).
Prof. Dávila is co-author of Making Innovation Work: How to Manage It, Measure It, and Profit from It (2006) and Performance Measurement and Management Control Systems to Implement Strategy (2000). He has also edited a third book, The Creative Enterprise (2007).
He has contributed several book chapters and published various research articles in academic journals including The Accounting Review, Accounting Organizations and Society, Journal of Accounting and Economics, Research Policy, and Harvard Business Review.
Prof. Dávila is a prolific author of cases. He has developed teaching cases with companies such as Checkpoint, Logitech, Siebel Systems, CitiBank and Salesforce.com. Prof. Dávila has been invited to give presentations on accounting and control systems at, among others, the AAA Management Accounting Section Meeting, the Management Accounting Conference, the Strategic Management Society Meeting, and the European Accounting Meeting.
He is a member of the editorial boards of Accounting, Organizations and Society, The Journal of Management Accounting Research and Advances in Management Accounting.
His publications can be viewed here.
Contact
Prof. Antonio Dávila