EUROPE'S 500 CONFERENCIA AND AWARD CEREMONY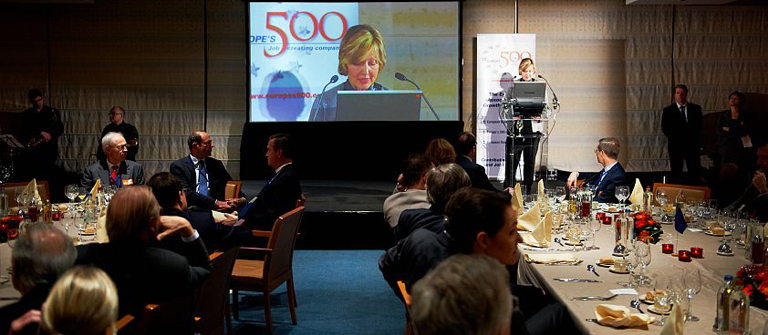 About
Each year Europe's 500 and IESE Business School publish the list of the top growth companies in Europe and organize their annual conference for the European growth entrepreneurs.
About Europe's 500
Europe's 500, founded 1996, is an European non-profit membership and networking organization for growth entrepreneurs dedicated to promoting entrepreneurship and growth in Europe. It represents more than 3000 growth entrepreneurs in Europe who have been listed and awarded at least once under the list of the Top 500 Growth Entrepreneurs in Europe.
Europe's 500 wants to contribute to an environment more favorable to entrepreneurship by developing initiatives in favor for growth and is looking for a dialogue with the EU institutions. It thereby contributes to growth and job creation in Europe.
About IESE Business School
IESE Business School, is consistently ranked among the world's leading business schools. Highly international, the school is committed to the education and development of responsible business leaders worldwide. It offers high caliber degree and executive education programmes, and conducts rigorous research initiatives that are global in scope.
In addition to world class campuses in Barcelona and Madrid, the school has a centre in New York City, Munich and Sao Paulo. It also delivers programmes at numerous other locations, including Miami, Dubai and Shanghai.
Contact
Susanna Minguell
IESE Business School

+34 93 253 42 00
Av. Pearson 21
08034 Barcelona
Nominate a company for the Europe's 500 Award 
Send us an email to Europe500@iese.edu to nominate a company