Go

.

We're back in the classroom
We're back on campus with renewed strength and fresh projects. Welcome!
Exact starting dates will depend on the program, and our return will follow government recommendations and depend on the course of the pandemic.
How new classes will work
We've prepared our spaces so that participants who are on campus and those who continue to study remotely can enjoy a collaborative, fluid and interactive experience.
Here's how classes will go in this new phase: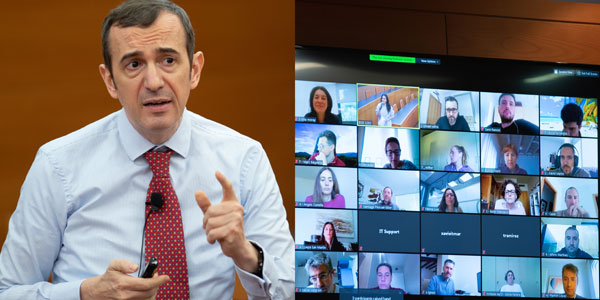 • Professors will deliver class from the classroom, together with those participants who can attend in-person classes.
• Participants who connect remotely can follow the discussions, blackboards, screens and any other materials used through the Zoom platform.
• Cameras, screens, speakers and microphones have been installed so that professors as well as participants in the classroom can interact with peers at home in real time and with maximum fluidity.
• All boards have been covered in black vinyl to make them easier to read in digital formats.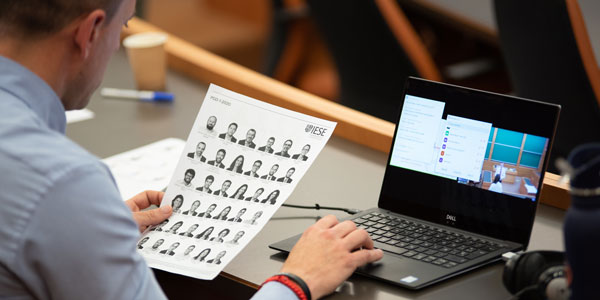 • Participants in the classroom should bring a tablet, laptop or mobile phone to be able to transmit audio with remote students.
• Every on-campus participant will receive headphones to communicate with peers at home. They will be used by one student and cannot be shared.
• A technical support team will be present in every classroom to guarantee the smooth functioning of each session and to handle any unexpected incidents or needs of participants.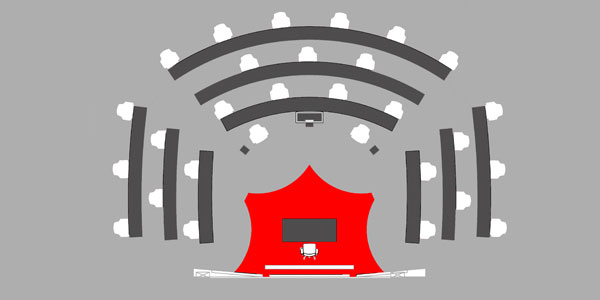 • To guarantee distance between people, only seats which can be occupied will be left in classrooms.
• On-campus participants must wear masks during class as a security measure.
• Professors will not wear masks in order to facilitate speaking, but they will move within a limited area in the classroom to maintain more than 2 meters of distance.
• All participants will receive detailed instructions to prepare for their sessions before their program starts.
Frequently Asked Questions
That depends on your country's travel policies and how easy it is to return. If you prefer, you can finish the 2019-20 academic year online. At IESE, we're offering all of our programs online, in their entirety, as long as necessary.
If you've been discharged and have no symptoms, you can return to campus. To access the campus, you'll have to fill out the health questionnaire and present the results of the serological test.
At IESE, we've enforced stringent hygiene and preventative measures to minimize any risk of contagion to the greatest extent possible. All people who enter our campus must have passed serological tests, and we're reducing room occupancies to 30% in all our spaces. If you'd like to come, you must request a medical certificate. If you'd prefer to stay at home, you're welcome to continue with your program online.
In this first phase, we recommend continuing to organize team meetings online. We're studying the adaptation of some open spaces for the purposes of facilitating teamwork.
With the start of the 2020-21 academic year, IESE is restoring cafeteria services for both employees and participants, always maintaining social distance and limiting capacity.
We've instituted a medical protocol to care for people who become sick while on campus. The priority is to quickly attend to those who are ill and protect the health of their classmates. You can read the protocol in the protocols section.
In this case, your program director will contact you to inform you of your program's status, specifically whether it will continue online or be postponed while we offer you additional content.
Personal/medical information collected will not be saved. The only information that will be kept is the aggregate data essential to measuring the efficacy of measures taken by the school.
The legal basis for collecting personal data lies in IESE's legal obligation to guarantee the health and safety of the people working for the institution in all aspects related to their work [Articles 6.1.c), 9.2.b) and h), and 9.3, RGPD and 8 LOPDGDD, based on Law 31/1995, Nov. 8, on Prevention of Labor Risks]. This legal basis can be understood to have a wide reach, taking into account that a large number of people who are not employees (students and visitors) use IESE's facilities, posing a risk of infection for employees because of the frequent contact with them.
Due to current travel restrictions in many countries, most international modules have been postponed. But we plan to resume them as soon as international travel makes that feasible. Your program director will contact you to give you more information.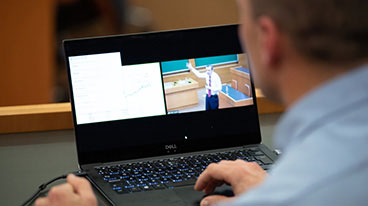 New online programs, just in time
The coronavirus crisis has helped inspire us to innovate and improve our online methodologies. We've developed new materials and programs that respond to the new situations and challenges our managers and businesses are facing.
Below you'll find the new programs, which have been added to the online program portfolio.
COVID-19 response leaders