2nd Real Estate Industry Meeting
< Back
MBA
Executive MBA
Executive Education
Industry Specific Programs

Healthcare Management Program
IX Leadership Program for Public Sector Management
III Strategic Management and Social Leadership Program

Industry Meetings
Custom Programs
International Faculty Program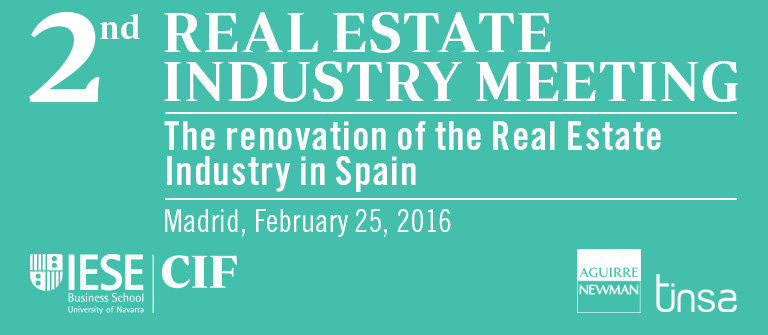 Introduction
Introduction
This is a good moment for the real estate sector. The recession has passed, and there are signs of recovery in all areas. We now have the responsibility to not only use the possibilities the markets are providing to us, but at the same time, to also contribute to a sustainable recovery.
People need new housing, we can see it in the many areas already being taken up by new real estate developments. But clients are much more demanding and their behavior are different from the past. Companies must adapt to be more efficient and sustainable.
Rental demand is growing much more than rental supply, which face increasing land price and problems around social housing park. A new business approach is necessary, supported by Public Administration, to satisfy this growing demand.
Investment markets raised tertiary real estate prices, dropping yields and anticipating a significant rise in rent and occupation. Does this mean we are at the opportune moment of a sustainable recovery or is it a mere effect of liquidity abundance?
The dynamics of real estate sector are affected by people´s changing habits caused by recent technological progress. For example, more people working from home, online purchases, etc. definitely will affect real estate products, their use and profitability, as well as the configuration of cities.
We have a lot of opportunities in front of us, as well as many uncertainties. How to identify these opportunities? How to be ready?
Contact 
IESE Industry Meetings
Lourdes Bosch
Date and Venue
February 25, 2016
IESE Madrid
Camino del Cerro del Águila, 3
28023 Madrid
Language
The conference languages are English and Spanish. Simultaneous translation will be provided into both languages.