17th Fashion and Luxury Goods Industry Meeting
< Back
MBA
Executive MBA
Executive Education
Industry Specific Programs

IX Leadership Program for Public Sector Management
III Strategic Management and Social Leadership Program

Industry Meetings
Custom Programs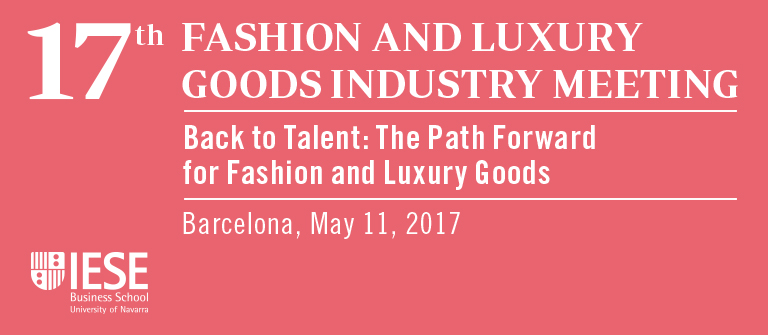 Main Themes
Show me the Money! Global perspective on the evolution of the industry
This panel, featuring experts such as Luca Solca (Paribas), Private Equity and corporate leaders, will discuss the current state of the industry and key challenges ahead.
The Talent panel
How has the role of talent changed in the industry? What are the companies doing to attract and nurture it? What can be done to make FLG companies the best companies to work for? This discussion will involve top HR executives from global fashion and luxury goods companies.

Retail Talent
This panel will feature global experts in fashion and luxury goods retailing, and focus on the challenges they face, with a special focus on the role and challenges of customer service.
Digital Talent
Featuring top executives in fashion tech, this panel will explore the challenges of scaling up global startups. Also we will consider the challenges traditional companies face in going digital.
Generation Z and Beyond
Fashion companies thrive on their ability to lead the evolution of taste through design and/or quickly interpret and respond changing trends. With top executives and marketers we will consider the mix of demographic and identity changes which will affect consumption in the future.
Contact 
IESE Industry Meetings
M. Helena Andreu
Date and Venue
May 11, 2017
IESE Barcelona
North Campus
C/Arnús i Garí, 3-7
08034 Barcelona
Spain
Language
The conference language is English. Simultaneous interpreting will be provided into Spanish.