3rd Chief Financial Officers Meeting
< Back
MBA
Executive MBA
Executive Education
Industry Meetings
Custom Programs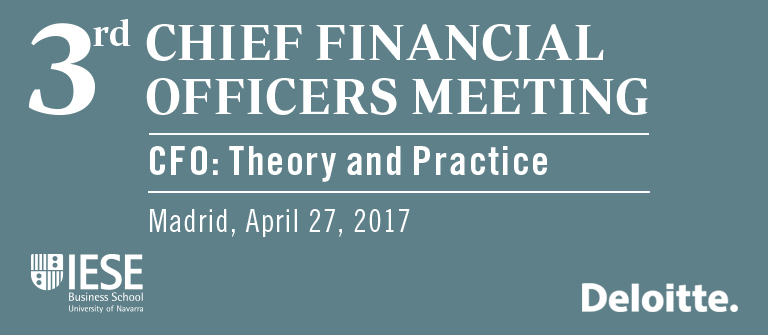 Main Themes
The Economic and Financial Context after Brexit and Its Impact on Companies
Introductory or panel session on the economic situation in Spain, Europe and the world.
The Transmission of European Monetary Policy and Implications for CFOs
The impact of ECB monetary policies on companies. Through loans, the purchase of corporate bonds, financing with non-banking institutions. The success of these policies. Expectations. The impact on interest rates. The ECB agenda. How companies should behave in an environment with negative interest rates. How they should prepare and operate. The risks and interest rates they should accept.
Corporate Governance. Shareholding Structure and Financial Decision-Making
This panel will discuss general corporative governance topics, specifically:
Topics related to shareholder representation (proxy voting), board remuneration, passive/active shareholders, shareholder activism.
The role of funds in corporate governance. Cross-holdings.
Financial Models
The European private placement market: a competitive alternative for long-term corporate financing.
The European private placement market: recent market developments.
The European private placement market: Euro PP vs. Schuldschein vs. US PP (cross-border).
Comparison of the Alternative Fixed-Income Market (MARF) and the European private placement market
The CFO's role in Digital Transformation
CFOs play an essential part in the corporate digital transformation process: they must understand the challenges, opportunities and risks of the digital environment to take joint lead in defining and implementing the business models that will enable their company to get the most out of the new digital era (blockchains, big data, analytics, mobility, the Internet of Things, cloud computing, social media and cybersecurity). CFOs have learned that going digital creates value. Therefore, given that CFOs are responsible for creating value for shareholders, it is only logical for them to be considered one of the chief leaders in the process of adopting new digital business models by actively participating as strategists or catalysts of the transformation and understanding the real application technological advances and the impact they have on business to be able to profit from the new opportunities they provide.
Financial Management and Talent Management
Financial functions and responsibility call for increasingly different profiles. Talent management is a major challenge in financial management departments.
The changing profiles and skills required to perform the job of the CFO of the future.
Digital finance: technology's impact on people.
Creating loyalty and making the job of CFO more attractive to talent.
Contact
Lourdes Bosch
IESE Industry Meetings
Date and Venue
April 27, 2017
IESE Madrid
Camino del Cerro del Águila, 3
28023 Madrid
Language
The conference languages are English and Spanish. Simultaneous translation will be provided into both languages.