The 1st IESE-LUISS Conference on Responsibility, Sustainability and Social Entrepreneurship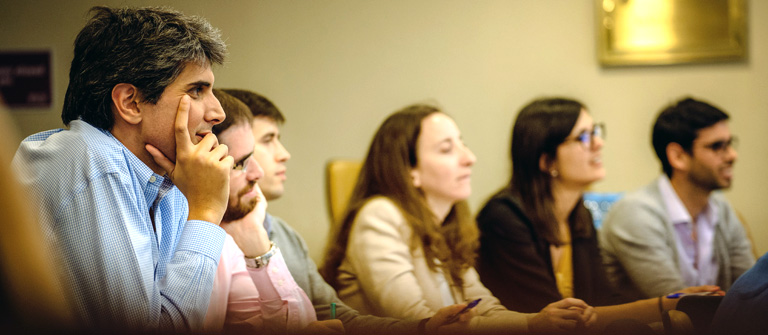 Provisional Conference Program
Hybrid organizations: walking at the edge of economic performance and social and environmental impact
Tuesday 18 April, 2017 - Ph.D. and Early Career Symposium (min & max participants TBD)
8:00-8:30
Conference registration
8:30-9:30
**Plenary session: 'Behind the scene' of writing and publishing on hybrid organizations 

Invited senior scholars take from the history of their most important papers hints on how to write and publish on hybrid organizations and social entrepreneurship.
9:30-11:00
Round tables for discussing Ph.D. students' papers

Everyone is asked to read papers beforehand. Students give short  presentations and get comments. The senior scholar at the table leads the discussion on each paper.
11:00-11:30
Coffee-Break
Conference: Tuesday 18 April, 2017
8:00-11:30
Conference registration
11:30-13:00
**Plenary session 'TBD'

Presentations of three of the keynote speakers (see list below).
13:00-14:30
Lunch
14:30-16:30
*Parallel session

1: room: TBD 
2: room: TBD 
3: room: TBD 
4: room: TBD 
5: room: TBD
16:30-17:00 
Coffee-Break 
17:00-19:00 
*Parallel session

1: room: TBD 
2: room: TBD 
3: room: TBD 
4: room: TBD 
5: room: TBD  
19:00-20:00 
Transfer to the dinner 
20:00-23:00 
Gala Dinner (TDB) 
Conference: Wednesday 19 April, 2017
9:00-11:00
*Parallel session

1: room: TBD 
2: room: TBD 
3: room: TBD 
4: room: TBD 
5: room: TBD
11:00-11:30
Coffee-Break
11:30-13:30
*Parallel session

1: room: TBD 
2: room: TBD 
3: room: TBD 
4: room: TBD 
5: room: TBD
13:30-15:00
Lunch
15:00-16:30
**Plenary session 'TBD'

Presentations of three of the keynote speakers (see list below).
16:30-17:00
Presentation of the Journal of Business Ethics Symposium linked to the conference (if accepted) & launch of the 2nd conference at IESE
17:00-18:30 
***Plenary session: Firms challenge Academia:
Firm representatives pose a challenge 'from the field' of managing real hybrid organizations to senior scholars and discuss possible solutions with them

Senior Scholars from the conference (TBD)
Firm Representatives (TBD)
18:30-19:30 
Networking: 'aperitivo'
*Each parallel has 4 papers. Each paper has 25 min. for presentation &  Q&A. At the end, 20 min. for discussion by discussants asked to read the papers in advance.
**Confirmed keynote speakers will be allocated to the sessions later on. Titles of their speeches will also be determined later on.
*** This plenary, open to academics and professionals, has limited seats: registration is asked separately in advance.

Confirmed keynote speakers
Johanna Mair (Hertie School of Governance, Germany, & Stanford, US)
Anne-Claire Pache (ESSEC, France)
Guido Palazzo (HEC-Lausanne, Switzerland)
Tommaso Ramus (Católica-Lisbon, Portugal)
Ute Stephan (Aston University, UK)
Contact 

The ERShub at LUISS

Viale Romania 32,
00198, Rome (IT)