"Dream big, do right" is the motto of Mounds Park Academy in the U.S. state of Minnesota where Sarah Buckley went to high school. It could also sum up Buckley's life philosophy. "As future leaders, we have the responsibility to explore how business can be a positive influence on the world," says the current IESE MBA student (Class of 2025).
Before embarking on her MBA, Buckley got degrees in accounting and worked in financial planning and analysis, first for The Walt Disney Company and then for Netflix. "What attracted me to Netflix was the idea of being part of something creative. You see the power of storytelling and the impact that can have on someone, connecting with people of diverse backgrounds all around the world."
She worked closely with the company's creative executives, making decisions on whether to invest in new projects and managing all the financial implications and risks until the film appeared on-screen. It was, she says, "a beautiful blend of the numbers and the analytical with the creative side and the strategic lens."
Out of the comfort zone
Initially based in Los Angeles, California, Buckley jumped at the chance to transfer to Netflix's EMEA office in London as a way of broadening her horizons. There she witnessed firsthand the complexities involved when an expanding business goes global — from the need to adapt content to different cultures, to hiring local talent who understand the nuances of local markets. "It was interesting to see the mindset shift across the company as it grew."
In 2022, the year she took up the EMEA assignment, Netflix reported its first subscriber decline in a decade, so managing budgets to produce the same top-quality content with fewer resources became the big challenge for her and her colleagues throughout the region. While cultural differences were inevitable, Buckley found the best strategy was to be completely straightforward and honest — "to communicate the goals and understand where local executives were coming from, so we could find the best solutions."
This is the same approach she brings to the MBA classroom: "Being in a class filled with people from all over the world forces me to find new ways to communicate and connect with diverse groups of people, so we make better decisions together."
Listening to and trying to understand a diversity of opinions, constantly challenging yourself to step outside your comfort zone, expanding the way you look at things and approaching problems from multiple angles are what Buckley thinks make a good leader, today more than ever.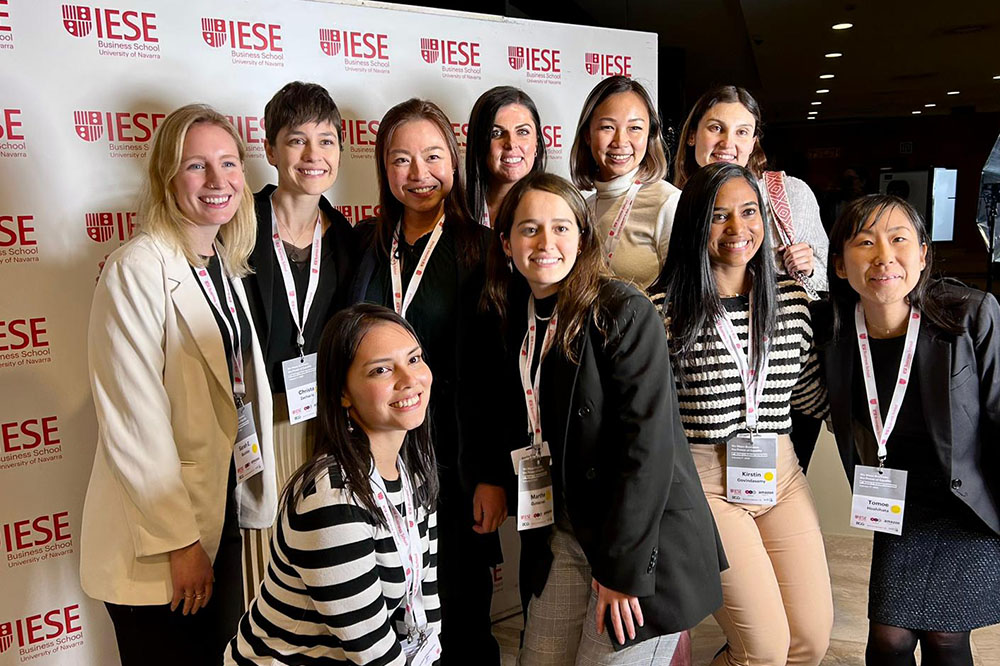 Values-driven leadership
Leadership for Buckley is also a question of being true to your values. As she says, "The best leaders I've met haven't been driven by extrinsic motivations of money, success or title, but have been those who led in a way that prioritized people, enabling them to achieve their full potential."
The way leaders conduct themselves is fundamental, she adds: "Most important is having empathy for others, making sure we're treating each other with kindness and respect."
Buckley believes "some of the best ways we can drive positive change in the world are through business. How can we do business in a way that's sustainable, ensuring every decision is aligned with the right core values?"
She's passionate about empowering women to find their voices ("Women are sometimes made to feel they have to be extra qualified, competent and experienced just to be in the room") as she advocates for equality in business. 
The power of mentoring
Throughout her career, Buckley has been grateful for the feedback and encouragement of female mentors, who she says have had an extremely positive impact on her, both professionally and personally: "Seeing powerful, intelligent, capable women in leadership at Netflix has given me a model of the qualifications and competencies I need in order to deliver the same kind of value."
Buckley appreciates the support IESE gives to female leaders, not just during the two years of the MBA but throughout their professional lives. For her, a mentor is someone who can "selflessly guide me in aligning the steps on my path with my future long-term goals, which can have more of an impact than any technical learning."
Eventually, she would like to start her own business, becoming the kind of female entrepreneur driving social change that so inspired her on her own path. Like many of her generation, she wants to work toward solutions to climate change, particularly improving the health of the world's oceans through a sustainable blue economy, something that struck her the first time she went scuba diving. "I felt an overwhelming sense of inspiration to take a more active role in the preservation of our oceans. Especially for those who never saw themselves as the loud one in the room, like me, I'd like to help others make their voices heard. Inspiring others as they have inspired me would make me forever grateful."
The next IESE Future Female Leaders Award (apply here) will take place on IESE's Barcelona campus from Jan. 30 to Feb. 1, 2024, coinciding with the Women in Business Conference.