You're certain that you're interested in business management, but which master's degree best suits your profile and needs? Review the main differences and make the right choice for you.
In the early stages of their working lives, young professionals like you often consider the possibility of studying a master's degree in business management that will allow them to take their next professional step. The two most popular options are the MiM Master in Management and the MBA Master of Business Administration.
How are these two master degrees different? We review the main factors that separate them to help you decide which one best suits your needs, profile and ambitions.
Main differences between the MiM and MBA programs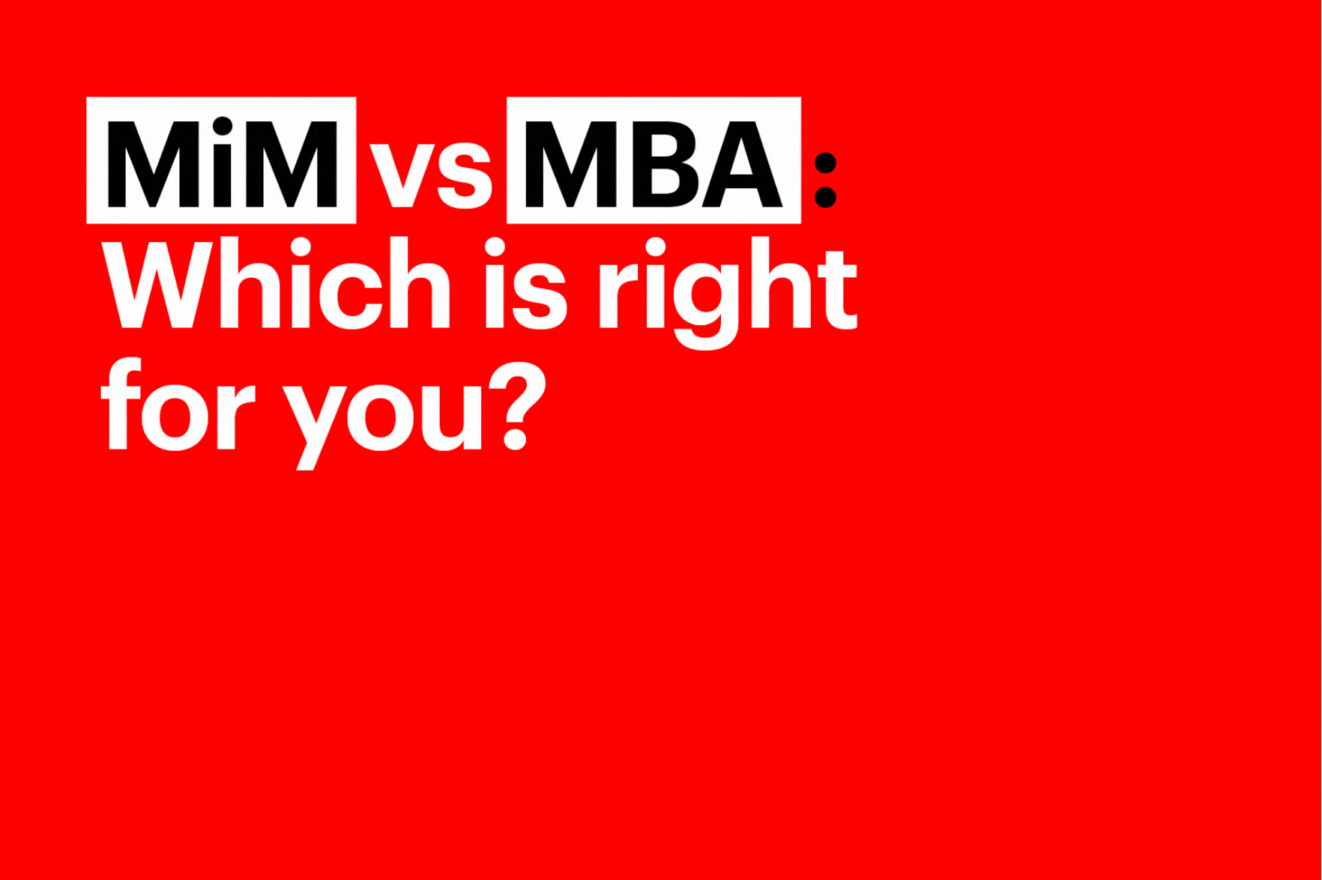 1.

Age

Although it's not a decisive factor, age can be a good starting point when choosing one of the two masters. In a MiM program such as IESE's there's no prototypical candidate, but in their first years in the business world the students share a common desire to make a profound, positive impact on the world through their companies. Master in Management students are recent college graduates and are usually between 20 and 25 years old, with an average age of 23.

Although the classes of an like IESE's are made up of very heterogeneous groups, most students are young professionals with at least five years of experience who aspire to occupy managerial positions or to promote and lead their own companies. The average age of a Master of Business Administration student is 29.
2.

Career

The stage in which your professional career finds itself is an essential element when deciding the type of training you need. In general, MiM students have diverse personal, cultural and academic backgrounds, but are bound by being in the first steps of their entrepreneurial careers. Although they'll be leaders in the future, they're currently beginning to explore the exciting world that awaits them.

For their part, MBA students are already at a point of professional development where they can pivot towards making decisions within the company. Many pursue the program as an opportunity for career change after having already experienced the business world.

In any event, both MiM and MBA candidates are professionally ambitious young people looking to accelerate their growth and leapfrog up the corporate ladder in their early professional years
3.

Professional experience

To expand on the previous section, it's worth specifying that, normally, MiM students have just finished their college studies when they decide to enroll in the program, so most of them have little to no professional experience. Those students who have worked previously do not usually have more than two years of experience.

In the MiM admission process the candidate is asked to submit his or her university degree and to take an English test in the event he or she is not a native speaker. Certificates like the GMAT or GRE are important, but do not determine all, as schools also value an applicant's personality, motivation, goals and communication and leadership skills.

In the MBA, candidates are required to demonstrate between three and 10 years of professional experience. When they start the program, our MBA students have, on average, already worked for 5 years.

In the MBA admissions process schools select students with a university degree, a high score on the GMAT / GRE, a keen motivation to reach their goals, confidence and leadership skills, international vision, communication and teamwork skills, and a mindset based on strong values.
Many MBA candidates view the program as an opportunity for career change after having already had a few years of work experience in the business world.
4.

Content

The MiM program is designed to launch a promising career on the of a solid base of business management knowledge and the student's ability to apply it practically and solve real, complex problems.  Thus, among other subjects, the MiM has subjects of business analytics, product management in the digital environment, finance, negotiation, creation of new businesses.

You will graduate prepared to take on your first corporate role confidently and effectively and begin to have a positive impact on society through your analytical skills and leadership talents. It's program that will change your vision of the world and your expectations of it.

In the case of the MBA, coursework focuses on arming students with the knowledge, skills and global mindset necessary to assume managerial positions in any sector and in any destination.

In the early stages of the master's degree, the basics of business management, finance and leadership are acquired. Subsequently, strategic and operational knowledge and a broader perspective of business are consolidated. Finally, the program allows you to sharpen your expertise in management areas and more specific sectors, as well as in entrepreneurial gusto. In this article we tell you all the details about what students learn in an MBA.
5.

Future

MiM graduates enter the workplace with a set of analytical and management skills that allows them to stand out above other young professionals (See the course employability report). They also have the confidence and self-knowledge necessary to understand what value they can contribute in any sector and in any position.

Business schools like IESE have teams dedicated to accompanying MiM students along the job search process and the transition to the professional world. They establish agreements with international companies, participate in career fairs and forums, and advise students on how to prepare as well as possible.

Meanwhile, MBA participants graduate prepared to assume leadership roles, direct projects and make strategic decisions in any industry and market. Technology, finance, marketing, consulting, operations… Companies from all over the world incorporate the best MBAs every year to overcome the main challenges they face.

Advised by the school's career services team, students define their professional goals and design the most appropriate strategy for achieving them, fine-tuning their job search process, expanding their network of contacts and preparing them to apply to the most demanding and selective opportunities.

There is no prototypical Master in Management candidate. However, students are typically young, recent graduates looking to make a profound impact on the world through business management.