Christophe Chevallier (IESE MiM-21) prioritizes sustainability and people. His Lavoisier brewpub in Madrid, which transforms leftover bread into craft beer, combines both his passions.

"Nothing is lost, nothing is created, everything is transformed." This quote, attributed to the 18th century French chemist Antoine-Laurent Lavoisier, captures the idea that, rather than creating or destroying something, we can transform it into something new. It's highly appropriate then that when French chef and entrepreneur Christophe Chevallier decided to open a brewpub in Madrid in 2022, he named it Lavoisier. Not only does he transform leftover bread into craft beer, based on principles of the circular economy, but he has also transformed the bitterness of his early work experiences into a more humane way of doing business and treating people.
Growing up in the famous French wine region of Burgundy, Chevallier developed a natural love of gastronomy, which led him to study at the prestigious Ferrandi culinary school in Paris. Before long, he was cooking at some of the best Michelin-starred restaurants in Paris.
His culinary dreams, however, ran up against harsh realities that would define his future path: "I witnessed some of the worst treatment of employees that you can imagine. The days were exhausting and the pressure was too much," he recalls. Those formative experiences in Paris made him see things differently and reaffirmed his principles: where others only saw resources, he would always see people.
Realizing he had to find another way to pursue his dreams, Chevallier decided to get a bachelor's degree in management from EMD Business School in Marseille. There, he encountered an entirely different way of treating people.
"The head of faculty knew each student by name. He even contacted me to wish me a happy birthday even though my birthday falls in the middle of summer," says Chevallier. The experience could not have been more different from what he had experienced in Paris.
A plan with a purpose
Thus inspired, Chevallier wanted to continue studying management after graduation, but he wasn't going to settle for any master's program; it had to be underpinned by strong ethical, humanistic values. An EMD professor recommended IESE Business School. Although he would be based in Madrid, the international nature of IESE's Master in Management (MiM) meant English was the language of instruction, which suited Chevallier, who did not yet speak Spanish. Most important for Chevallier was that IESE had the right philosophy he was looking for, which chimed with that of Chevallier's family business group, Théos. "Our group is committed to taking special care of our employees, our customers and our suppliers, and operating in a socially responsible manner," he says.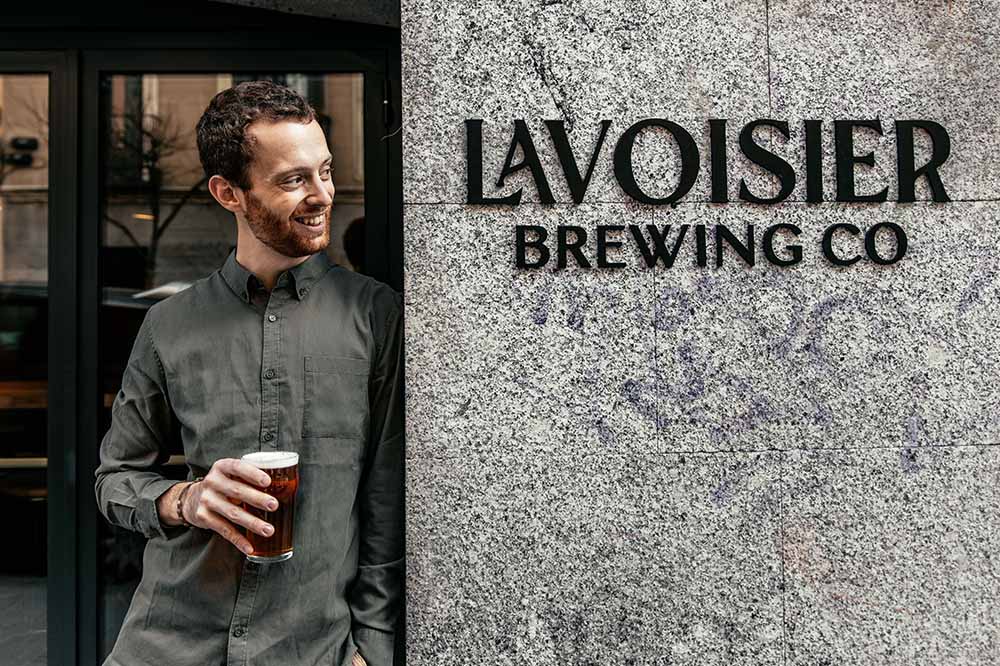 A highlight of the MiM was putting together a business plan: "Working in small teams, we drew upon everything we had learned and went through all the necessary steps — brainstorming, market research, financials, minimum viable product — and submitted a final business plan to a jury of professors and investors who, if they saw the project as viable, might invest in it."
"The most difficult part was finding a good business idea. It was important to find something that we were passionate about. My team and I wanted to develop a product focused on sustainability, but with high scalability."
Chevallier's eureka moment came when he saw a local supermarket throwing away a huge amount of bread at the end of every day. "I wondered how we could take advantage of all that waste."
A solution already existed: recycling leftover bread into beer. Indeed, it is believed that the ancient Egyptians had discovered a way of making beer by letting bread ferment in water. Based on similar principles, they figured the bread that supermarkets, bakeries and restaurants were going to throw away anyway could be substituted for 30%-50% of the malt used in beer.
Originally, their plan was to distribute their specialty beer directly to local bars. But the more Chevallier thought about it, he began to get other ideas.
Caring for people and the environment
Rather than being a private label brewer, distributing his product through other bars, why not open his own brewpub and distribute his own product himself? It made sense, since he would sell only what he produced, without intermediaries, and this would give him greater control over the experience he was able to offer to his own customers.
The Lavoisier brewpub opened in Malasaña, a hip neighborhood popular with students in Madrid. It offers tastings of craft beer, which is produced in collaboration with the Mica Brewery, located in Spain's Ribera del Duero region, using leftover bread from area bakeries. Chevallier is already looking to expand his premises to be able to brew more beer.
In many ways, Lavoisier reflects the principles of caring for people and the environment that are so central, not only to Chevallier, but to his family business group, which also owns a stake in the business. He explains how their core values manifest themselves:
Renewal. "We have recovered more than a ton of bread that would otherwise have ended up going to waste."
Conscious collaboration. "We choose to partner with a local artisanal brewer that shares our vision of sustainability, the circular economy and inclusion."
Purposeful design. "Almost all the decor in our brewpub comes from recycled or repurposed materials — for example, reusing wood from old boats."
Human attention. "We seek to maintain stable relationships with our customers, as well as with our employees and suppliers — whom we pay on time — built on an understanding of transparency and fairness."
Work-life balance. "We close on Sundays and Mondays. While we could make more money if we opened on Sundays, for us it is vital that people have time off for rest, and Sundays are when people traditionally spend time with their families."
For Chevallier, "the quality of our human relationships is what determines the economic results." That is what life, school and family have taught him, and that is what guides his next steps. "Maybe Lavoisier is the beginning of a small revolution."