Favour Okolie is VP of ONE Foundation and an alumna of IESE's Master in Management (MiM) Class of 2023.

An example can be very powerful. So it was for Favour Okolie. She had seen talks by Ibukun Awosika, a well-known Nigerian businesswoman and motivational speaker who, like Okolie, was a chemistry graduate.
"I admired the fact that she was a highly successful Nigerian woman — the first and only Chairwoman of First Bank of Nigeria — and she had a family. And then I found out she was on the International Advisory Board of IESE, so I figured I had to apply to this school."
Which Okolie did, earning a scholarship for IESE's Master in Management (MiM) in Madrid. 
What inspires Okolie is not so much what people say as much as what they do. And she knows that if she wants to inspire others, particularly other young African women, then she must do something inspirational herself.
Passion alone isn't enough
Okolie got her first taste of inspiring others when friends approached her about starting a nonprofit together. The result, ONE Foundation, provides training, mentoring, networking and funding for micro, small and medium-sized enterprises. Initially, Okolie helped organize courses, but as the organization grew, she soon found herself out of her depth. She realized she needed to acquire more skills to match the growing demands of their stakeholders.
"People came with high expectations and wanted advice for how to run a business, which I had insufficient knowledge about," she recalls. "That was when I realized that if I really wanted to help others, I needed to empower myself. It's not enough to be passionate. To really be able to help people, you need knowledge."
Closing the knowledge gap is something that Okolie believes doesn't just apply to herself but holds the key to overcoming the challenges faced by aspiring entrepreneurs across Africa.
Admittedly, a lack of reliable infrastructure, like electricity, adds an extra layer of difficulty: it's harder to develop a grand business vision when you're in basic survival mode. Still, if people are able to see "the potential they have," Okolie insists, "the moment their mindset shifts, those physical obstacles stop holding them back from engaging in entrepreneurial activity."
There's no limit to what a young person, gainfully engaged, can do, she says, adding that an inspired young entrepreneur is the greatest antidote against them falling into hopelessness. Education in its broadest sense (not just in STEM subjects like she pursued) is ultimately about empowerment.
"If I really want to help others, I need to empower myself."

Favour Okolie, IESE MiM-23
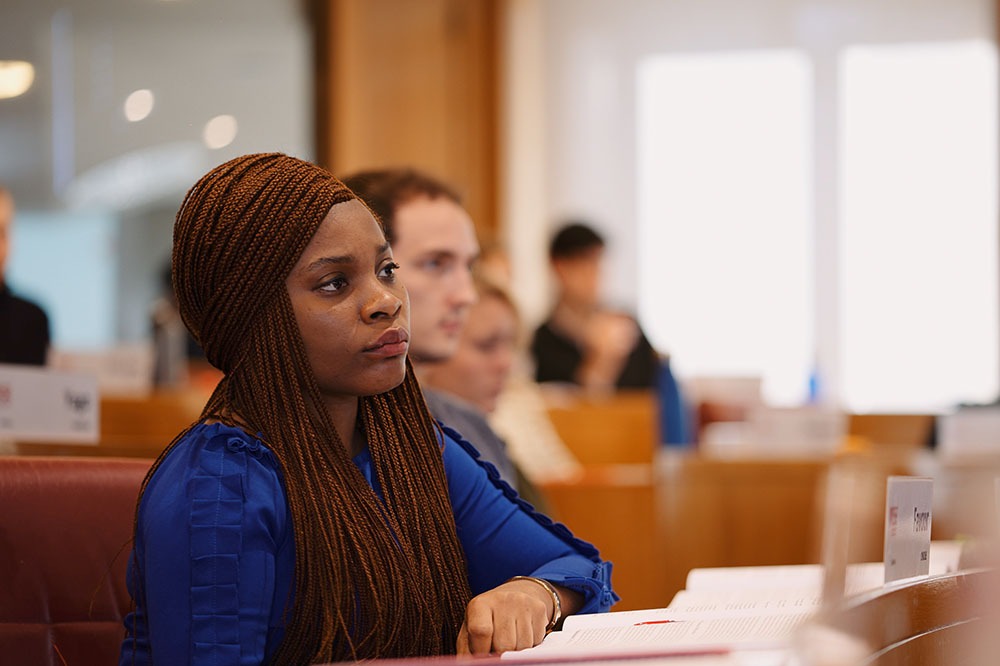 Seeing yourself in others
In Nigeria, where Okolie comes from, entrepreneurial women are a common sight in local markets, selling goods to make ends meet. But move into the corporate sphere and high-ranking female executives are few, and even rarer at the board level. Although the situation is improving, with trailblazers like Ibukun Awosika helping to break down barriers, Okolie says there is still a long way to go.
Again, the shift has to happen in the minds of young people, particularly young women, which for Okolie requires seeing more female role models in positions of leadership who are also honest about the unique tradeoffs for women of having a career.
"There are male entrepreneurs that I admire and can learn from," she says, "but when you see someone like you achieve something, it hits you differently. Your brain has no excuses left."
For her part, Okolie wants to provide more educational resources and possibly even scholarships to help create a sustainable pipeline of female entrepreneurs in her country. Her blog to encourage others in this direction carries a title that fittingly captures her life philosophy: Love, Courage, Inspire.
In addition to her ongoing involvement with the ONE Foundation, Okolie has developed a community project for high-school students in rural southern Nigeria — called Project Inspire Akpabuyo — to, like the name suggests, inspire them with career possibilities and expand their horizons.
She plans to extend this work by collaborating with large companies upon completion of the MiM, as well as doing consulting, all with an eye toward fulfilling her larger purpose: "That I show love to every person I meet, encouraging them and inspiring them to fulfill their God-given purpose and potential. This is how we change the world."
IESE has developed a wide range of courses and activities through the Women Win platform to support women like Favour in their personal and professional development and aspirations to lead.