Fernanda Lopes Larsen (IESE Global Executive MBA 2023) is Executive Vice President Africa & Asia of Yara, whose mission is to feed the world and protect the planet. She received the WIN Inspiring Women Worldwide Award.

When Fernanda Lopes Larsen moved to Norway in 2012, she wasn't expecting to have that much trouble fitting in. After all, this was the fifth country for the Brazil-born civil engineering graduate, after studying in Austria and working in Germany and the United Kingdom. How hard could it be?
"It was the biggest culture shock of my life," she says. She recalls feeling out of place, both professionally, in a traditional company with a corporate culture very different from the ones she had worked in before, and personally, as a self-described "loud, extroverted Brazilian woman."
Even so, since landing a job at the Norwegian fertilizer company Yara, she has quickly moved up the ranks to become a member of the senior management team. She is now based in Singapore, as Yara's Executive Vice President for the African, Asian and Oceanian markets.
"I credit the struggle and hardship of the early days with making me the leader I am today," she says. It taught her to stick her neck out for causes she believes in. Today, as a diversity and inclusion campaigner, she is on the front line of conversations about sustainability and social equality.
Rethinking the system
"If I'm still at Yara, it's because of its strong mission," she says. "We're here to feed the world and protect the planet."
The company has a strong commitment to decarbonizing fertilizer production and supporting an agricultural transition to being carbon-neutral and nature positive. Fertilizers are essential if we are going to feed a growing global population, particularly under the added stress of climate change. But food production is a heavily polluting industry, responsible for an estimated quarter of the world's greenhouse gas emissions.
What does an agricultural transition look like? "It's recognizing we have to find a new way to farm," she says, explaining that Yara's approach is built on three pillars.
First, as ammonia is the foundational ingredient of most fertilizers, it starts by producing ammonia in a cleaner way — decarbonizing its production by using renewables instead of natural gas. There's also what's called blue ammonia, which captures and stores the CO2 generated during ammonia production, making the process virtually carbon neutral.
Beyond cleaning up production, the other two pillars are embracing regenerative agriculture and promoting farmer prosperity. Regenerative agriculture involves practices that enable farmers to increase yield and nutrient efficiency, reduce water consumption, and protect the soil. Prosperity is also key, because making progress on emissions should not have to come at the expense of smallholder farmers, some of the poorest people in the world, and responsible for at least a third of the world's food production. It also means addressing the 30% of food that goes to waste, often because of the difficulty in accessing marketplaces. "Improving systems that will help farmers access knowledge and offtake markets can help lift them out of poverty," she says.
Lopes Larsen has seen the global conversation on sustainability evolve greatly over the years she has been with Yara. What's the view from Asia, where a Green Deal akin to that of Europe is starting to be discussed. "It's not a solid, unified voice yet," she says. But those voices are growing louder, particularly at recent ASEAN summits.
Regarding Singapore, "I always say that many of the solutions to transition the food system to something more consistently sustainable may, ironically, come from a country that doesn't grow much itself: currently 90% of its food is imported. But what Singapore does is invest massive amounts of money in science, technology, agritech and sustainable agriculture: the government has a strategy to produce 30% of its food by 2030."
Although there's still much work to be done, Lopes Larsen believes overhauling the food system and reducing its effects on the planet is possible — but it requires radical change. And advocating for change, on a personal as well as professional level, is something she feels passionate about.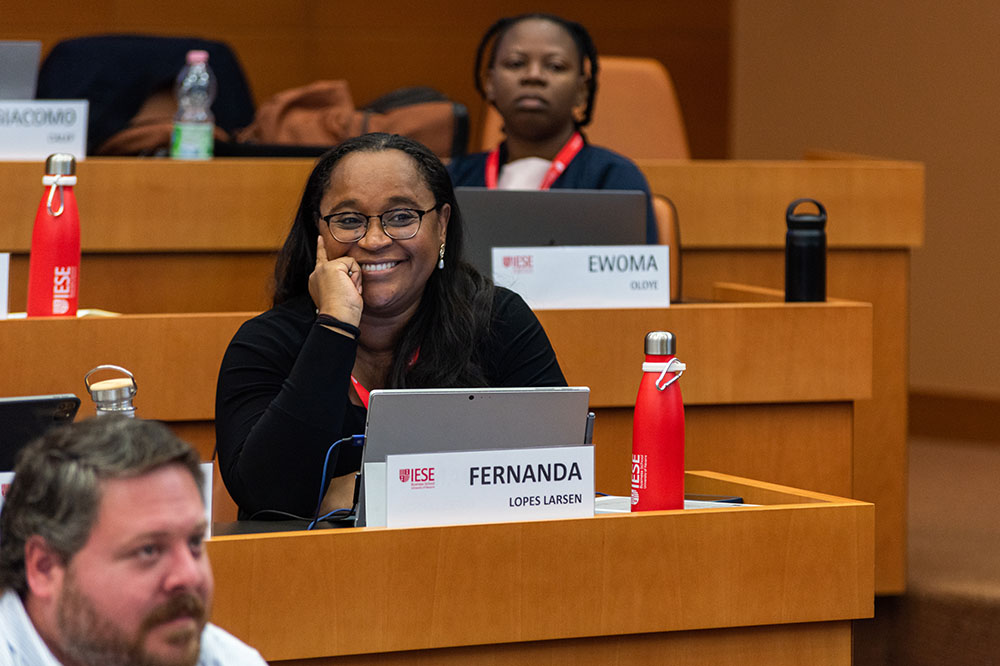 Using her platform for good
Another area where she has been working for change is in diverse representation in management. Despite Brazil's reputation as a racial democracy, she recalls being one of a small minority of Black students at her university. Moving to Europe raised her consciousness, and she began to develop the vocabulary to describe the systemic racism that she witnessed and experienced.
"Being a Black woman in the corporate world has really increased my awareness of these issues," she says. "Because being Black is not something that I can (or want to) switch off in the morning when I go to work, in order to fit into the environments that I am part of. I want to bring my full self to work — and that includes my culture, my ancestry and my Brazilian upbringing."
Her activism in this space was galvanized by the shocking death of George Floyd at the hands of a police officer in the United States in 2020. "It's a little embarrassing for me to admit that it took an American dying on camera, when Brazilian kids die in favelas every single day, but there was something about an innocent Black man killed for the entire world to see that was transformational for me."
Together with a colleague, she went to her CEO to demand action on improving the corporate world for young Black leaders. "I thought I would get fired, but I figured, what is the point of being in a leadership position if I cannot use this platform?"
Instead, her CEO responded with his full support, and a program for Black leaders was established to help them navigate the corporate world better, something Lopes Larsen says she wishes she had had when she was starting out.
"I'm proud of how my company responded," she says, "and I wish more people would speak up and use their platform. Ultimately, the goal is that we can all go to work being ourselves and have equal access to opportunities."
Speaking up and moving the conversation forward is important, because so much still needs to be done. "Look at the composition of the boards of the world's top companies," she says, pointing to their general lack of diversity. "And so many companies are still not taking the climate emergency seriously."
In this sense, she cites as inspiration two Brazilian compatriots, Luana Genot and Adriana Barbosa, "who through their relentless advocacy work have empowered and opened the doors of opportunities to countless Black Brazilians" in the corporate world. She met them at the Davos summit, which she attended for the second time in 2022.
"For those who think the World Economic Forum event is just an elite gathering, they couldn't be more wrong. I've met fantastic CEOs, entrepreneurs, public officials and third sector leaders who are humble, purpose-driven and committed to resolving the most urgent issues we face as a planet today: food security and climate change. I've had the privilege to meet some of the most amazing minds, particularly women, who are at the forefront of the fight for racial equality, social justice and prosperity." She also connected with African presidents, business leaders and entrepreneurs "who share a passion for Africa that is worth emulating. I have never felt so much pride in my African ancestry and so much sense of belonging."
Lopes Larsen remains ever hopeful: "I think the corporate world is a major actor. We have the intellectual competence, and we employ a lot of people. So when the corporate world moves, other parts of the world will as well. Nothing will deter me from continuing to advocate with the tools I have at my disposal."
And though she may never see the fruits of her labor in her or her daughter's lifetime, she says, "Honestly, I don't need the flowers, I just want to make sure I am helping to plant the seeds."