It's one of the most exhilarating times in your professional life. You're a good specialist and you know your territory well, but now you want to lead teams and projects, and you've even started doing it. Do you know how you're going to navigate this exciting transition?
The rise to a managerial position starts at the moment that the usual answers are not useful for you anymore (your questions have changed!); you move away from your traditional knowledge area (you're no longer just a good technical expert), and success in your work depends directly on the success of the team you lead. No one would do things exactly like you because, of course, they're not you. And the best thing about all this is, you're going to learn to enjoy it.
What do you need to become a great executive?
Sometimes you make the choice and other times you're chosen in your ascent to be a manager or executive, although the title is of little importance. In any case, what usually happens is that your overriding goal begins to encompass a strategic vision, to set a direction, for the future and moves swiftly toward this through the work of other technical experts, which occasionally will be engineers. But what do you need to make this jump successfully?
1.

Your management of talent has to be impeccable
The success of great executives rests on their successful management of talent. That's why your specialized knowledge will be less important than your deep understanding of the dynamics of your team, and your ability to coordinate and encourage your team members. You will have to be able to guide them in the execution of ambitious goals, celebrate with them when these are reached and look for explanations and constructive measures when they don't happen.
The solutions they will put forward to meet challenges will often surprise you, as well as the way they carry out what you've asked of them. It's important that you see these surprises as proof that other points of view exist, and that they are many times enriching. Get the most out these. Remember that executives work with uncertainty and possibilities. There is no black and white.
2.

Your team wants to know: why do they work for you and not the other way around?
Good executives know themselves well, and thanks to this fact, are able to easily explain what their function is to their team members.
And this explanation has to include the following: you work for me because I know how to facilitate your work within the team and the company, because I listen to you and treat you like the great technical expert you are and because I help you grow. At the same time, I understand my limitations, I trust in your criteria and I don't take credit for what does not correspond to me. I know that your function is as important as mine and I not only transmit a clear vision of the future to you, I also encourage you to seek innovative solutions that will greatly build upon what has been done up to now. And I want you to surprise me!
Without a doubt, you work for me because I know how to work for you.
3.

Embrace uncertainty and don't be afraid of questions
For executives, challenging questions are everywhere, and they are always looking for new ones. They suspect (and rightfully so) that simple questions have conventional solutions, which are sometimes easy to implement and other times not. They also discern that doubt is the most powerful lever of innovation.
Your questions, as an executive, will go to two receivers. The first receiver will be the technical experts, to whom you will ask for the most appropriate solutions to problems without ever conforming to overused formulas. Help them be more creative!
The second receiver of your questions will be, of course, you. And this is where you´ll ask yourself how you can integrate solutions from your specialists into a medium-term strategy and make them workable through coordination with other professionals and departments. And there's more: you´ll try not to make mistakes, of course, while knowing that perfect solutions don't exist, that innovating brings risks and that many times you're going to make errors. Just as important as avoiding errors is managing them well.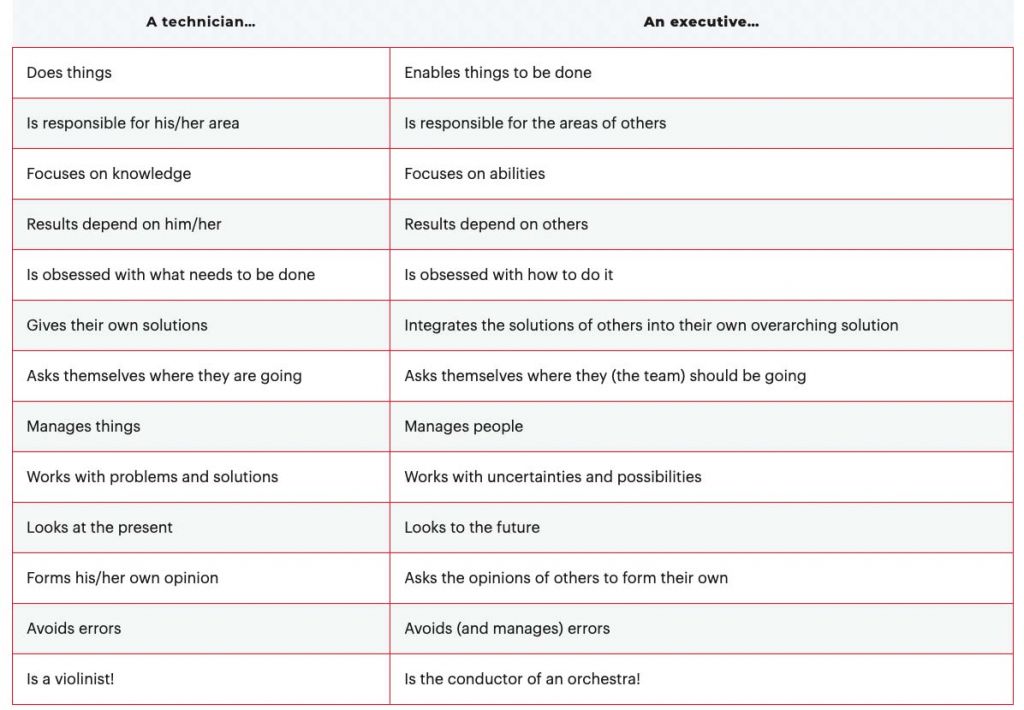 It depends on you: learning to be an executive
José Luis Illueca, IESE professor, points out that the evolution of a technical expert who wants to be a good executive is more a personal change than adding knowledge to what one already has. You should be willing to leave behind – unlearn – previous points of focus and learn to look and act in a different way. This requires centering less on "what to do" and more on "how to do it." It involves, above all, learning abilities; knowing oneself and knowing the people who work with you; starting in "slow motion," case by case, then later gaining speed. This is what academic programs based on the case method achieve. In this way, little by little, assuming positions that are increasingly aligned with the design and supervision of strategy and the management of teams, projects, and, sometimes, budgets.
Do you know how to convince your boss to do an Executive program? Download our letter template to help you.
At IESE, various academic programs adjust to the priorities of professional technical experts who are starting to move into these positions and want to become executives. Among these is the EMBA, designed for professionals with experience who want to jumpstart their careers with an MBA adapted to the goals and agendas of executives, as well as the Business Acceleration Program, for owners with high potential who need knowledge and abilities, as well as access to a new network of contacts.