You're sure that you need to continue your training as an executive to better face new management challenges and to expand your strategic vision. But once you've chosen your program amidst the near-countless options the market has to offer, you're faced with a new dilemma: the program is offered online, face-to-face and in a blended format. How do you choose the one that best suits your needs?
In this article, we'll review the defining characteristics of the different formats that are offered, as well as the reasons for opting for one or the other based on your needs and personal circumstances.
100% online programs, for very "virtual" executives
You've likely experienced it before: you commit to an activity outside of work two days a week, but then scheduling problems always come up. A trip here, an unexpected meeting there… You have the hours to dedicate to studying, but you can't make it to the physical campus.
To help managers in this situation, top-tier business schools have launched a series of entirely online programs.
Unlike the online courses that came out more than a decade ago, online management programs are now a dynamic and highly effective reality. Thanks to new technologies and innovative methodologies, they combine very effective tools for self-learning and sophisticated options for interaction with other participants.
One of the most common obstacles when it comes to doing an online program is "virtual fatigue", and the risk of discontinuing the program because you're on your own. At schools such as IESE, the content and methodology have been adapted into microformats with dynamization techniques and games, virtual networking spaces and personalized accompaniment from a tutor, who monitors and helps the participant from the beginning to the end of the program. A good example of this are the online Focused Programs, short and very intense training programs focused on one aspect or competence that the manager needs to develop in a short period of time.
There are two types of online programs:
Live online programs

They are based on synchronous sessions with the professor, in which you can interact in real time with the rest of the participants. They usually last between 3 and 4 weeks and require a dedication of about 8 hours a week (2-3 hours live twice a week and 5 hours of individual work on your own).
Asynchronous online programs

They are designed to allow you to learn at your desired pace with a combination of exercises, video recordings, readings, and some synchronous sessions with the professor. They have an average duration of between 7 and 9 weeks and require individual work of about 6 to 8 hours per week.
The main advantage of 100% online programs is the enormous amount of flexibility they offer, since they allow the user to learn at their own pace and from anywhere. In addition, they are highly practical and include exercises that can be applied immediately in real company projects, with the full support and feedback of tutors, professors and classmates.
Unlike online courses that emerged more than a decade ago, online management programs are now a dynamic and highly effective reality.
Face-to-face courses, whatever the circumstance may be
In recent times, managers have been able to experience first-hand that having the opportunity to meet face-to-face and discuss certain matters face-to-face is optimal for business management. The same is true with executive training: sharing time and space adds to the flow of information and nuances that cannot occur in virtual environments. Seeing people face-to-face helps build trust and camaraderie, so that personal ties become stronger.
Traditionally, executive training has been done using face-to-face formats, in which participants interact and debate in the classroom and in teamwork spaces. This shared physical presence greatly facilitates the exchange of points of view and the discussion of real situations.
Another one of the great advantages when it comes face-to-face courses is the ease with which you meet other executives and, consequently, expand your network.
The entirely face-to-face programs for executives usually last between 6 and 18 months, and involve a weekly dedication of at least one full day of classes (8 to 10 hours), plus 8 to 10 more hours of individual work.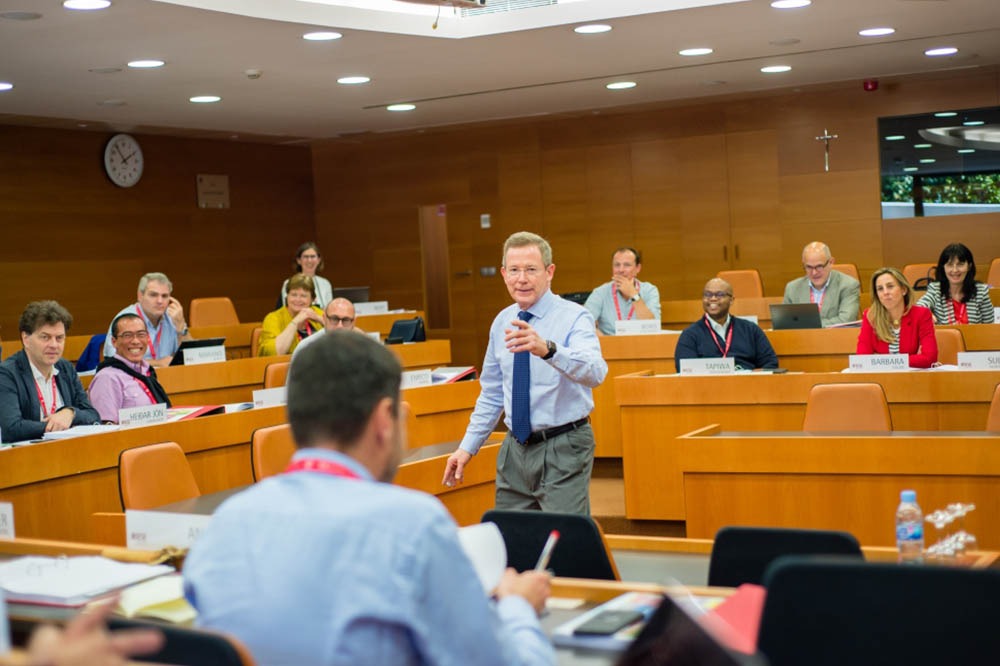 Life has become "blended", and so has your training
Beyond what's happened as a result of the coronavirus pandemic, executives' lives are increasingly moving towards a mix of face-to-face and virtual situations. Videoconferencing – today Zoom or Teams – has become such a part of our daily lives that it is very common for meetings between people who are in the same building to end up happening online.
And it's no surprise! These tools help us to share materials and ideas and, in addition, allow us to extend the meetings to participants who are not physically in the same place. But most importantly, they represent a significant way to save time. Online meetings tend to run shorter than face-to-face meetings and, because they're integrated into our agendas and don't require travel, they minimize delays, which means greater efficiency and productivity.
In this hybrid context in which our companies and lives now move, blended programs like the PDD Flexible­ combine synchronous distance training with shorter and more intensive classroom modules.
Given that today many managers have to group the hours they have available for their formation into the same timeframe – on weekends or during intensive weeks, so as not to be frequently absent from their jobs-, blended training programs are designed to maximize the time spent on campus with activities that can only be carried out face-to-face, while during the online modules, participants optimize their time without having to travel, which makes balancing their professional and family tasks easier.
On the other hand, for international participants, these programs represent significant travel savings and, in addition, synchronous activities can be easily adapted to any time zone around the world, virtually sending a professor to Chile, Singapore, Vienna or Kenya
Blended programs tend to take a little longer than face-to-face programs, since there are a fewer number of concentrated teaching hours by day. Thus, the workload of a blended program ranges between 4 and 5 hours per week of live online classes, in addition to between 6 and 8 hours of self-study.
In short, the blended format combines the best of the online world and the advantages of having face-to-face occasions for developing personal relationships.
"Managers ask us for more and more flexibility, to be able to fit training into their agendas and to make the balance between their professional and family life easier."

Yolanda Serra, Director of International Executive Programs at IESE.

The time for flexible training is here
In recent times, business schools have diversified their program portfolios to offer training solutions that adapt to executives' needs for flexibility, whatever their personal situations may be.
Whether due to scheduling issues, because the school is too far from your home or your company, or due to exceptional situations such as the coronavirus crisis, there are times when participating face-to-face in an executive course is too complicated.
Fortunately, schools such as IESE have incorporated technologies into their facilities such as hybrid classrooms, which allow managers who cannot attend face-to-face to follow their classes live, virtually interacting with total fluidity with other participants who are physically present in the classroom.