Whatever the context, the place or the technology, our learning is all about people.
The ability to collaborate with and learn from people with varying points of view makes all the difference in a business leader. Inspired by this idea, at IESE we've created a learning model that develops the knowledge, behaviors and attitudes needed to lead in any environment. Today's managers require educational solutions that allow for flexibility and remote learning, but that guarantee interaction with others and personalized follow-up, regardless of the context.
Welcome to limitless learning. Welcome to IESE Business School.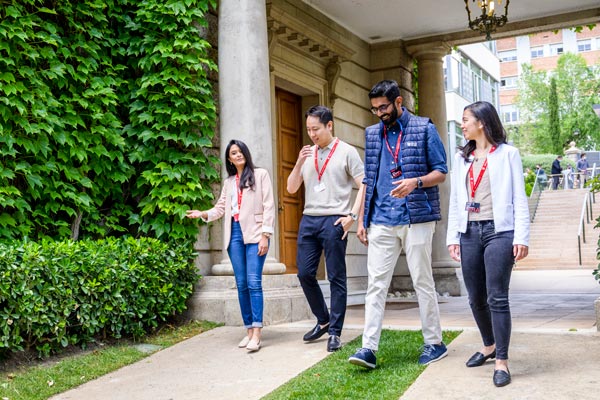 A place to learn from others
Since the beginning, IESE has been a place where business leaders from around the world come to develop professionally and to connect with others, in the belief that they must lead with values and have a positive impact on their companies and society.
Sixty years later, more than 50,000 people have passed through our classrooms, having experienced the case method and learning through discussion. We continue to apply the ideas and values of our founders, but we use the latest technologies and methodologies adapted to remote learning and new contexts.
Our learning model has proven that the best way to learn to make decisions is precisely by making decisions surrounded by people with other points of view. In a world that is more uncertain than ever, our people-centered educational model is more valid than ever.
5

basic principles of limitless learning

We learn from others.
Peer-to-peer interaction is the best way to develop critical thinking and decision-making abilities. Through conversation and debate, we discover new connections and we develop the holistic vision needed to lead in a company.
---

We use real cases.
The case method is the ideal platform to analyze real business scenarios, cultivate strategic thinking and make decisions when confronted with possible solutions. Analyzing dozens of cases allows managers to accelerate their learning process because it is similar to living through many situations in different business areas in a short period of time.
---

We practice, practice and practice.
We forget 90% of what we learn if we don't put it into practice. That's why our learning model is imminently practical and based on experiences. From coaching to company projects to role play, we create action-oriented learning situations that prepare you for the real world of the firm.
---

We all need great teachers to learn from.
Our professors have doctorate degrees from the world's best universities, and have years of experience in teaching and research. Thanks to their know how as consultants and board members, they bring to the classroom the latest business trends and innovations. And their full-time dedication allows them to work closely with participants, to challenge them and to accompany them in their professional growth.
---

Technology is a means, your learning is the end.
All our programs use technologies and methodologies aimed at collaborative learning. For that reason, we work with the latest tools and adapt in order to provide the most learning in every context. We have a cutting-edge virtual classroom and we've designed our own methodology to meet all needs for remote learning, whether it is live online, hybrid, or fully digital.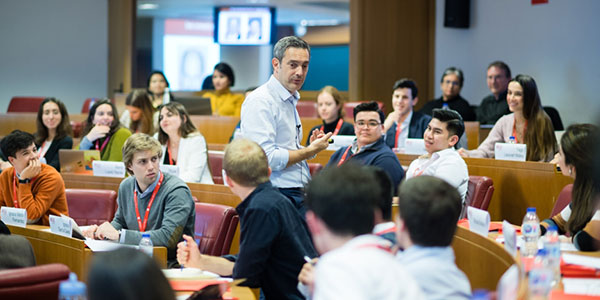 Learning based around discussion
Our learning methodologies immerse participants in dynamic debates on the business challenges they face on a daily basis. These discussions come out of the case method, individual and team coaching, projects, experiential learning, simulations and other methodologies.
LEARN MORE ABOUT OUR METHODOLOGIES
A format for every need
In today's world, managers require educational solutions that allow for flexibility and remote learning, but that guarantee interaction with others and personalized follow-up, regardless of the context. At IESE we want to serve as a meeting place for managers wherever they are, and whatever their situation is. For this reason, we offer face-to-face, blended and 100% online programs.

Face-to-face
For those participants who want to regularly attend class on our Barcelona, Madrid, Munich, New York or Sao Paulo campuses.

Blended
For those participants with less availability to come to campus, and who want to combine the advantages of in-person participation and online learning.

Fully virtual programs that include live sessions, and all the follow-up and quality of IESE.
---
---
Technology to bring people together
• Professors will deliver class from the classroom, together with those participants who can attend in-person classes.
• Participants who connect remotely can follow the discussions, blackboards, screens and any other materials used through the Zoom platform.
• Cameras, screens, speakers and microphones have been installed so that professors as well as participants in the classroom can interact with peers at home in real time and with maximum fluidity.
• All boards have been covered in black vinyl to make them easier to read in digital formats.
• Next-generation technology includes the highest audiovisual standards.
• Up to 80 people can connect simultaneously to synchronous sessions from anywhere in the world.
• We replicate the experience that participants enjoy in in-person sessions on campus, and add functions only possible with technology.