Amna Alyamani, an MBA graduate, returned to her home country of Saudi Arabia to set up a bakery-café that employs only women.

Amna Alyamani returned to Saudi Arabia after finishing her MBA, where she dreamed of empowering women and putting into action her new entrepreneurial skills – one croissant at a time.
Alyamani, a Class of 2019 MBA, is set up a bakery-café in her home city of Jeddah that employs only women: three the first year, and another six the following year. If all goes well, in the third year she will begin franchising, with an estimated nine employees per location.
Amna Bakery was founded in Sep '19 on the grounds that the hospitality industry in Saudi Arabia needs to be more inclusive, empowering women to learn and grow in the industry.
But if the scale is initially small, the ambitions are not. "The objective is to empower women and create jobs," she says. As someone who trained formally as a pastry chef, she wants to start small and scale once quality and training standards are in place.
The bakery produces high-quality but reasonably priced breads, croissants and other pastries, as well as sweets such as brownies, cookies and cakes. It sells fresh juices, teas and weekly roasted coffee as well. Her production estimate for the first year was around 90,000 units.
That's 90,000 brownies, cookies and pieces of cake produced by women who historically have had limited opportunities in the labor market but who in recent years have been allowed to work in sectors, such as hospitality, once closed to them.  "I want to empower more people to work," she says. "I will give you the tools and the training to be able to work."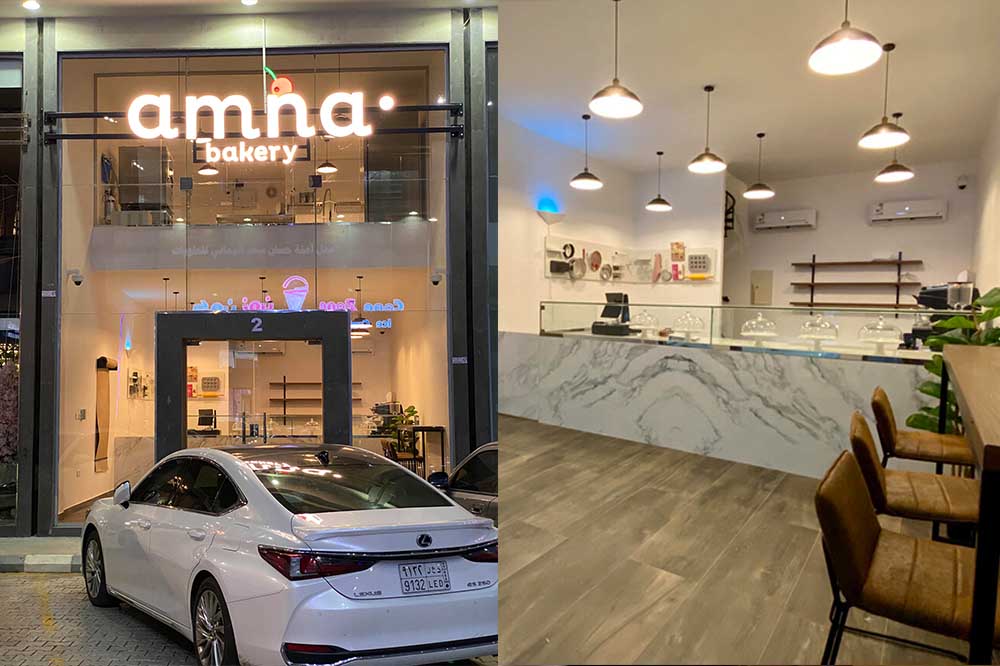 Slipping through cracks in the labor market
It's a hopeful return to Saudi Arabia for Alyamani, who earned a BA in Hospitality Management and Marketing from the Glion Institute of Higher Education in Switzerland and has a certificate in Basic Patisserie from Le Cordon Bleu in Paris.
After she finished her undergraduate degree, Alyamani decided to go back to Saudi Arabia to work in the food sector, with the idea of learning the industry from the ground up. But that plan was thwarted by strict regulations limiting what Saudi women are allowed to do in the workplace.
Instead, she began working in the marketing department of Al Baik, a Jeddah-based fast food chain specializing in fried chicken and shrimp. Of the 5,500 employees of Al Baik at the time, only three were women, including two daughters of the owners. "Women weren't really allowed to work in the hospitality sector," she says.
But in recent years, the kingdom has introduced some tentative economic and social reforms, in the hopes of preparing the economy for a post-oil age. While last year's lifting of the ban on women driving has received much media attention, just as important are recent measures to expand their role in the workplace.
They are reforms born, at least in part, of necessity: While unemployment for Saudi men is just under 7%, according to official statistics, joblessness among Saudi women is more than 30%.
"It taught me to have a voice"
After five years with Al Baik, Alyamani realized she wanted to strike out on her own. She also realized she didn't have the business skills to do so. "I realized I didn't know what I needed to know to set up my own business," she says. "Entrepreneurship requires a lot of mental strength."
She decided an MBA would be her best bet, but the path to her MBA was difficult, and she has found the coursework challenging. "But the first 'A' I got was in entrepreneurship, so I knew I was on the right track," she says.
A summer between the first and second years of her MBA spent working in a Paris-based bread factory in the mornings and consulting for a restaurant looking to expand in the afternoons, strengthened her resolve to set up a bakery after graduation.
Beyond acquiring the skills and knowledge to set up and run her own business, the case method used at IESE, with its real-life focus and its reliance on discussion, has taught her to speak her mind and challenge the opinions of others. "It taught me to have a voice and to speak up," she says.
IESE
 has developed a wide range of courses and activities through the 
Women Win
platform to support women like Amna in their personal and professional development and aspirations to lead.
"I look at the person who I was before and who I am now and I'm so happy. I've never been more ready."

Amna Alyamani (MBA '19)

5 tips from Amna on becoming an entrepreneur amid adversity
Find your voice, make yourself heard and say what you think
Be aware of your mental strengths and work on them
Train, prepare and learn for the future
Follow your gut instinct and don't be discouraged by others
Plan based on what you believe in — it's far more effective (and rewarding) than planning on "going viral"