Timo

 

Buetefisch

, co-founder and CEO of 

Cooltra

 Group, persisted in his entrepreneurial spirit until he found

ed

 a project that today has 

over

 400 

employees

 and 

a presence

in more than 50 cities and eight countries.

 

It all started as great stories begin: with a dream. Timo Buetefisch wanted to start a company, create a project of his own, solve problems and have a positive impact on the world. When he was younger, he started his first company. But it was a failure and he lost "a lot of money," he admits. 
He needed to change his strategy, so shortly afterwards he began his MBA at IESE. He was attracted to the demands of the program, the case method and its strength in Europe. In addition, he wanted to meet students and professors who were as passionate about entrepreneurship as he was. He needed to create new contacts and sources of inspiration. And he did just that.  
A tireless
spirit
Before finishing his MBA, he had already started his next project: Lilium. A platform for the sale and distribution of flowers that was given a 60,000-euro investment from a business angel. It didn't work out as he expected, but he went on, undiscouraged. He would only take a step back to regain momentum. 
In 2004, he decided to take some time to recover financially and reflect. His education, experience and talent allowed him to become an assistant to the CEO of Grupo Bertelsmann in Barcelona. He spent two eye-opening years there until he, quite literally, hit the road again. 
St. Paul fell off his horse and Timo found inspiration when his motorcycle wouldn't start. It was when his bike broke down that he began to see things clearly.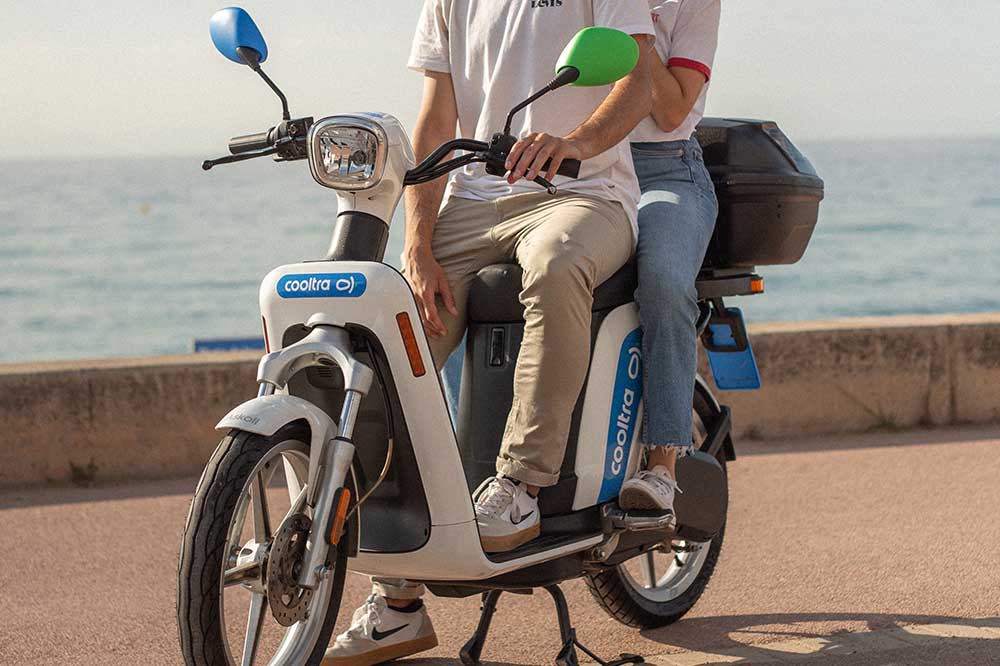 From
 having a problem to 
inventing a sector
While he was desperately trying to move around Barcelona with the same agility as always while his motorcycle was in the shop, he realized that he wasn't alone. This had to be a problem for more people in the city besides himself, he thought.  
His irritation with the situation didn't last long, though, because shortly after he came up with "the idea of setting up a motorcycle sharing rental company in Barcelona." To get it started, he found a partner who "had 50 scooters in a garage and didn't know what to do with them." Shortly after, they both set out to buy 25 more. They were small at this point, true. But they were one-of-a-kind. They were inventing a sector. 
Long before shared mobility appeared on the front page of any newspaper, Timo and his partner took over the streets of Barcelona. This is how Cooltra was born, a motorcycle sharing rental platform that today has more than 18,000 motorcycles in more then 50 cities and eight countries (Spain, Italy, Portugal, France, Czech Republic, Austria, Poland and Germany).
And that's not all. The two intrepid partners also anticipated a widespread concern about reducing carbon emissions. For years they had felt that shared mobility should be, above all, sustainable. And that's why today 75% of Cooltra's fleet is totally electric. 
Can
 an MBA help you
 launch a
start
-up
?
One of the turning points in Timo Buetefisch's successful career as an entrepreneur was his experience in IESE's MBA program. At IESE, he says, he received a first-class education. He studied "almost 1,000 different business case studies." The master's degree gave him a winning mentality that helped him to learn how to never throw in the towel despite how difficult things became. "I think the MBA program gives you a lot of confidence in yourself," he says. 
The program also opened the doors to a vibrant entrepreneurial community, which includes venture capital fund Finaves and the Business Angels Network. Moreover, there was also a career platform that allowed him to contact and recruit some of the brightest IESE alumni. 
But the thing Buetefisch values the most about his experience at IESE were the classes. The classrooms, he recalls, were a space where "70 talented and ambitious people of different backgrounds, ages and academic backgrounds used to meet, collaborate and debate. It wasn't a competitive environment at all, but it was challenging," he admits. Thus, it is not surprising that a number of Cooltra's employees are also IESE alumni. 
Timo Buetefisch: Keys to his success story
Learn, always. Never give up

.
If you want to win, believe in yourself.
If you don't have contacts, you have nothing.
You are good. Communicate that well.
Do you want to be a great CEO? Get training.
Open your eyes wide: good ideas appear unexpectedly.