If you have more than 5 years of management experience and are interested in continuing to grow or successfully launching your own project, a Program for Management Development (PMD) may be one of the best options available to you. But is it the right training for your goals?
Below is a list of the most frequently asked questions about the Program for Management Development (PMD):
What will you learn with a PMD?
How much time commitment does a PMD require?
How much does a PMD cost and are there potential scholarships?
What is the difference between a PMD and other similar IESE programs?
What is a PMD?
The Program for Management Development, or PMD, is one of the most comprehensive programs for people with high responsibilities within a company. It is an ideal program if you have 5 years, or more, of management experience and want to improve and hone your objectives, strategies and working methods, learning how to fluidly adapt to the ever-changing present and future global market.
What will you learn with a PMD?
A PMD is a transformative experience in every sense. Below are some of the most important areas of focused training:
You will gain confidence in decision making
You will acquire a comprehensive vision of your company, as well as of the different departments that make it up. You will incorporate vital new skills and discover how to think strategically in order to make quick and effective decisions with greater confidence to achieve the very best results.
You will boost your leadership skills
You will be taught how to build committed and motivated teams and make a positive impact on people and society. You will also discover how to manage people in the most effective way, especially in situations where conflicts need to be resolved.
You will expand your network of contacts
You will share your experiences with other managers and make invaluable strategic contacts with whom you can share problems or solve day-to-day doubts as your career advances over the future years.
You will improve your managerial skills
You will consolidate yourself within your organization, opening up new professional paths, learning directly from some of the most acclaimed and successful entrepreneurs from around the globe.
How much time commitment does a PMD require?
The duration of the PMD usually ranges from 6 to 8 months, depending on the overall size of the classes and the scope of the program. In any case, as they are aimed at professionals with positions of great responsibility, they usually offer the necessary flexibility so that participants can combine their studies with their personal and work obligations.
However, if you are looking for as much time flexibility as possible, you will probably be interested in finding out more about online and, especially, hybrid modalities, since, by combining virtual classes with some face-to-face classes, these options better guarantee continuous contact with both teachers and students.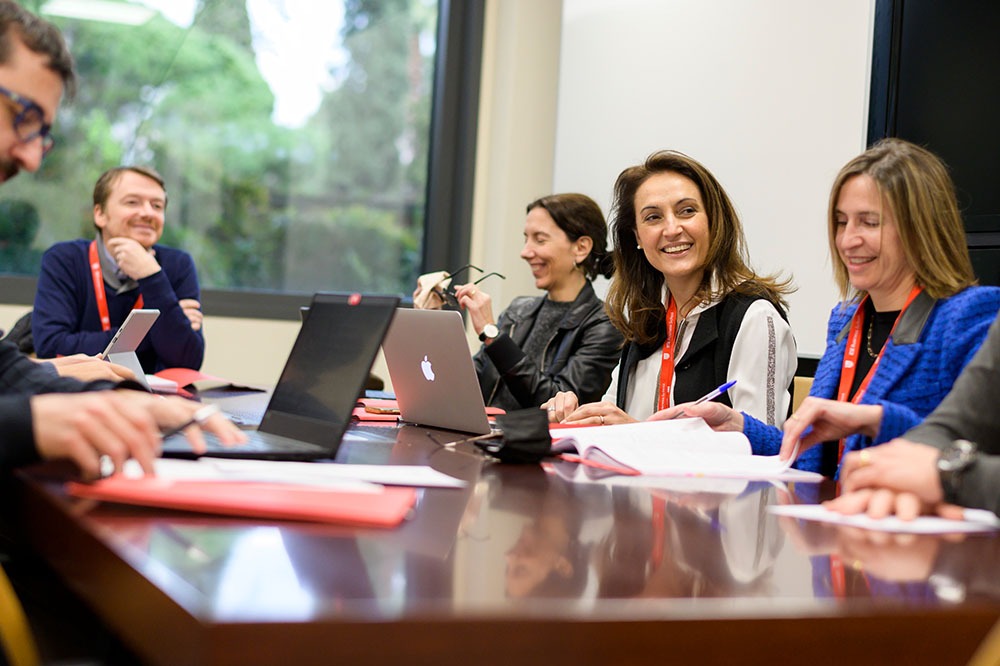 Who signs up for a PMD?
As these types of programs usually require the accreditation of at least 5 years of experience in management positions, the average profiles of PMD participants are usually comprised of directors, managers or entrepreneurs around 40 years of age. In any case, statistics are there to be broken and if you believe that a PMD is what you need to continue to grow in your career, it doesn't matter if you are younger or older than the above average.
Where can I study a PMD?
This is one of the most important questions, since choosing a great center can sometimes be more important than the choice of the program itself. We recommend you to choose a prestigious center, endorsed by international rankings, and to ask as many alumni as you can about their experience before making your decision.
How much does a PMD cost and are there potential scholarships?
As in everything else, there are training courses that require a greater or lesser financial expenditure depending on the academic and professional credentials of the teachers, the global acclaim and reputation of the school that offers it, the facilities, the average job position of the standard participants, etc.
Therefore, as a result, the range of program prices is very wide and, when deciding on one center or another, it is important to take into account both the expected return on investment and the possible financial aid offered by the chosen institution, in case you need it.
To calculate a more personalized final price, you should also take into account any possible commuting, accommodation and other costs in the event that the classes are face-to-face and the center where you have chosen to study the PMD is far from your current home. As with the entire range of IESE's programs, there are  available when applying.
What is the difference between a PMD and other similar IESE programs?
A PMD is an intense journey, usually undertaken by managers with very strong profiles who are looking to take a great professional leap forward by developing their management skills.
Find below the summary of other similar programs:
Executive MBA (EMBA). Statistically, Executive MBA students tend to be somewhat younger (32 years old) than PMD students (40 years old) , and therefore they have more time to fully immerse themselves in the 18 months that this educational journey usually lasts. As an extra motivation, Executive MBA students may want or need the official qualification that accompanies this program. Read more about the differences between a PMD and an Executive MBA.
Global CEO Program (GCP). For people with less than 5 years in management positions.
Advanced Management Program (AMP). You may be eligible if you have more than 10 years of managerial experience.
Global Executive MBA (GEMBA). For people with 15 years of experience or more, who are looking for international experience and who also require an official qualification.
Find out more about all the programs offered by IESE to boost your career at every stage of your professional path.