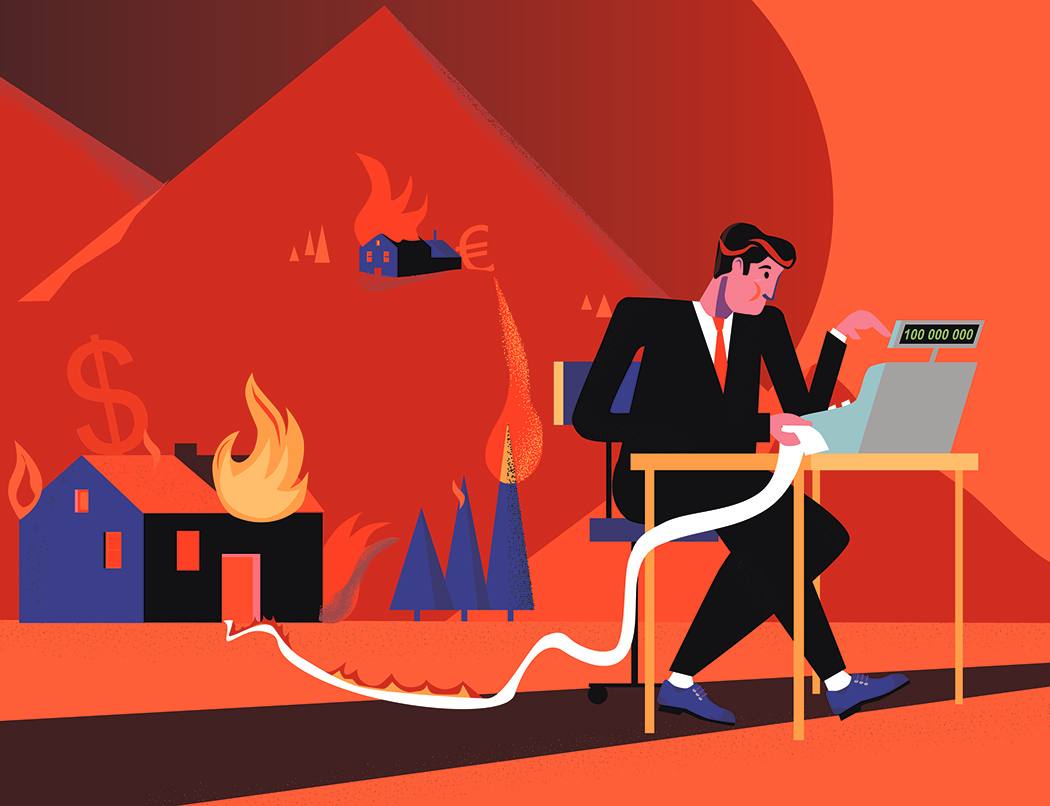 Calculating the cost of climate change
Now is the time to think more, not less, about the effects of climate change on your business, especially if you are in real-estate markets.
Have you analyzed your exposure to climate-related risk, pricing it appropriately and factoring it into your financial planning?Illustration: Javier Tascón
September 25, 2020
| Updated at March 24, 2023
This research was cited in the 2023 Economic Report of the U.S. President, prepared by the Council of Economic Advisers, a component of the Executive Office of the President in the Biden-Harris Administration.
As companies reconfigure their business strategies in light of the global health crisis, one of the smartest things they can do is factor in climate change, if they haven't already. Climate change was impacting businesses around the world even before the onset of COVID-19, on top of ongoing disruptions related to technology, demographic shifts and globalization. The coronavirus pandemic has amplified all these risks, bringing them into sharp relief.
Now, as we find ourselves adapting to what some are calling "the big reset," it's worth considering how to better prepare your business for extreme events. My research on real-estate markets tested by climate change illustrates how companies across different sectors may need to recalculate the costs and their exposure to assets susceptible to abrupt value losses owing to climate-related catastrophes.
The rise of catastrophic events

The rise of extreme events will make some locations that were once desirable places to live, visit, work or trade become less so. Whether pandemics such as COVID-19 or climate-related disasters, recent events have exposed systemic weaknesses that, unless addressed, will continue to afflict certain locations more than others, with direct or indirect impacts on business activity. Real-estate industry professionals, in particular, should be keeping a closer eye on them.
My research with colleagues from the Haas School of Business of the University of California, Berkeley, highlights the consequences of destructive events on real-estate markets, with wide-ranging implications for mortgage lenders and insurance companies, but also for construction companies, developers, urban planners, infrastructure providers, regulators and property owners. Specifically, we studied wildfires in California over two decades, merging data on fires, mortgages, property characteristics and weather.
Our findings were surprising — though there should be nothing surprising about climate-related events like fires and flooding, which are happening with such frequency that no business should treat them as "black swans." In California, wildfires have become so commonplace that people no longer talk of a wildfire "season" anymore. They happen all year long and are expected to increase in frequency and severity, owing to warmer and drier conditions.
At the same time, other factors are contributing to wildfires in the state: more homes being built in forested areas; a buildup of brush growth that ends up fueling larger fires; and aging power lines. The latter were directly linked to the so-called Camp Fire in 2018, which destroyed around 19,000 homes and other structures and killed 85 people (with one person still missing). It was the deadliest wildfire in California's history, the most expensive in the world in terms of insured losses, and it bankrupted Pacific Gas & Electric (PG&E), the utility company responsible for the faulty lines.
Read September 2020 update in LA Times: The worst fire season ever. Again.
Wildfires in other regions of the United States, from Appalachia to Alaska, have also become more prevalent. And many other countries are experiencing similar trends. In Australia, the bushfire "season" that began in June 2019 continued well into 2020. Although January 2020 may seem like a lifetime ago, the Australian bushfires were the top story in the world until they got eclipsed by COVID-19.
Apart from the destruction of millions of acres of land and thousands of homes and buildings, these events cause important drops in air quality, with smoke in the case of Australia reaching Chile and Argentina. (We don't have to think too far back, either, to remember the havoc wreaked when the eruption of an Icelandic volcano spewed an ash cloud that closed European airspace, cancelled over 100,000 flights, and disrupted businesses, supply chains and travel during the spring of 2010.)
Flooding events are also multiplying. An OECD study on Cities and Climate Change listed Miami, Guangzhou, New York, Kolkata and Shanghai as the top five cities in terms of assets exposed to coastal flooding, in that order. A two-meter rise in sea levels would mean the disappearance of Miami Beach; with three meters, the land where the San Francisco Bay Area's airports are located today will be underwater. Tokyo, Hong Kong, Amsterdam and Rotterdam are also predicted to be significantly affected.
Read NPR story: Major real estate website now shows flood risk. Should they all?
Meanwhile, in 2019, England and Wales experienced the wettest February since 1766, when recordkeeping began, causing severe winter flooding and infrastructural damage at a time when more real estate urgently needs to be built to deal with serious housing shortages across Britain.
Tackling the issue

What should business leaders, particularly those in at-risk geographical areas, do to grapple with these extreme (yet largely foreseeable) challenges?