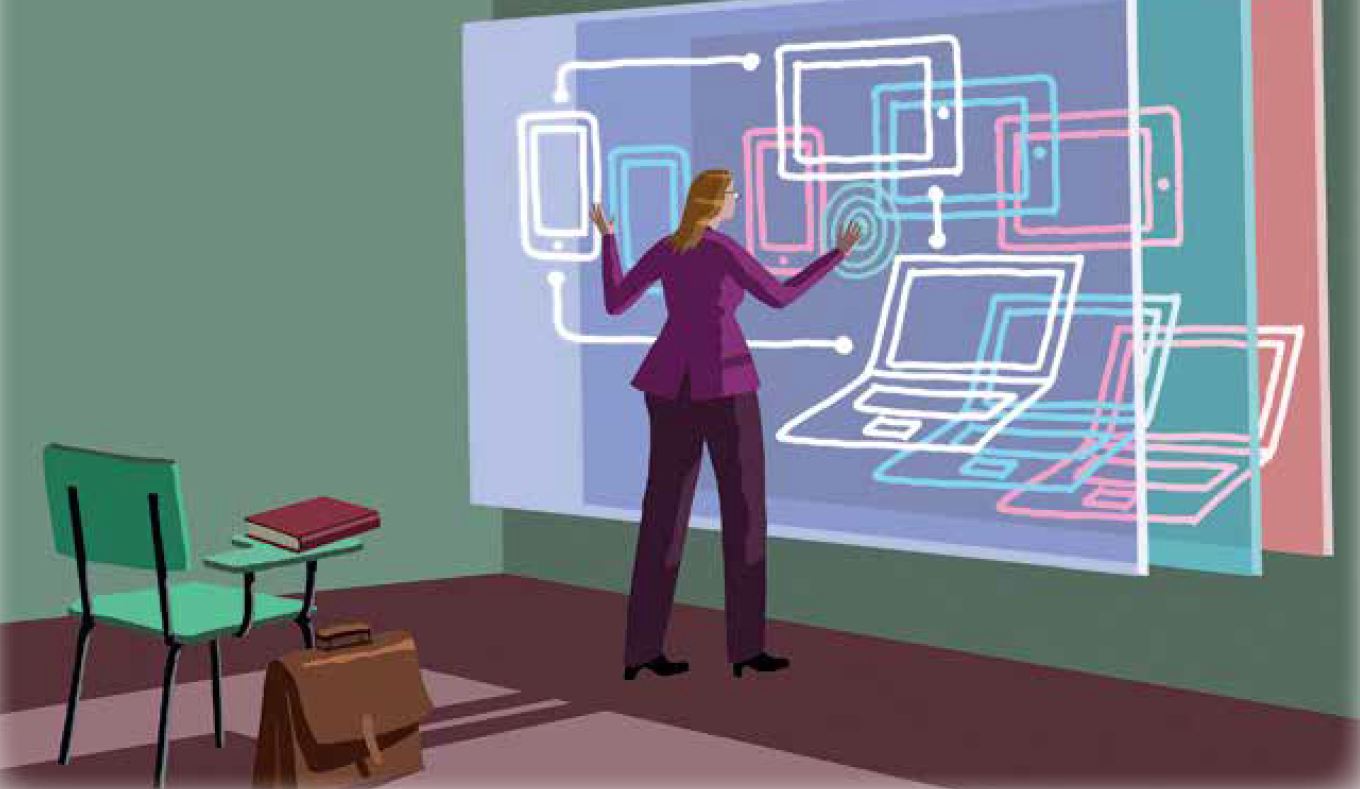 How digitalization is changing the way executives learn
Omni-learning takes the idea of continuous education to a whole new level — whereby professional development occurs anywhere, anytime, as an everyday journey integrated into executives' daily activities and informed by personalized, data-driven insights.Illustration: Leonard Beard
July 1, 2015
We must embrace a continuous approach to learning that seamlessly links the contexts where learning takes place. Welcome to the world of omni-learning.
By Giuseppe Auricchio & Evgeny Káganer
You rush to your office to log in to "Reaching New Heights," the online executive development program that your boss nominated you for. Unfortunately, the plug-in you need to run the program fails to download: your corporate firewall prevents access. You hurriedly switch to your personal iPad, but by the time you log in, you've missed part of the discussion. Not to worry: you're told a recording of the entire session will be made available afterward. In any case, the audio quality is poor, with lots of background noise.
Later in the day, you check the program site. To your surprise, the class roster is only a list of names, as most participants failed to upload their details. You look them up on LinkedIn and send them a note to say hello.
As part of the program, you're asked to state your learning objectives. You can't recall what your boss told you, so you open your Personal Development Plan and copy what's there. You also notice the program will involve a team project. "I hope it doesn't add too much work," you think. You print out the schedule. You see the executive coach assigned to the program has already posted feedback on one of the themes, "Managing Globally Distributed Teams." Your mind wanders off to a related article link.
During your train commute home, you attempt to pick up the recording of the morning session, only to discover that the Web stream isn't compatible with your mobile device. You shrug your shoulders, figuring that if the content were that important, it wouldn't require such effort to access it.
This story may sound familiar. As technology pervades our lives, its use in professional development has steadily grown. Yet, for many learners, the reality can be frustrating, falling short of the seamless experiences they've grown accustomed to with other digital products and services. Technology undoubtedly affords new possibilities; at the same time it puts stress on existing systems and infrastructures. Unless companies learn how to make the most of the opportunities, situations like the one described will not improve.
In this article, we share the thinking that is guiding our experimentation at IESE to create new pedagogical models and approaches. At its core is a deep reflection about how digitalization — defined as the diffusion and assimilation of digital technologies into all aspects of daily life — is transforming industries in general and learning and development in particular. We contrast these changes with research on current executive development experiences. This research suggests that companies must urgently upgrade their competence with respect to the latest technologies if they are to meet learners' most basic expectations for a modern learning experience.
This is a bolder call than blended learning — merely integrating online with face-to-face learning. It's about leveraging digital tools to create a new conception of learning, which we refer to as omni-learning.
Omni-learning takes the idea of continuous education to a whole new level — whereby professional development occurs anywhere, anytime, as an everyday journey integrated into executives' daily activities and informed by personalized, data-driven insights. This vision goes beyond technology itself, implying a fundamental shift in the way learning is designed. As such, omni-learning represents another example of the transformative effect of digitalization on consumer experiences across all industries and contexts.
---
A version of this article is published in IESE Insight Issue 26 (Q3 2015).
This content is exclusively for personal use. If you wish to use any of this material for academic or teaching purposes, please go to IESE Publishing where you can purchase a special PDF version of "How digitalization is changing the way executives learn" (ART-2747-E), as well as the full magazine in which it appears, in English or in Spanish.