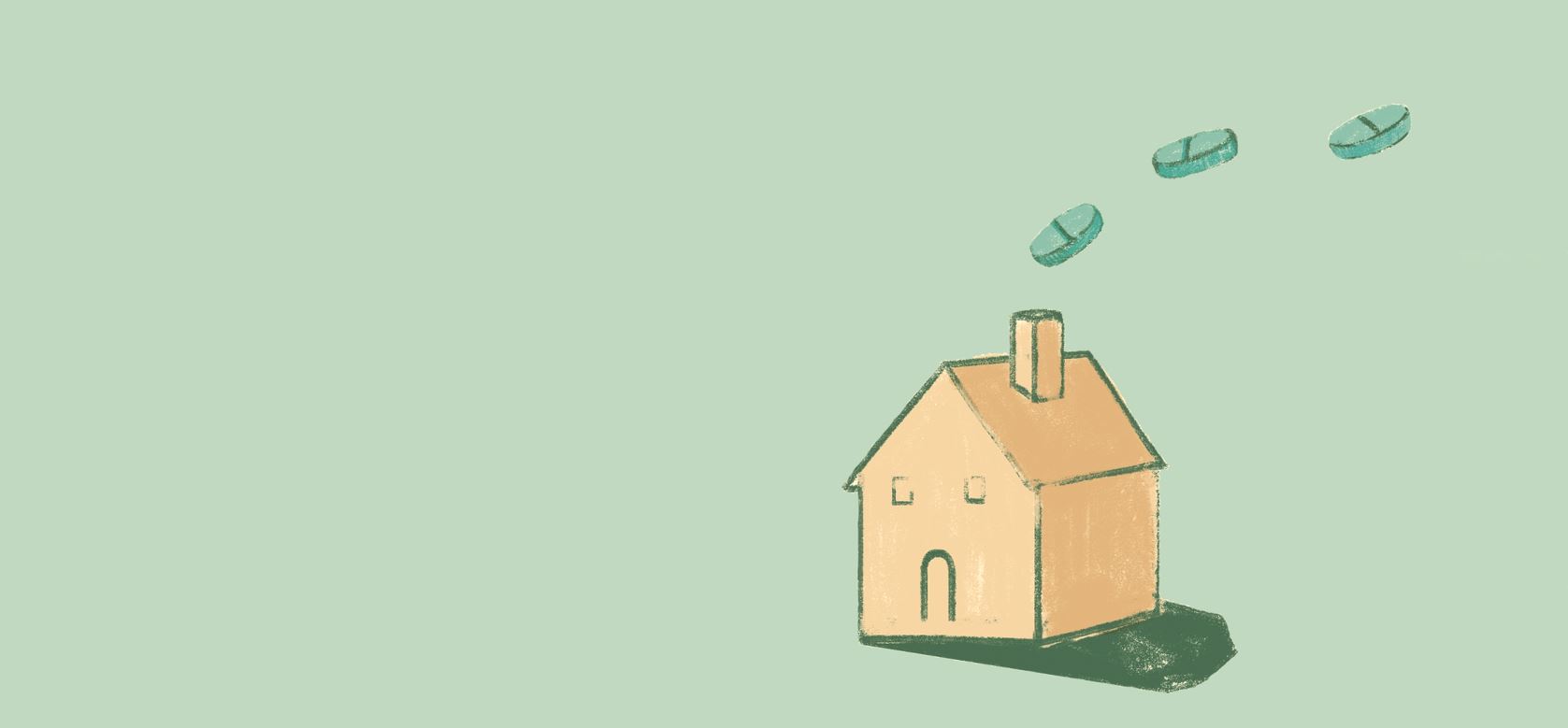 Housing wealth and deaths of despair
Illustrations: Redondo
September 1, 2023
An unexpected shock in housing wealth can be bad for your health, perhaps even contributing to drug-related deaths of despair. New research gives policymakers food for thought as they tackle the U.S. opioid crisis.
By Carles Vergara, Nuria Mas and Ariadna Jou
John is a 41-year-old businessman, married with two kids, living in a three-bedroom, two-bathroom family home in Cincinnati. He considers himself moderately successful: he earns well over $50,000 a year, holds a few stocks and bonds, and contributes to a pension fund. And he feels quite healthy: he recently bought an elliptical machine for working out at home, since it was easier on his knees, which had been giving him trouble after years of running in local half marathons.
His wife, Jane, recently spotted a house that had come up for sale in a neighborhood they had been eyeing. It wasn't that much different from their current home, but it was in a good school district for their kids. The new house also had a dedicated home office, which John thought would be a better setup than his current makeshift space in the corner of their living room. Since the COVID-19 pandemic, he had been working from home a lot — exclusively during lockdown, and now he went into his company just two days a week, and even then only if he had a meeting that he was required to attend in person. The new house seemed a good fit for their family needs.
The asking price of $290,000 didn't bother him. John figured their current house was probably worth the same. He had to pay local property taxes every year, and his tax bill was estimated on a similar valuation. Back when he used to jog around his neighborhood, he'd catch glimpses of the properties advertised in the local realtor's window, and houses in his area were going for $300,000 or more. He made a mental note to call that local realtor and get an estimate for their own home, so they could start to prepare their own listing. Jane made an appointment to see the new house, where the kids would be able to walk to school. She was already dreaming about how she would spend all the new free time she would enjoy by not having to shuttle her kids back and forth to school, soccer practice and drama club.
Alas, the dream would have to remain a dream. The realtor came and assessed the current value of their home at $250,000, suggesting they could try listing for $260,000 but be prepared to negotiate down, maybe landing somewhere around $255,000 if they were lucky. Since the start of 2022, interest rates had been hiked 11 times to combat rising inflation, and any new mortgage rate they were likely to get would be at least 7%, substantially higher than the 4% they were currently fixed at. John and Jane were shocked! Their house was worth over 10% less than they had imagined. Now they felt stuck.
Either because of the shock or because of years of stress he had put on his knees from his competitive running days, or both, John started to get a lot of aches and pain. He also had a new boss who was less flexible about working from home and wanted to see everyone back in the office most days of the week. John found some pain pills in the medicine cabinet that his doctor had prescribed for a previous knee injury, and he popped one in his mouth. Jane reported that their dream house had sold for $320,000 in a bidding war. He popped another pill. The Fed contemplated further interest rate hikes for 2023, just as their five-year adjustable-rate mortgage deal was due to expire later this year and they would have to sign up for a new deal at a much higher rate. He went to the doctor to refill his old prescription, as his pain seemed to be growing worse by the day.
"On a scale of 1 to 5, with 5 being excellent and 1 being poor, how would you rate your general health?" the doctor asked, running through the standard health questionnaire without looking up from his computer.
"Fair, I guess," John muttered.
"So that would be a 2," the doctor intoned.
"But my knee really hurts," John protested.
"So, a 1 then?" The doctor dashed off a prescription. "Here's the latest painkiller. Let me know how you get on with this one."
How will John get on? Going by trendlines, not very well. In 2022, the number of deaths from opioid overdoses hit a record high in the United States, with nearly 110,000 fatalities. That adds to the hundreds of thousands of people who have died of an opioid overdose in the U.S. and Canada over the past 20 years — exceeding the total number of Americans and Canadians who died in both world wars. If things continue as they are, opioid deaths will exceed 1.2 million by 2029, according to a Stanford-Lancet prediction.
Furthermore, in our research, we made a surprising discovery: An unexpected shock in housing wealth — like that experienced by John and Jane in our fictitious yet representative example — had an observable impact on health outcomes, increasing the probability not only of a decline in general health but of so-called "deaths of despair" linked specifically to opioid abuse. Housing wealth, it seems, is an additional driver that officials should be taking into account as they seek to combat the opioid epidemic, especially as the effects of fiscal decisions to cool the economy are having serious consequences on real estate markets and people's household wealth.