IESE Insight
Porsche CEO Oliver Blume: Half its cars all-electric or hybrid by 2025
Porsche's strategy to become carbon neutral is challenging yet achievable. Green energy is key, using e-fuels combined with electromobility to run not just the cars but the plants. While AI is also valuable, it won't replace the human element on which the brand depends.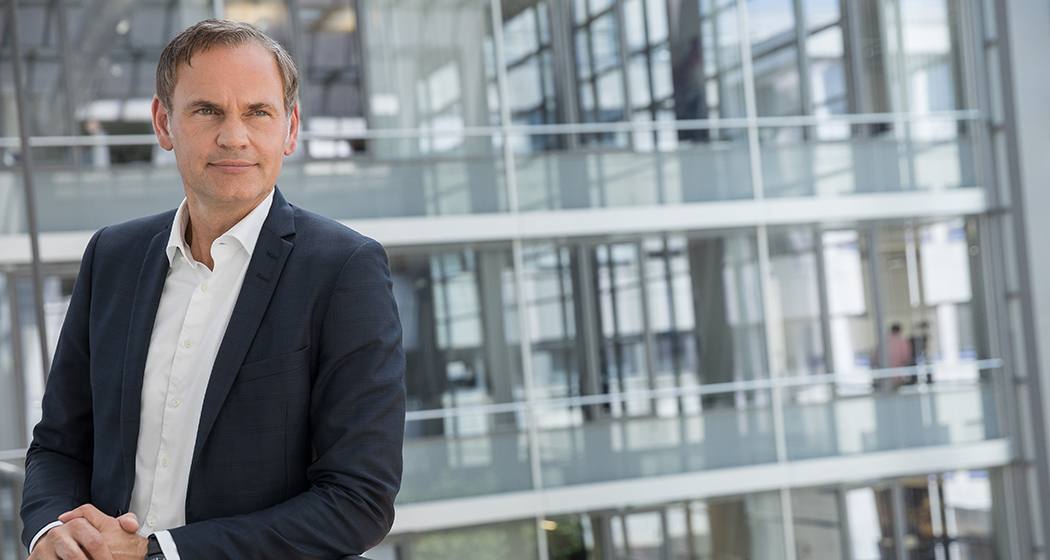 Before Dr. Blume became CEO of Porsche, he was a member of the Executive Board for Production and Logistics of Dr. Ing. h.c. F. Porsche AG. He has a Degree in Mechanical Engineering from Technical University, Braunschweig, and a PhD in Vehicle Engineering from Tongji University, Shanghai. Photo courtesy of Porsche AG.
"We must step out of our comfort zone," Porsche CEO Oliver Blume told the IESE AUTO Industry Meeting in 2019. And Porsche certainly has done that, launching the Taycan, its first all-electric sports car, and investing 15 billion euros in electric mobility and digitalization so that by 2025 half the cars it sells will be all-electric or hybrid. Such heavy investment and transformation were already underway before the coronavirus pandemic, though that has certainly accelerated trends toward more connectivity, electrification and sustainability. Ahead of this year's Industry Meeting — now more accurately called IESE Mobility to reflect these broader trends — IESE professor Marc Sachon caught up with Blume to discuss where he's taking Porsche, which Sachon says is one of the best examples he's seen yet of a traditional OEM reinventing itself for the future.
In addition to stepping out of your comfort zone, you said that only by continuously reinventing itself will Porsche continue to be Porsche. What do you mean by that?
Change is important while remaining authentic to the brand. An example of this is the Taycan. We had to get everything right with this car. It needed to be 100% Porsche but it also had to be a unique product, particularly in a sustainable way. We succeeded in that.
At Porsche, continuous improvement applies not just to our cars but to every area of our company. The important thing for me is to take the whole team on this journey. That is the demand I make on myself as CEO: to ensure that every employee is focused on the key objectives, that everyone pulls together, and that everyone understands why change is positive and why it brings opportunities.
What role might Europe's Green Deal play in this reinvention?
What is perfectly clear is that everyone will have to make a significant contribution to climate protection. As a company, we bear responsibility for employees, jobs and economic success. As part of this, we are training our employees, developing knowledge about new technologies and process chains, and bringing fresh products and business models to the market.
Apart from showing what is technologically possible, it is also our responsibility as an industry to show where the limits lie, because, as in sport, if I set the bar too high, nobody will be able to jump over it. We know the changes cannot happen fast enough from an ecological perspective, but the targets do have to be within the realm of the feasible. We stand by the objectives of the Paris Agreement, which are challenging, but by doing this in cooperation with suppliers and partners, we believe they can be achievable, strengthening the economy overall.

Should KPIs change so that sustainability becomes more prominent in company agendas?
A good and important question. For some time now, we have been examining how we can make sustainability activities more objectively measurable. Up to now, success has been measured in terms of sales revenue and results. We would like to expand on this. Social and ecological KPIs
need to become just as important as financial KPIs.
How much actual value do we, as a sports car manufacturer, contribute to society? In 2019, Porsche became a member of the Value Balancing Alliance, which aims to assess in monetary terms the effects of company activities on nature and society. With this in mind, Porsche developed its own sustainability index, down to an individual level of detail, in 2020. We use this to measure the key challenges for sustainable business activities along the value chain and during the life cycle of our cars.

What role does green energy play in the Porsche Strategy 2030 to become CO2 neutral?
It plays a fundamental part. Since 2017, we have been using green electricity that stems entirely from renewable energy sources at all of our production sites in Germany. At the Porsche headquarters in Stuttgart, we run two highly efficient combined heat and power plants. These plants are operated with biogas obtained from waste and residues, and produce fully CO2-neutral energy.
In addition, we aim to minimize our energy demand by applying modern technologies and optimizing our processes. We also involve our partners in our sustainability efforts. For instance, we require our battery cell suppliers to exclusively use green electricity from renewable energy sources for their production.

Where do you see natural gas in all this?
Here we are looking into synthetic fuels, so-called e-fuels, to produce hydrogen in places around the world where there is an abundance of sustainable energy. The synthesis of hydrogen and CO2 from the air produces green methanol, which can then be converted into fuel.
Green methanol has a number of advantages over pure hydrogen: It can be transported without cooling and compression; today's infrastructure can continue to be deployed; and it can be used in traditional combustion engines with a high level of efficiency and without the need for an additional fuel cell in the car.
Together with partners like Siemens Energy, we are setting up an e-fuel pilot plant in Chile that will be operational from 2022. We are considering the use of e-fuels in motorsports and, longer term, in our existing cars, too.
Although electromobility is our priority, it is important to stress that electromobility is not in competition with synthetic fuels: both can be sensibly combined to complement each other.

How do you see the world of New Mobility?
Thanks to new offerings, mobility is becoming easier, more convenient and more attractive. The car of the future will be smart and digitally networked. It will communicate with other cars, the driver and its surroundings. We see enormous potential in electromobility. By 2025, half of the Porsche cars we sell will have an electric drive, whether all-electric or hybrid. I can also well imagine that many cars of the future will be self-driving. That applies less to Porsche, though — driving our cars is just too much fun! Still, there are aspects of autonomous driving that are interesting for us: Traffic Jam Assist or automatic parking, for example.

How will you address the negative environmental impact of Li-ion batteries?
We are aware of the challenges in the supply chains of raw materials for batteries. That is why we are working with our direct suppliers for cobalt and lithium to trace the supply chain right back to extraction. Our aim is to identify all of the intermediate suppliers involved, detect risks at as early a stage as possible, and take action if necessary.

How will the industry solve the challenges for dealing with used Li-ion batteries?
By systematic further development of batteries. We see immense potential in solid-state batteries, which offer a number of advantages over the current batteries: higher energy dens
ity, greater safety, better fast-charging capability and reduced weight. They also require lower amounts of rare raw materials and offer a much higher degree of recyclability.

Where is AI in this transition?
AI is an increasingly important part of automotive added value and it is already a key technology driver at Porsche across multiple areas — from business processes and our cars to the customers — with exciting new applications. For example, in logistics, in the incoming goods department, we are considering replacing manual scanning, which is still widely used, with automated imaging and AI-based processes. In material requirements planning, AI will revolutionize parts supply and enable us to control product-line sequencing with even greater precision. And in analysis of our supply chain, we can use AI to identify sustainability risks of our raw material suppliers at an even earlier stage. These are just some of the areas in which Porsche is already active.
However, irrespective of the progress made in AI, there is one thing we must not forget: for digitalization to be a success, it requires enthusiasm and passion, which is why, at Porsche, the focus is always on people.

Where do you see Porsche in 2030?
Porsche will rely on three drive technologies — namely, highly emotive petrol engines combined with powerful plug-in hybrid powertrains and electric drives. In this way, Porsche will position itself with emotive sports cars that combine dynamic driving, design, quality and sustainability — a strategy that links our tradition with the future.
---
This interview forms part of the magazine IESE Business School Insight 158.