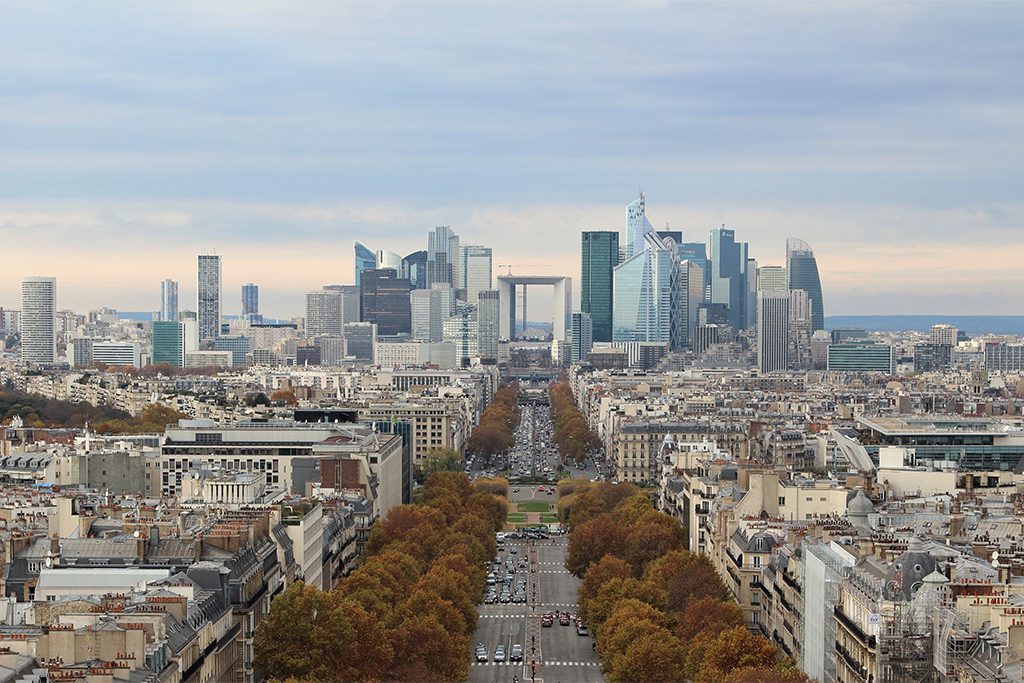 City quality another indicator in company profitability
Sustainable and livable cities are associated with better firm performance, finds a groundbreaking study of the U.S., Europe and Asia.
Cities built around sustainability, fairness and livability are not just nice places to live — they are also a factor in a company's profitability.
Research from IESE professors Joan E. Ricart and Pascual Berrone, with Niccolo Pisani (IMD) and Mahsa Memarian (INCAE), tested the idea that a city's quality is associated with company performance. Theirs is one of the first studies to add cities to the firm-industry-country-continent filters, with an aim to inform both corporate strategies and city-level policies. Their global study, exploring whether sustainable cities were home to better performing firms, was presented at the 2023 European Academy of Management (EURAM) conference, where it won a best paper award in the strategic management track.
Cities are at the heart of global change, responsible for an estimated 80% of global GDP. Meanwhile, the United Nations projects 68% of the world's population will live in urban areas by 2050.
This urban growth can put strains on housing and public services as well as increase traffic and pollution. Such problems can be ameliorated by "smart cities," whose tenets are increasingly being deployed around the world. These include technologies that facilitate the urban experience, and growing movements toward sustainability and human capital development.
What makes a quality city?
Back in the 1960s, urban theorist Jane Jacobs linked urban density and diversity to entrepreneurial activity and innovation. By the early 2000s, Richard Florida was advancing the idea of the creative city, arguing that a city's ability to attract creative professionals would be central to its success.
Now, the study by Ricart, Berrone et al. breaks new ground by evaluating a city's quality based on 10 dimensions grouped in three areas (social inclusion, economic competitiveness and environmental sustainability) and then linking those to the success of companies located in those cities.
Quality was measured using the IESE Cities in Motion Index criteria: governance and democratic participation; urban planning; public management; technology; the environment; international outreach; social cohesion; transportation; human capital; and the economy.
Broadly speaking, the three main quality criteria influencing a city's competitiveness are:
Sustainability. Environmental considerations, such as air quality, are becoming key for firms to attract and retain talent and meet their stakeholders' raised expectations.
Inclusion. From improved broadband (to facilitate access to information and education) to promoting transparency, connectedness and digital talent, this aspect is essential for the circulation and sharing of good ideas that benefit all.
Economic competitiveness. Building an entrepreneurial culture, promoting business creation, constructing high-tech communication facilities to enable knowledge-sharing: the infrastructure and building blocks need to be there.
"Our base hypothesis was that firm profitability would vary systematically and significantly according to the home city," explains Ricart. "Then, we looked at whether this effect was positive and stronger for firms operating in high-tech industries, because past research has shown that high-tech activities tend to flock together in order to match with each other and to produce and exchange knowledge efficiently."
Hometown competitive advantage
Correlating the IESE Cities in Motion Index data with almost 10,000 firms in cities across the United States, Europe and Asia reveals that a 10% higher index value for a city is associated with a 1.6% profitability premium for firms located in that city, and this figure is even higher for firms in the tech sector.
The reason for this is likely to be the impact that inclusivity, sustainability and market dynamism can have on local communities, particularly the capacity for these elements to transform communities into strategic resources for companies.
And firms are likely to benefit even more the "smarter" a city becomes. Improvements to digital ecosystems and high-tech communication facilities enable intense and open knowledge-sharing. This is especially important for the tech sector, for whom transparency and open access to public datasets can form a large part of their business models. A high-tech service sector fosters further innovation, which is crucial to the development of tech hubs.
Location, location, location
Not all regions responded the same way to an increase in city quality, however, and there are lessons to be drawn from those differences.
The U.S. benefits most dramatically from smart quality improvements — an intriguing finding given that U.S. cities already rank highly across several categories of the IESE Cities in Motion Index.
"You would expect a larger effect when improvements happen in relatively lower quality cities," says Ricart, "but our results suggest that improvements create virtuous circles, and companies are likely to benefit more as the city continues to become smarter."
As such, U.S. city governments and planners should think hard about how incentives such as clean air and easy commutes can attract talent, since "human capital" shows up as the dimension with the greatest impact on firm performance in United States.
In Europe, "urban planning" and "technology" have the strongest effects on firm performance. Cities in Europe are older, with important legacies, making these two dimensions the key ones there.
In Asia, "public management" and "governance" are the areas that most affect firm profitability, perhaps due to the top-down nature of many Asian societies. This can be problematic for cities seeking to transform themselves, because policies such as those governing pollution may be established at a regional rather than city level, making it harder for cities to distinguish themselves. That being said, a city improving its public management is still necessary for the ecosystem of firms located within that city.
Overall, city quality is decisive for creating communities that support and contribute to entrepreneurship and innovation. Even in a highly digitalized, globalized world, we should never underestimate the effects of physical, local spaces.
About the research
The results of 9,952 firms, based in 127 cities, were analyzed over a two-year period (2014-16) and correlated with distinct dimensions of quality, according to the IESE Cities in Motion Index.