IESE Insight
Amid geopolitical turbulence, be pragmatic, be informed, be prepared
IESE's International Advisory Board discusses Russian war in Ukraine, growing tensions with China and global energy crisis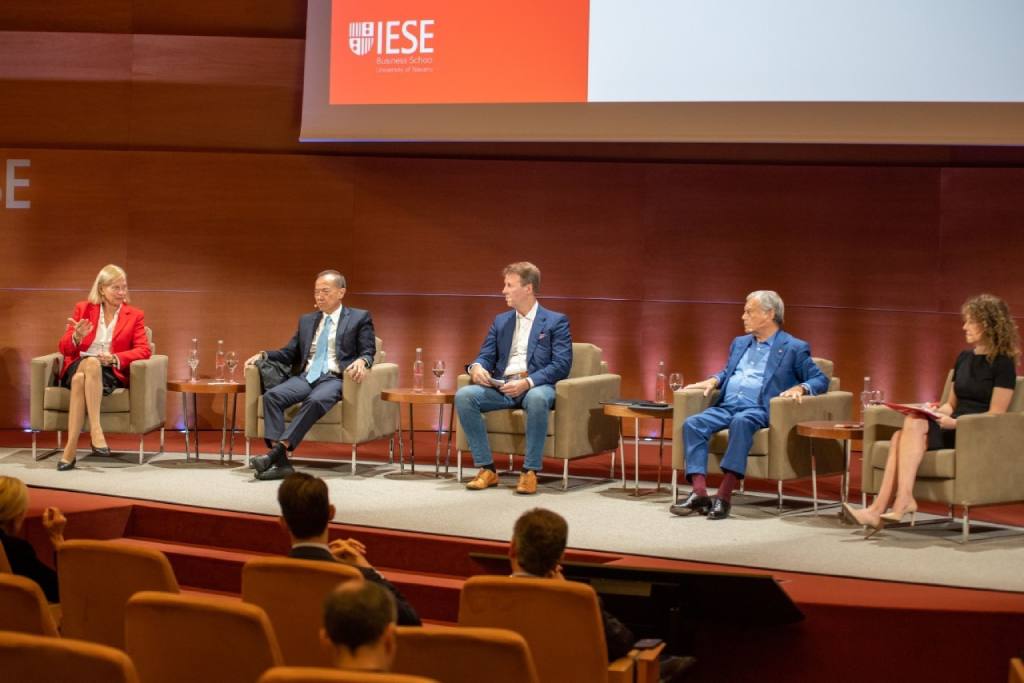 The next several years promise to be complex for business, and the only way to be strong in the face of geopolitical threats is to be prepared.
These were the conclusions of four members of IESE's International Advisory Board in a special session held on IESE's Barcelona campus. Economics professor Núria Mas sat down with Janne Haaland Matlary of the University of Oslo; Risto Siilasmaa, CEO and Founder of F-Secure Corporation; Martin Sorrell, founder of WPP and S4 Capital; and George Yeo, the former Foreign Affairs minister for Singapore, to analyze key trends in the global context from a business perspective. Russia's ongoing war in Ukraine, rising geopolitical tensions with China and a global energy crisis dominated the discussion.
Janne Haaland Matlary, a professor of political science specializing in energy policy, outlined what she sees as threats on multiple levels stemming from Russia's war in Ukraine — not only as Vladimir Putin's proxy war with the West, but also as a trigger for hybrid forms of aggression via the withholding of energy supplies, the launching of cyberattacks and the stoking of fears of nuclear escalation. "This winter will be a real test to see whether we can manage this situation," she offered. "Russia is losing in Ukraine, but it's a dangerous time, because the more it loses the more it will lean on nuclear and hybrid threats."
How can we protect ourselves and our businesses against such threats? In the conversation that followed, three ideas came up repeatedly: we need a better understanding of other points of view, a realistic assessment of what the future holds and, finally, systematic scenario planning. In fewer words, we need to be informed, pragmatic and prepared.
Understanding beyond one's own cultural comfort zone
"Is globalization receding?" Professor Mas asked George Yeo, former minister for foreign affairs of Singapore, for his perspective based in Asia.
"China is preparing for the possibility of war with the United States. China doesn't want a war, but it is preparing – for nuclear, cyber- and even bio-warfare. They want to be sure that whatever happens they can defend themselves." George Yeo
How did things get to this point? "China feels that the ill-will the U.S. holds for China has no bottom line," Yeo said, echoing the phrasing used by China's former ambassador to the U.S., Cui Tiankai. "The U.S. cannot accept China being a world power," Yeo continued, highlighting an exponential growth of anti-Asian rhetoric in recent years. Faced with what China perceives as Western aggression, Russia is useful as a bastion against the West. As such, China is loath to oppose Putin.
"The majority of the world does not take the Western view of the Ukraine war," Yeo stated. "We see Europe as entering a long, dark tunnel with this continued escalation of the conflict. And China has no interest in going there. Neither does India, Brazil or South Africa."
Asia's perspective is not the only blind spot for the West. A wider cultural understanding is fundamental, panelists agreed. Matlary suggested it was crucial to understand how Russia is interpreting the West's actions, because that interpretation will determine how Russia sees its future choices. Matlary highlighted NATO's 2008 offer of (eventual) membership to Ukraine – which would have removed Russia's buffer zone from other NATO member countries – as a trigger for the current crisis. "There is great hubris in the idea that we can export our culture to other countries," she added. Though the West may have tried to do so in the 1990s, just after the old Cold War ended and the USSR was dissolved, today's reality is different. We now find ourselves in a multipolar world, Martin Sorrell concurred, as opposed to the unipolar one we may have gotten used to.
Yeo appealed to cultural openness as key to success in this multipolar future: "Those who understand more than one culture will have an advantage. If you go in thinking you're right and others are wrong, you're going to lose."
Pragmatism – yes, the worst may come to pass
"Too often we professionals are surprised by something that in hindsight seems obvious. To be surprised is one thing, but often it leads to being unprepared, which is unacceptable," said Risto Siilasmaa, founder of the computer security firm F-secure and formerly chairman of Nokia (from 2012 to 2020).
Pragmatism is an essential first step to preparedness, Siilasmaa and fellow speakers agreed. It goes beyond identifying things as they are (facing, say, climate change, inflation and a Covid hangover) to encompassing how they will be.
"There are three things that will make the next 50 years really difficult. We will not have global growth of 2 or 3%, we will not have cheap energy, and, in my opinion, relations with Russia and China will continue to be bad." Martin Sorrell
A lack of realism only hampers matters, particularly in the U.S., where many audiences are "naïve," in Sorrell's view, with limited experiences of war on their own territory. Sorrell also pointed to Nancy Pelosi's state visit to Taiwan, as an example of a move that seemed aimed for domestic consumption and yet had damaging effects on international relations, escalating tensions with China.
A key element to a realist approach is facing up to our fears. In Siilasmaa's view, that requires looking squarely at worst-case scenarios. "What's the likelihood of nuclear war?" he asked. "Is it possible?"
From pragmatism to preparedness
Both Russia and Ukraine have significant populations of hackers as well as histories of cybercrime. And yet, cyberattacks have not been a defining feature of the war so far.
Why not?
There are a number of reasons, but one is that preparedness is like a muscle. Russia has been cyber-targeting Ukraine for years, and Ukraine has been defending itself. For all intents and purposes, they have been exercising their muscles, and as a result they are more resilient.
Siilasmaa sees practice as a key component of preparedness. And also data. "I became convinced Russia would attack Ukraine when I learned that Russia had moved blood supplies to near the border. No one needs blood for training and maneuvers. That was two weeks before they invaded. Think what business can do with a two-week warning."
With data and analysis, you can move your resources to respond to best- and worst-case scenarios. From there, plan with concrete scenarios for possible outcomes (i.e., war, energy shortages, cyberattacks and pipeline attacks). What's important is to be proactive in response, rather than reactive.
For the moment, we need preparedness against potential Russian hybrid warfare to guarantee energy through this winter and beyond. Going forward, we need to find new energy sources. "That means nuclear energy," Matlary opined, not just importing from places like Algeria.
And beyond that?
"We've been talking for over an hour about key global trends and we have not mentioned climate change," Siilasmaa reminded the audience. We need to get prepared for the real battle.
---
The discussion took place on IESE's Barcelona campus on October 21, 2022