Stories
"Aim for Excellence, Not Success," urges Inditex CEO
Pablo Isla encourages MBA 2014 to focus on what counts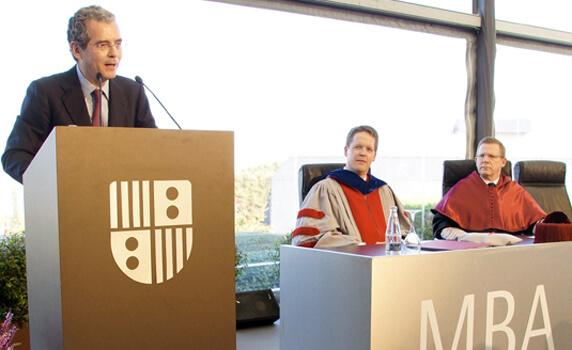 "Don't aim for success," Pablo Isla, Chairman and CEO of Inditex, told the IESE MBA class of 2014 at the May 16 commencement ceremony. For a group of 280 graduates from 60 different countries poised to take on the challenges of international business, his advice seemed counter-intuitive. Yet his commencement address was a reminder of the responsibility that comes with leadership and the futility of fixating on a moving target like success.
Isla explained that happiness, like success will follow when you forget to seek it out. "Concentrate instead on doing things well. Don't complain about the obstacles in your path; concentrate instead on overcoming them without getting discouraged."
At the helm of one of the largest fashion retail groups in the world, Isla has guided Inditex through the recent turbulence of the financial crisis, managing to create 8,000 jobs worldwide in 2013. "In the very near future, you will have to make important decisions… you will be responsible for creating value for shareholders and society, generating jobs and innovating and setting the foundations for growth."
A tall order, yet within reach for this group of select professionals, if they stay focused on what really counts. Mr. Isla shared four values that have helped Inditex grow from a single store in La Coruña in 1975 to 6,300 stores around the world today: "Appreciate people as a company's most important asset; make sure you are passionate and committed; keep your entrepreneurial spirit, always managing as if it were your first venture; and frame everything you do with a sense of ethics…for without this, the first three lack meaning."
Isla highlighted humility, which has been crucial in the case of Inditex, where they always remember their modest origins. In addition, "It's hard to achieve any goal without passion," he stated. Along with commitment, passion's silent companion, this value has been central to the company's culture. "This is part of our DNA and is without a doubt part of the culture that comes from our founder, Amancio Ortega", said Mr. Isla.
He encouraged graduates to allow themselves to learn from the arts where passion has always been more conspicuous. "When García Márquez had to kill Aureliano Buendía, his protagonist in One Hundred Years of Solitude, he cried for hours over the murder…There was no birth, death or heartache in his literature that he didn't care deeply about and he inspired that same passion in his readers."
As they step up to the demands of their future careers, Isla encouraged IESE's 49th graduating class to allow themselves to feel and work with passion like García Márquez, just as they had done over the last 19 months of the MBA program. And, most importantly, to never forget, that if happiness is humanity's ultimate aim, "Just like success, it cannot be pursued, it is rather the consequence of our actions."
Dean Jordi Canals echoed similar sentiments in his address. "Professionalism and a spirit of service are powerful levers that business leaders and companies should use to improve society. They signal a commitment to excellence, a request for personal change first, before telling others to change or wanting to change the world."
As the school commemorates the 50th anniversary of the MBA program's founding, the dean bade this class farewell, reminding them that, "IESE is your home, a place where you can always come back to and where you will always be welcomed with respect and affection."
Related stories not found