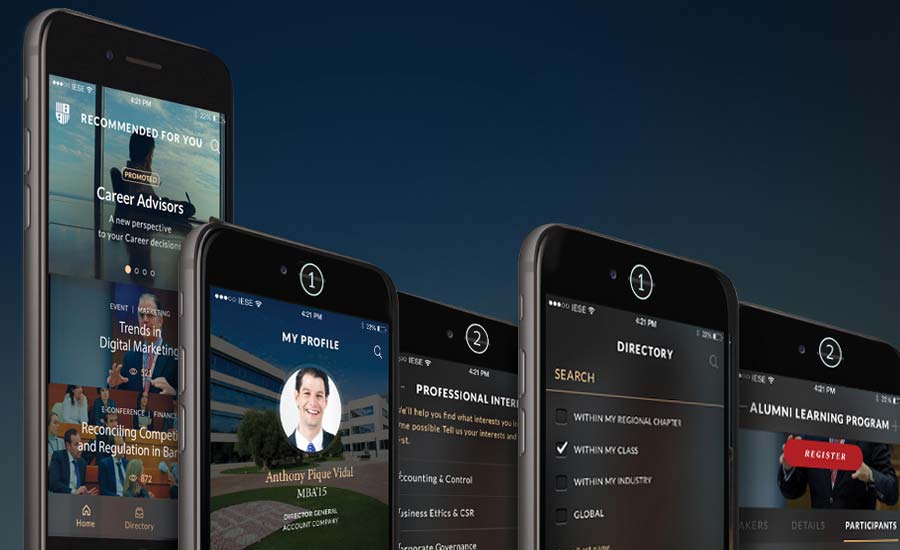 Alumni Go Mobile
New app launches with personalized content and enhanced networking
The Alumni Association has launched a new application to give members a personalized experience at their fingertips. There are 45,000 people from 123 countries who have passed through the classrooms of IESE and are now part of the alumni community. The new app makes it easier for all of them to stay up-to-date and in contact, wherever they are in the world.
We have joined the digital revolution to provide more value to our members, says Javier Muñoz, director of the Alumni Association. We want to get to know members better so we can recommend activities and content of interest to them, and leverage new technologies so they can build their network of contacts. The app will be a tremendous help in making that possible.
Formerly members could only access the alumni services and community via desktop. The new interface offers a range of features:
There's now one degree of separation between each person in the alumni community. Members can update their profiles to increase their visibility, and view and connect with others with similar interests through the directory. On registering for an event, the attendee can see who will be attending and reach out to them in advance.
The search engine enables members to select the events, articles and e-conferences they are interested in. They can also filter content by topic, location, and speaker.
Users can see updates on all the new Alumni Association services and projects, so they don't miss a thing.
The app shows related events based on the professional interests selected. It makes attending easier – with just one click. There are new features for participating, including signing in, joining the session with the use of a QR code, and interacting with other attendees.
Videos and Articles on Demand
Members can now experience the 226 Alumni Learning Program sessions whenever and wherever they want last year these took place in a total of 29 countries with 23,156 participants. There are currently 122 e-conferences, broadcasting sessions by professors, which can be viewed through the app. As with the articles, they are displayed according to the users interests, to optimize the lifelong learning process.
From the homepage, members can get a personalized view of events, articles and e-conferences.
Suitable for phone or tablet, there is also a version of the app for Apple Watch, which enables the user to view the events calendar, and keep informed with instant notifications.
We are working to improve access on all technology platforms, says Jorge Sendagorta, president of the Alumni Association. This will make our offering more personalized and user-friendly. It will also make alumni more visible to one other and facilitate their networking potential.
Members simply download the app for Android or iOS to get started.