Stories
FT ranks IESE's Global Executive MBA in the world´s top 10
Program stands out for its internationality, focus on responsible business and participant satisfaction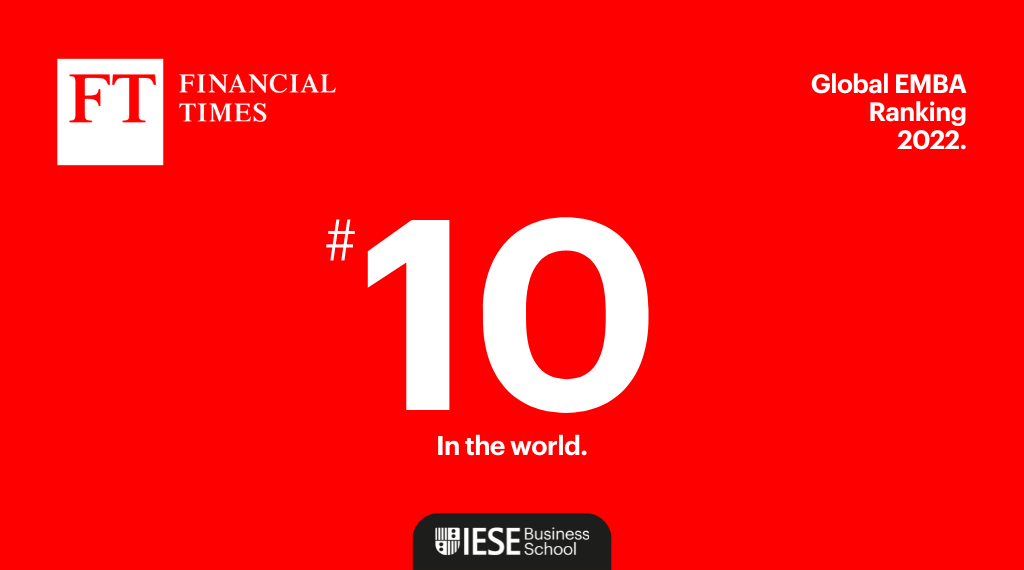 IESE's Global Executive MBA has been named one of the top 10 programs in the world for the third consecutive year, according to the Financial Times  Executive MBA Ranking for 2022. As the program celebrates its 20 anniversary, its appearance at no.10 in the latest ranking, once again affirms its position as one of the best programs in the world.  
One of the reasons for IESE's excellent position in the FT ranking is the unique international experience that the program provides, ranking no.4 in the world for international course experience. The Global Executive MBA is a 16-month-long blended program that combines online learning with residential modules in six world cities on at least three continents. Participants get insight on the ground in key business hubs like Silicon Valley, New York and Dubai, combined with content that explores doing business across borders.  
And the program is not only international in terms of location and content, but also due to its emphasis on bringing together a highly diverse class (95% international participants) and faculty (97%) from countries around the world. By drawing on the diverse perspectives and business experiences of the cohort, faculty and course content, the program offers a distinctly broad international vision of the challenges and opportunities facing managers in today's interconnected global marketplace. 
  "Our Global Executive MBA offers a truly international experience for its participants. An experience that helps expand horizons and gives them the knowledge, insights, and network to thrive in cross-border roles", said Eric Weber, IESE's Associate Dean and head of the Global Executive MBA program. "Since its launch in 2002, IESE´s Global Executive MBA has been a pioneer in blended learning and using innovative teaching methods to instill an international mindset. This good result in the FT ranking is great recognition for the program team and faculty, in a particularly symbolic year as we celebrate 20 years of the program." 
With IESE ranking no.1 overall for ESG, the FT ranking also highlights IESE's focus on responsible business. The ESG criterion looks at how much course content explores environmental, social, governance and ethical issues throughout the program.  
Another reason for the strong ranking performance was the program's relevancy for business leaders, evidenced by high levels of participant satisfaction (scoring 9.3 out of 10) and its ability to help participants fulfil their goals (82% said their aims were achieved by the program, the joint second highest percentage in the ranking). 
Finally, the quality of the program participants, who are typically senior business leaders with around 10 years' management experience at top companies across the globe, also stood out as key. A diverse senior class enhances the program's peer learning and networking opportunities. 
The next edition of IESE's Global Executive MBA starts in April 2023. 
More information on IESE's performance in rankings.