Stories
World's Energy Landscape Being Quickly Redrawn
Energy Club discusses unprecedented change in a traditional sector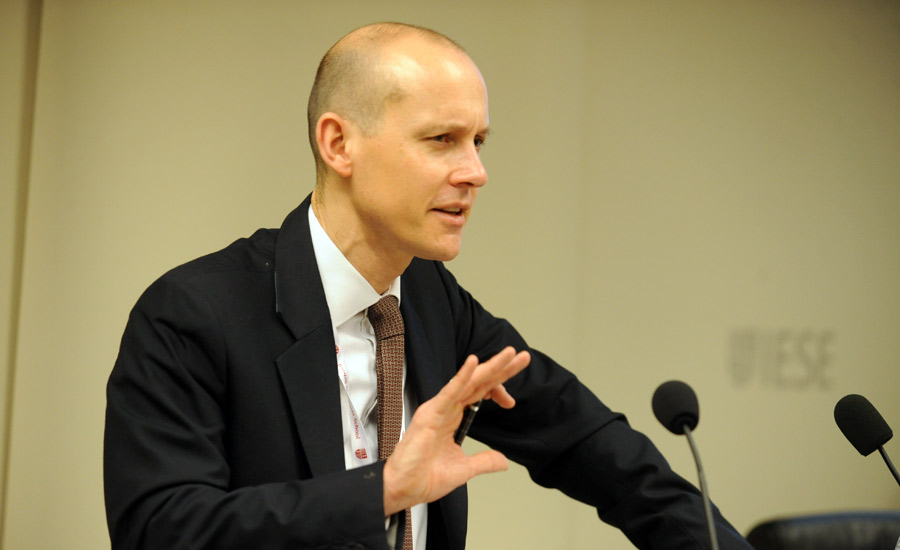 New energy producers, fresh approaches to cost and investment, and the development of renewable energy sources are transforming the energy world at breakneck speed. This is a world that's changing very, very quickly.
That according to Philip Whittaker, director of The Boston Consulting Groups energy practice, speaking at IESE's Barcelona campus. Whittaker kicked off a day-long conference organized by the schools Energy Club, a group that brings together MBA students, alumni, professors and industry experts involved in the energy sector.
The event included panel discussions of such issues as sustainable strategy for oil and gas companies, energy finance in emerging economies, and disruptions in the energy sector.
Saudi Role in Markets Evolving
Whittaker said that while in previous decades the oil market was largely controlled by OPEC and in particular Saudi Arabia, this is no longer the case.
The world is beginning to be far more multipolar in its oil supplies, he said. This variety of producers and sources may be positive in that it disperses influence, but also challenging in that it exposes markets to a multiplicity of potential disruptions. And it has fundamentally changed the dynamics of the once slow-moving sector.
At the same time, amid plunging oil prices, there has been a dramatic reduction in the supply cost curve, as companies have taken measures such as cutting building and engineering costs and increasing well productivity. You have to create stress to create excellence, Whittaker said, an idea that the oil industry has been more removed from than other industries.
Another element that is changing is the way the industry invests. From offshore megaprojects in recent decades, which are enormously costly and time-consuming, companies are looking to spend less, and are choosing their projects with a different timeframe in mind. The package of investment may be smaller. The destination of investment will be more selective, he said.
Related to investment, the industry as well as governments in the coming years will have to grapple with the decommissioning of some of the 9,000-plus offshore oil rigs that exist in the world´s oceans. The public and private sectors will have to decide what to do with rigs that are no longer viable – and how the expense of decommissioning them will be shared. The bill is big, he warned.
Move to New Sources Inevitable
Whittaker said he sees the incorporation of different energy sources as less a departure than a continuation of a 200-year evolution, in which people have relied for their energy on wood, coal, petroleum, natural gas, hydro and nuclear. Historically, the transitions to different sources have followed a natural course and demand for energy has continued on its upward trend.
But while the shift toward renewable energy sources such as batteries, wind, and solar may not be as traumatic as some fear, it is irreversible – as is the reality of change.
Energy was not a world that moved very fast. Now even in its most traditional elements it is moving very fast.