IESE Professors Receive Research Excellence Awards
Pascual Berrone, Domènec Melé and Pedro Videla Recognized
21/12/2012 Barcelona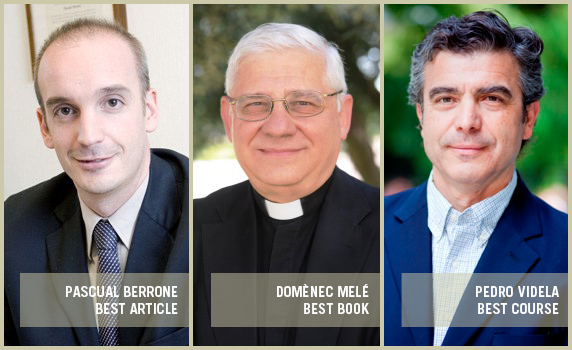 IESE Professors Pascual Berrone, Domènec Melé and Pedro Videla have been recognized with the Alumni Association's 2012 Research Excellence Awards. The awards, established in 2002, acknowledge the work of IESE faculty members in three categories: best article, best book and best course.

To select the winners, a jury composed of a panel of IESE professors and representatives of the Executive Committee of the Alumni Association, examines criteria such as the prestige and quality of the research.

In the category of best article, Prof. Berrone was recognized for "Corporate Governance and Environmental Performance: Is There Really a Link?", published by the Strategic Management Journal.

For best book, the jury gives particular importance to the quality, prestige and diffusion of the publication. in this categoriy, Prof. Domènec Melé was recognized for "Management Ethics," published by Palgrave Macmillan.

Prof. Videla received an award for "INTEC - Applied International Economics," his course that stood out for its relevance, social impact and use of pertinent case studies and material.