The Future of Africa Lies Beyond the Oil Bonanza
Pan African AMP in Barcelona
22/11/2012 Barcelona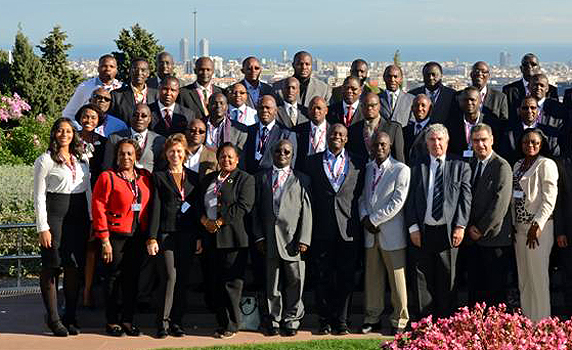 Some 45 senior executives and government officials from Lagos Business School in Nigeria and Strathmore Business School in Nairobi, Kenya gathered this week on IESE's Barcelona campus for the Pan African AMP module "Understanding the Business Landscape."
There is much talk these days about Africa following in the footsteps of other emerging giants such as India, China and Brazil. "I feel that by the time we realize our potential the world will have changed so much," says Collin Mutambo, from Uganda, who is general manager of the broadcasting company Radion Simba. "I think Africa needs to position itself strategically as a new kind of supplier of something, we just have to find out what – something that will take Africa out of poverty. Black gold - oil - is going to be as big catalyst for development. Africa could also become a food exporter."

Uzoma Ezeoke, executive director, Emzor Pharmaceuticals in Lagos, says she'd like to stop hearing about oil. "It has so much value and you really don't have to work for it. Once you've got it out of the ground there's a ready market. It makes you lazy. In Nigeria it's all we do. I think it's stifled innovation. Agriculture is more exciting because of the potential it gives to small businesses. Maybe we should get into contract agriculture, growing products for specific markets."

Mutambo says "it's still a challenge for us to tap into our natural resources even with the donor funding we receive. One hydro dam in the Congo basin would produce enough power for east and central and southern Africa. There's a sense that we haven't got a grip on what to do first and how to do it in a coordinated way, such as interconnecting rail systems across borders."

Ezeoke believes that much of what attracts foreign investors to Nigeria is the sheer size of the population and the emergence of a middle class. "Like me, many of my peers who we thought would stay in the U.K. or the U.S. have gone back since the financial collapse and are taking a renewed interest in Nigeria. We're going to regret it if we don't capitalize on ourselves," she says. "It's clear the answers aren't going to come from government and we need to look more to the private sector."

More information.