Annual Flagship Meeting Draws IESE Graduates
Baroness Denise Kingsmill speaks at UK Alumni event
09/04/2013 London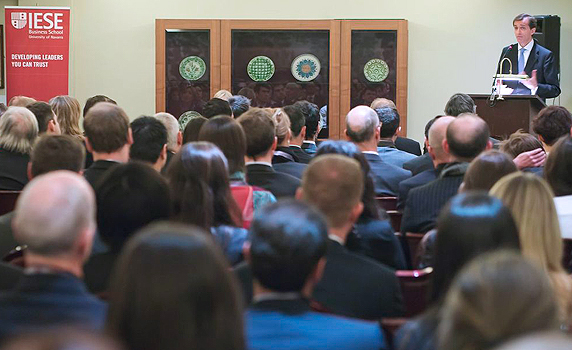 IESE's UK Alumni Chapter held its "Annual Flagship Event" in London on Wednesday, April 3. The event included the participation of Baroness Denise Kingsmill, who delivered the presentation "Corporate Governance: The Role of the Board of Directors."

Also providing remarks during the meeting was IESE Dean Jordi Canals, who introduced the session. More than 120 IESE graduates and invited guests were in attendance at the event, which featured a Q&A session after the main presentations.

Baroness Denise Kingsmill CBE is a member of House of Lords and a member of IESE's International Advisory Board (IAB).

Her career has encompassed periods as a Deputy Chair of the UK Competition Commission (the UK´s principle anti-trust agency) and a director of PLC, private, not for profit and government boards. She headed two Government enquires in 2001 and 2003, into women´s pay and employment and the economic management of labour. In 2007 she led an enquiry into health of fashion models on behalf of the British fashion council and the Mayor of London.