Get Away and Get Inspired
Global CEO Program for China module held in Barcelona
17/06/2013 Barcelona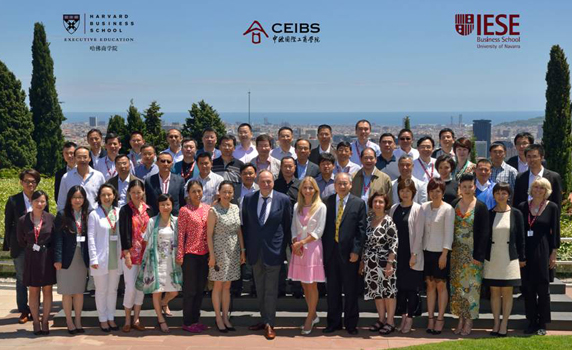 "I've learned a lot from these case studies. Not necessarily what they wanted me to learn, but they've made me think. It's great to get away and get inspiration," says Yunli Lou, managing director of the private equity firm Milestone Capital in Shanghai.

Yunli Lou was one of 44 leaders of companies based in China who were on IESE's campus last week for the Barcelona module of the Global CEO Program for China. The program is a joint IESE, Harvard Business School and the China Europe International Business School (CEIBS) initiative, featuring three residential modules. The first module was held in Shanghai, with the Harvard module still to come.

Yunli Lou established the firm 11 years ago. Before that, she worked for Goldman Sachs and Merrill Lynch in New York and Hong Kong. Her firm has three funds with $1bn to invest in high-growth, expansion-stage Chinese entrepreneurial companies – not start-ups. "We help companies with capital. management, strategy and access to capital markets," she says, adding that she is one of few women at her level in the private equity business.

She found out about the program because she is a Harvard graduate and has enjoyed a long friendship with one of the Harvard professors involved in it, Krishna Palepu.

Norman Lui, CEO Lumi holdings Inc., whose company makes medical and cosmetics products, says he heard about program from a friend he met playing poker. "The program is very international while being oriented to Chinese entrepreneurs," says Lui, whose firm's top product is a collagen drink, a fruit juice drink containing collagen peptide extracted from fish skin.

"The professors are top-notch and it's interesting to have the classes taught in three locations. There are lots of opportunities to network and to learn from each other. It's a unique and well-designed program," he said. "In this module, the case studies are more European. I was educated in the U.S. and many of their values and business values are very U.S.-centric. I believe that, because of its long history, Europe is closer to the model that China should learn from in terms of leadership and how companies should be governed."