Improve Your Negotiation Technique
Webinar by Kandarp Mehta
28/05/2013 Barcelona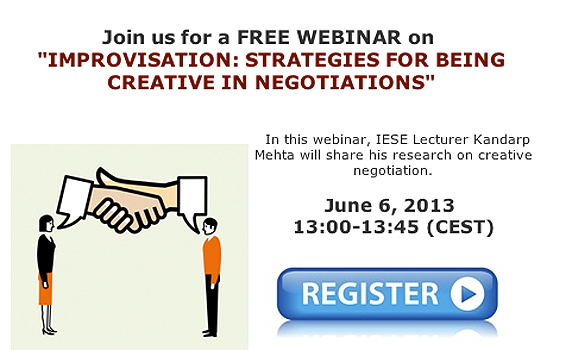 Don't miss the next Webinar free interactive discussion on June 6 at 13.00-13.45 when you can discover how to tackle complex negotiations effectively in a wide variety of situations and achieve your business objectives. IESE lecturer Kandarp Mehta will share his research in creative negotiation in a talk titled "Improvisation: Strategies for Being Creative in Negotiations."
Mehta has pointed out that, while a great deal of our working lives centers on negotiation, little time is spent on learning how to negotiate. For example, there are both combative and collaborative negotiations and these require different approaches and distinct techniques. Mehta says that many negotiators are unable to come up with the sort of creative, integrative deals that can clinch an agreement and will talk about the five strategies he believes makes us more creative negotiators.
This webinar will serve as the perfect introduction to IESE's upcoming 3-day program High Performance Negotiator (July 22-24) which is available in Spanish as Negociar con Eficacia (July 1-3) in Barcelona.
For further information contact Aniya Iskhakava.