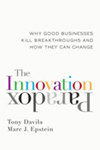 Authors: Antonio Dávila Parra; Marc J. Epstein
Publisher: Berrett-Koehler Publishers
Publishing date: June 2014
Why do start-ups seem to have an easier time than established companies coming up with breakthrough innovations? In their book, IESE's Professor of Entrepreneurship and Accounting and Control, Antonio Dávila, and Marc J. Epstein, Jones Graduate School of Business at Rice University, state it is incumbents' obsession with "incremental innovation."
The authors offer advice on how to foster different types of innovation for times of stability and for times of change. "Incremental innovation delivers results as long as the industry structure remains stable, yet it can fail miserably when unexpected developments redefine an industry," Dávila and Epstein explain.
By means of different examples from both scrappy start-ups and long-term innovators such as IBM, 3M, Apple, and Google, the authors explain how corporate culture, leadership style, strategy, incentives, and management systems can be structured to encourage breakthroughs. With this objective, they created a new model named the "Start-up Corporation", which combines the philosophy of the start-up with the experience, resources, and network of an established company.
For more information, see IESE Insight
Authors: Cuno Puempin; Heinrich Liechtenstein; Fariba Hashemi; Brian Hashemi
Publisher: Palgrave Macmillan
Publishing date: June 2014
Traditional investment tools and ingredients – banks, brokers, stocks, bonds, etc.– tend to preserve rather than create wealth. Yet the authors of this book assure that wealth creation is possible. However, investors cannot achieve this by following traditional stock/bond recipes or listening to their bankers or financial advisers, who tend to create generic investment recommendations based on analyzing opportunities quantitatively. What they should do is build strengths and core competencies that enable them to invest successfully. With this in mind, the authors present seven highly interconnected principles on which investors' strategy should be based.
The Empowered Investor provides insight into the limitations of traditional investment concepts, and illustrates, by means of interviews with highly successful strategic investors and practical real-world case studies, how investors should take advantage of their own competencies and strengths in order to create wealth.
For more information, see IESE Insight

Emails to a young entrepreneur
Author: Pedro Nueno Iniesta
Editor: Bertrán Foundation Chair of Entrepreneurship
Publisher: Ediciones Experiencia
Publishing date: May 2014
The role of entrepreneurship has assumed greater relevance due to globalization and the financial crisis. In his book, IESE's Pedro Nueno, Professor of Entrepreneurship, has gathered a series of email missives warning potential entrepreneurs against acting in haste. The success, or at least the viability, of any venture depends first on carefully identifying your opportunity and then developing a sound business plan around it.