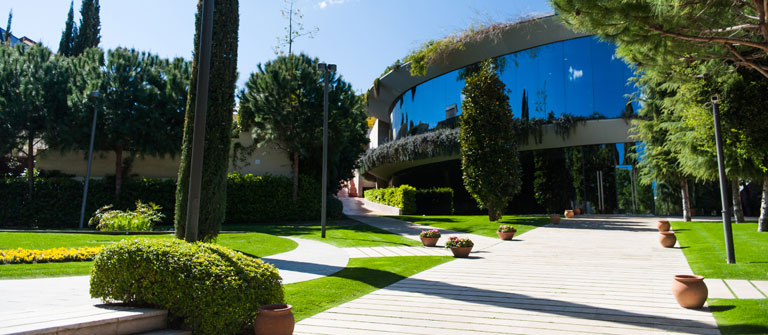 Barcelona
Rated as Europe's most livable city by the Financial Times, Barcelona is fast establishing itself as one of the major European capitals. It provides a stimulating setting for learning and an enriching experience.
IESE's Barcelona campus is set on the wooded hillside of the Pedralbes neighborhood. The 30,000 square-meter campus features state-of-the-art lecture rooms enhanced with the latest multimedia technologies, a 597-seat auditorium, meeting rooms, student computer rooms and dining and cafeteria areas. The school's library contains more than 49,000 volumes including specialized books on management, electronic journals, and newspapers.
Just 20 minutes from downtown Barcelona and with the Mediterranean Coast and Pyrenees Mountains nearby, the school's location provides excellent opportunities for recreational activities.
To find out how to drive to IESE Barcelona from your location, click here.
> Virtual visit to our campus in Barcelona: North Campus and South Campus.





IESE Business School
North Campus
C/Arnús i Garí, 3-7
08034 Barcelona (Spain)

IESE Business School
South Campus
Av. Pearson, 21
08034 Barcelona (Spain)
Contact
IESE Business School
Av. Pearson 21
08034 Barcelona
Spain