IESE
40under40

Awards 2021

Celebrating IESE's rising entrepreneurs
We're looking for the best IESE 40under40
IESE 40under40 entrepreneurs are innovators, disrupters and dreamers. They are inquisitive and persistent, inspired and inspiring. Whether they are pursuing medical breakthroughs, refashioning energy technologies, making computers more useful, engineering cooler electronic devices or improving current business models, they all are poised to be leaders in their fields.
Are you an entrepreneur with a growing startup?
We welcome submissions to compete in our IESE 40under40 Awards.
Submit your nomination
Do you know of a rising entrepreneur you'd like to nominate?
Let us know about them.
Nominate someone
Special awards
While all 40 of our entrepreneurs are winners, we will award three special prizes for the following:

Most Innovative Entrepreneur

Entrepreneur with the Most Social Impact

Entrepreneur with the Best Growth Track
Selection criteria
We're looking for 40 IESE founders of startups under the age of 40 who have achieved at least one of the following:
At least €1 million per year in revenue
Sold their company for €10 million or more
Raised at least €1 million in venture capital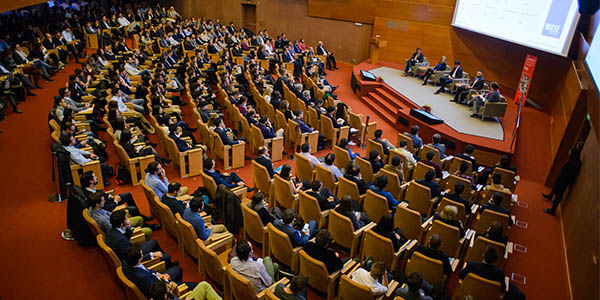 IESE 40under40 Awards: 2018
Our 2018 edition recognized 40 global entrepreneurs and innovators who created trailblazing ventures in areas ranging from business travel platforms to renewable electricity providers to IoT sensors on infrastructure projects.
Meet the winners