IESE Insight
Search funds continue to go global
IESE's biennial study of international search funds tracks this asset class's progress on five continents.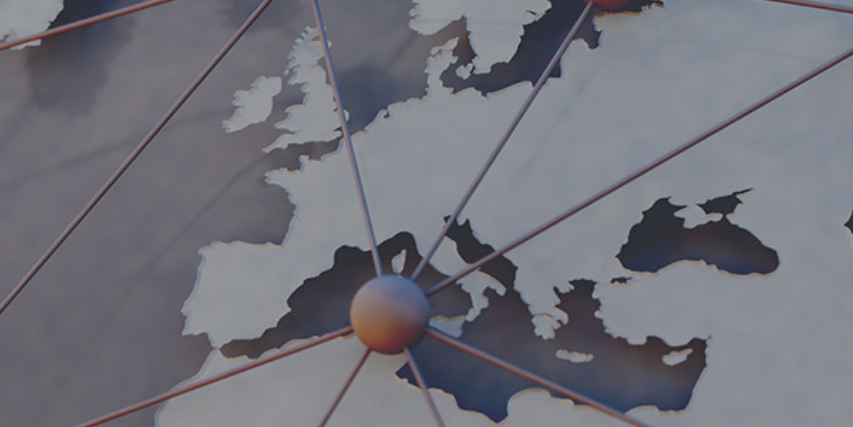 October 13, 2022
| Updated January 19, 2023
IESE's 2022 study of international search funds — covering those outside the United States and Canada — observed 211 first-time funds from 34 countries on five continents.
International search-fund activity reached new peaks last year, with 44 new funds formed and 23 acquisitions made.
For the searchers, who tend to recent MBA graduates, the four most popular sectors for acquisition-hunting were technology, healthcare, transportation and logistics, and manufacturing.
What is going on in the world of search funds lately? Attractive financial returns and record numbers of new searchers and deals, according to the latest studies out this year.
Working in close partnership with the Stanford Graduate School of Business, IESE Business School has just released its 2022 biennial report on international search funds, covering funds outside the United States and Canada. The sixth edition of IESE's international report shows that the search-fund model is maturing in Europe and Latin America while forging new paths in Africa and Asia. International results are similar to what's been happening on their original home turf over the years – as reported by Stanford's study tracking 526 funds formed within the U.S. and Canada since 1984.
IESE's study examines 211 first-time international search funds in four stages of their life cycles: (1) raising a search fund (i.e., a pool of capital from aligned investors) that is dedicated to finding a company to acquire; (2) searching and acquiring; (3) operating the acquired company in search of greater success and growth (typically the longest and most rewarding stage for searchers); and (4) exiting to achieve liquidity. The report provides an informative snapshot of the people and their work in this new asset class as it is taking root.
International search fund activity in 4 lifecycle stages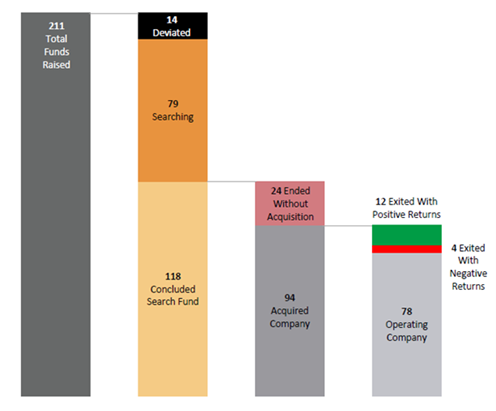 Source: Prepared by the authors based on IESE search fund surveys. Data as of December 31, 2021.
Moving on up

As also seen in the U.S. market, international search funds have been gaining momentum and hitting new peaks. In 2021, a record 44 new international search funds were formed. Among them were the first documented presence of the model in nine countries: in Belgium, the Czech Republic, Egypt, the Ivory Coast, Latvia, Paraguay, Russia, South Korea and Sweden.
Another peak in the past year was the 23 new acquisitions of companies by searchers – a sign of growing maturity for the model. Meanwhile, there were two new exits. (See graph below.)
International search fund activity by year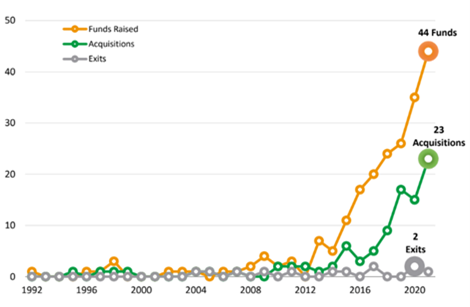 Source: Prepared by the authors based on IESE search fund surveys. Data as of December 31, 2021.
Early results

As seen in the graphs above, there have only been 16 exits outside of the U.S. and Canada so far: 12 with positive returns and 4 with negative. Meanwhile, 78 search-fund-acquired companies are currently being operated. The scarcity of exits is at least partly due to the newness of the model abroad; most funds are exiting after a period of 5 to 10 years.
Early returns are to be taken with a grain of salt, but the report authors note that they are generally in line with the trends observed over time in the Stanford study. Returns are calculated from the perspective of a fund's initial investors who participated in both the search and acquisition phases of the fund. For international funds, the latest returns on investment (ROI) clock in at 1.9x and the internal rate of return (IRR) comes to 19.4%. That's substantially below what the Stanford study observed in the U.S. and Canada (7.9x ROI and 36.8% IRR), but, again, consider international funds' much shorter holding periods. The strongest periods of growth usually occur after three years, and 37% of the international funds tracked were launched within the past two years.
Where in the world?

Where are international searches happening now? Five continents have search funds of their own. Over the past decade, the international model has been launched most often in Spain (with 42 first-time funds launched over the years tracked), Mexico (with 37) and Brazil (with 24) and the United Kingdom (also with 24 funds). See figure below.
International search funds by country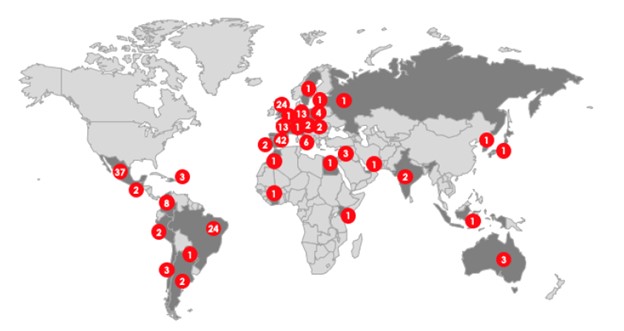 Source: Prepared by the authors based on IESE search fund surveys. Data as of December 31, 2021.
Advice gleaned from the report: ideal search fund targets

In any market, companies with high-quality (i.e., recurring) revenue and robust earnings before interest, taxes, depreciation and amortization (EBITDA), operating in a niche area with solid industry growth are top targets for the model. These were the investment criteria mentioned in most offering memoranda reviewed by the report's research team.
Technology, healthcare, transportation and logistics, and manufacturing are the four most popular areas for searches. What industry trends are notable over time? There has been increasing interest in technology, healthcare and manufacturing lately, and declining interest in finance and business services.
Anatomy of a searcher

It seems to take a certain type of person to pursue the search fund model internationally. The study points to relative youth, a recent MBA and often a connection to the United States (where the search is still better known).
In this sixth edition of IESE's international report, searchers ranged in age from 24-47. A resounding majority of 86% were MBA graduates, and over three quarters raised their search fund within two years of their graduation. While 52% of searchers hail from U.S. business schools, this percentage has fallen significantly over the years. Notably, for all the search funds in Europe (in 14 European nations now), 80% of searchers graduated from a European business school.
Is it better to join forces or go it alone? The jury is still out; 58% of international search funds were formed by solo searchers in 2020-1. Meanwhile, approximately half of acquisitions (46%, or 43 of 94) are made by searcher partnerships -- collaborations that may boast complementary skill sets and the capacity to search more efficiently.
Understanding search funds

From the field reports, it's clear this relatively new asset class still needs frequent introductions. Professor Jan Simon's 2021 book Search funds and entrepreneurial acquisitions: The roadmap for buying a business and leading it to the next level is a useful guide for searchers, investors and others involved based on the best practices he has gleaned as a professional investor and as Academic Director of IESE's International Search Fund Center.
Also, two recent IESE case studies document different areas of the search fund model in first person. In "Scribendi," written by professor Sampsa Samila and Michael Wurth, the operators of an editing and proofreading business in Canada must decide whether they should embrace AI development and convince their investors to adopt a radical shift in business model -- something search-fund investors may be loath to do. Professor Rob Johnson's case "Marc Bartomeus," meanwhile, documents the challenges of searching and operating the first such fund in Spain, including the eventual sale and exit of the company, and the compromises required along the way.
Methodology, very briefly

This biennial study, undertaken in close partnership with the Stanford Graduate School of Business, targets all known first-time search funds outside the United States and Canada. It uses a quantitative, survey-based research method to look at the financial returns and other important characteristics of first-time funds identified through December 31, 2021.
---
An infographic of this article is published in IESE Business School Insight 163 (Jan.-April 2023).