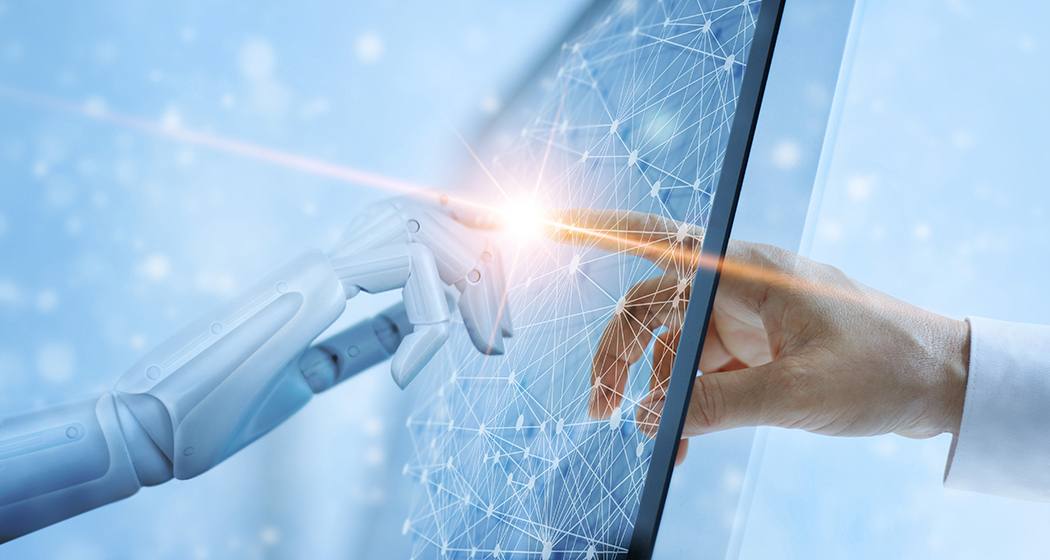 In a world of artificial intelligence, management is more important than ever
AI is the new IT. A book featuring experts from around the world, edited by Jordi Canals and Franz Heukamp, looks at what the AI revolution means to the future of management -- and leadership -- as strategy, organizational design, HR and marketing are redefined.
In a world of artificial intelligence, management is more important than ever.
September 22, 2019
When is artificial intelligence (AI) a viable replacement for human intelligence? How does AI change the nature of the firm? And in a world propelled by big data and increased mechanization, what kinds of leaders do we need?
A new book edited IESE's Jordi Canals and Dean Franz Heukamp seeks to answer these and other questions. It draws upon the experience of experts -- from Dario Gil, director of IBM Research, to renowned business theorists, including Jeffrey Pfeffer, Peter Cappelli and Tom Malone -- to underline their thesis that, among the machines, leaders need to be real human beings.
The book is structured into four parts and 11 chapters, each by a different contributor or contributors. Gil and four IBM colleagues kick things off with a wider perspective on AI which, they remind us, "means different things to different people; it includes machine learning, neural networks and deep learning, but also has become an umbrella term for many other analytics and data-related subjects."
In Part II, Julian Birkinshaw of London Business School discusses how AI can change firms on a strategic and a management level. Canals presents a framework to understand the relevance of the firm's purpose, corporate governance, strategy, leadership development, and the role of senior managers in order to better understand what AI can do for them. Management is not just about making decisions, he adds, it's about strategy, and defining a company's long-term goals and values, as well as governing it.
Part III examines how leadership capabilities will evolve as AI gains in importance, with Jeffrey Pfeffer of Stanford taking a critical look at engagement and motivation in a technology-intensive working environment. The contemporary workplace is in a sorry state for both employee health and productivity, Pfeffer says, and the effects of AI could well cause a further decline, unless some policies are implemented. Values and social pressure will be key factors to our taking control of AI and making it a force for good in the workplace.
Meanwhile, Wharton's Peter Cappelli, working with Prasanna Tambe and Valery Yakubovich, presents concerns about the use of AI in the hiring and developing of people -- including data and algorithm quality, staff perceptions of fairness in AI decisions that affect them, and employee engagement. Bernard Yeung of the National University of Singapore then looks beyond current HR concerns to consider the professional and personal attributes of a fourth industrial revolution workforce. It's not all about tech skills, he says. Instead, important qualities will be critical thinking and communication, as well as a can-do attitude towards life-long learning.
Rounding out the third section, Heukamp speaks of the effects of technological change on business models and the ways people work. He then looks ahead, framing the leaders of the future in terms of what they will have to know, what they will have to do, and what they will have to be.
Part IV, the final section, gets into the nitty-gritty of AI's potential effects in certain business areas. UCLA's Dominique M. Hanssens develops a framework for thinking about analytics and its impact on sales and growth. MIT's Thomas W. Malone posits that most change in the world is achieved by groups working together, rather than individuals. He calls these groups "superminds" and draws a line between this general intelligence and the more specialized intelligence that computers are capable of. Computers, he says, will ultimately enhance human abilities to plan strategically, and the
more powerful the computers, the more they will augment human capabilities.
The final two chapters of the volume look at the transformation of business models in an AI world. IESE's Joan E. Ricart sees the CEO's task as designing and managing business models and calls for creativity and discipline in facing AI-related disruptions. Javier Zamora, also of IESE, closes the book with a reminder that technological innovations never exist in isolation, they are all part of our growing workplace digital density. Zamora outlines holistic guidelines for good AI governance within a digital density framework.
"AI will not only destroy many traditional jobs, but change some general managers' tasks," the book's co-editors write. "In this new AI-based world, companies need to rethink their purpose, strategy, organizational design, people development, and decision-making processes," Canals and Heukamp continue. The 11 chapters in this book get that rethinking started, with an eye to the future and individuals' well-being within it.
MORE INFO

The future of management in an artificial intelligence-based world (video)
Artificial intelligence, real leadership (IESE Business School Insight #150)