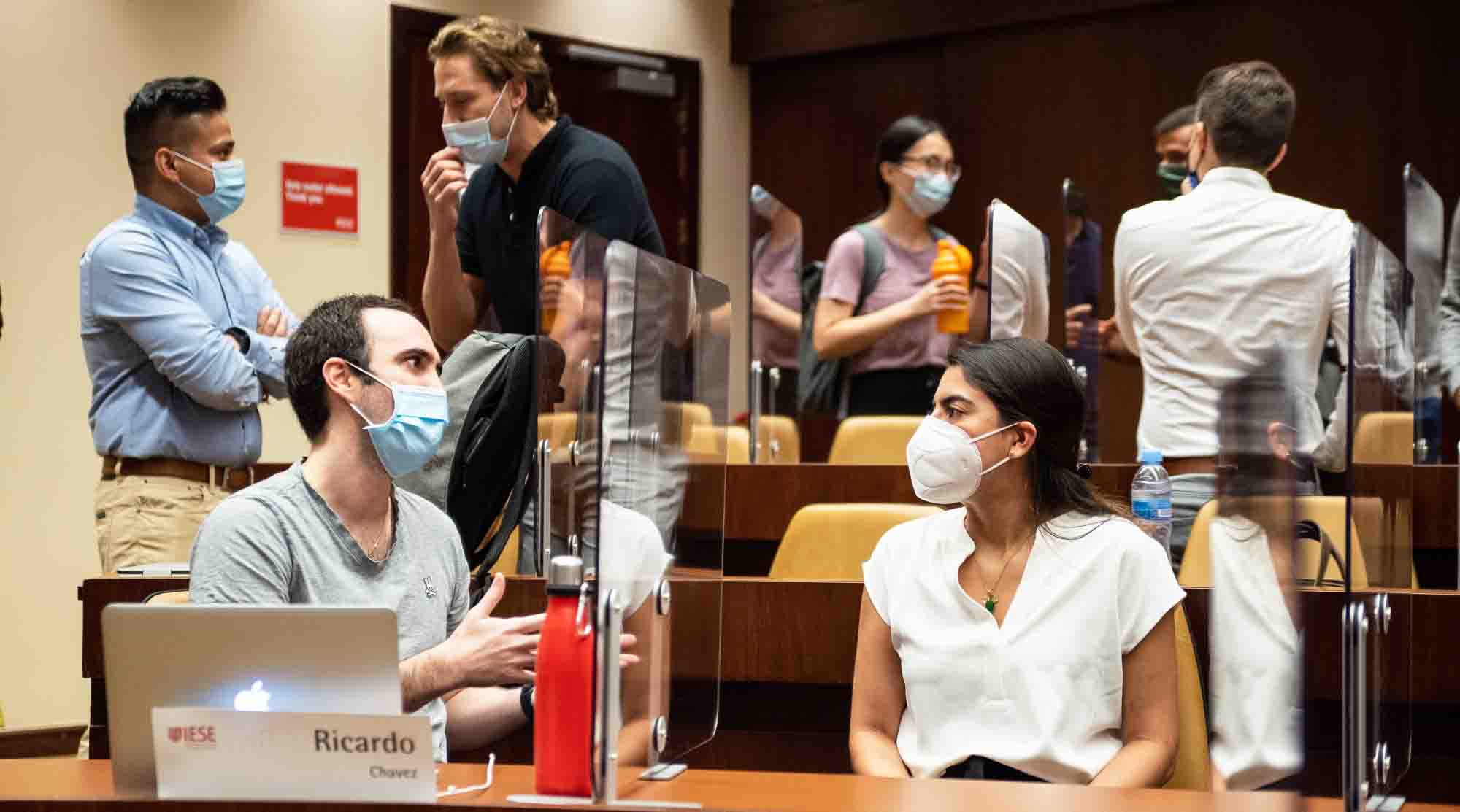 More than 500 IESE master program students begin face-to-face courses
New Master in Management (MiM), MBA and Executive MBA students begin classes at IESE's campuses in Madrid, Barcelona, Munich and São Paulo
Despite the COVID-19 crisis, IESE Business School has received strong demand from students interested in programs such as the MiM, MBA or EMBA, reflecting the value that current and future professionals place in the school for their training needs.
Specifically, this week the school welcomes the new classes of the Master in Management (MiM) and the MBA in the Madrid and Barcelona campuses, respectively, and the Executive MBA in Munich and São Paulo. A total of 535 participants have started face-to-face classes in a safe and productive learning environment, which guarantees the hybrid participation of students who for any reason cannot come to campus.
Highly international class
The incoming students of all three programs, which are tailored to managers and entrepreneurs at different stages of their careers and professional needs, are highly accomplished and diverse.
The new students of IESE's MiM class of 2021 recently began their IESE experience with a career bootcamp and orientation sessions at IESE's campus in Madrid. The class counts on 83 students from 20 different countries, 38% of whom are women. Aimed at recent graduates with minimal or no work experience, the average age of the class is 23.
Launched last year and taught over 11 months, the MiM program is studied full-time in English from the Spanish capital. It provides an immersive experience for participants, enabling them to acquire the best business tools to kick-start their management career.
Meanwhile, the new editions of the Executive MBA program in Munich and São Paulo have also started. IESE's campus in Germany begins its second class of the executive MBA with 56 new participants from 20 different nationalities. In São Paulo, there are 41 participants of six nationalities.
The Executive MBA is an 18-month program, taught part-time. Designed for high-potential managers, executives, and entrepreneurs who want to advance their careers, the average class age is 34.
Finally, the first year class of IESE's fulltime MBA program will also get underway later in the month on IESE's campus in Barcelona. The IESE MBA class of 2022 consists of 355 students, 82% of which are international. 32% of the class are women and the average age is 29.7. The participants have an average of nearly six years professional experience. Consistently ranked within the top programs in the world, IESE´s MBA program is taught in English over 15 or 19 months.
Rigorous health protocols and hybrid classrooms
To ensure a safe and productive learning environment for new students, IESE has adapted its campuses and put in place a strict set of health protocols.
These comprehensive measures include controlled access to the campus (such as temperature detection and a daily health status questionnaire), widespread testing (all IESE participants and employees must be tested prior to their first visit to campus), as well as mandatory mask use and interpersonal distancing in all spaces, among many others.
At the same time, IESE has redoubled its commitment to the hybrid methodology so that participants who cannot attend face-to-face classes can remotely follow their classes with maximum fluency. In recent months, the school has installed cameras, screens, special blackboards, speakers and microphones so that both the teacher and the classroom students can interact with those at home in real time.
In addition, the teachers and the program team have been trained in the best online teaching practices and have incorporated new dynamics in order to reproduce the active experience of the case method for the hybrid format.
All of these measures allow the school to continue to offer a high-quality educational experience, while ensuring student and faculty safety throughout the new academic year.