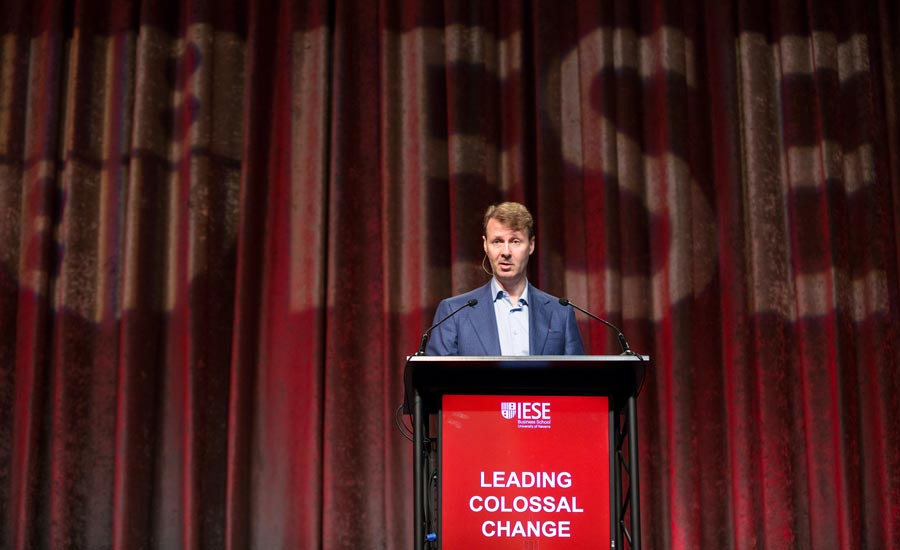 Creating What's Next
More than 1,000 alumni gather for Global Alumni Reunion 2018 in New York
From geo-political turbulence to seismic shifts in communication and connection, the world is in the throes of dramatic change. Technology is transforming the way we live, consumer demands are shifting and once-distinct industries are blending together in new ways.
IESE's 2018 Global Alumni Reunion in New York City looked at these issues and more during four days of company visits, talks, networking and social activities. The hallmark IESE event brought together more than 1,000 alumni, business leaders, entrepreneurs, professors and agents of change, under the theme of "Be ahead of what's next."
"I believe the world is changing in more complicated or unpredictable directions," said Risto Siilasmaa, chairman of Nokia's board of directors, speaking during the academic portion of the program. "The only way to operate in these circumstances is through experimentation. Be a quick study and learn from everything around you. Spread your bets through multiple dimensions and levels."
That spirit of not only preparing for what's next but also creating what's next, emerged in talks by top executives from companies ranging from cutting-edge transportation provider Hyperloop Transportation Technologies, civic-minded startup The Social Coin and software corporation SAP; to long-standing multinationals PepsiCo and UPS; to culture and media institutions like Carnegie Hall and The New York Times.
Preparing for Tomorrow, By Embracing Change Today
With the event's focus on the future – and the potential problems and solutions it may hold – the need for change, transformation and adaptation today was repeatedly highlighted.
Nokia's Siilasmaa said that key to his company's staying power has been its ability to diversity and adapt to changing markets. He noted that Nokia started out in the wooden pulp business 150 years ago, then evolved into the rubber business, media entertainment devices and mobile phones, and, now, network infrastructure. "You must act today so you are not behind tomorrow," he said.
Echoing this sentiment, Bibop Gresta, Hyperloop chairman and co-founder, discussed the need for investment now in futuristic forms of environmentally sustainable transportation to ease the movement of global citizens at local, regional and national levels, while reducing carbon emissions.
"Everyone is in constant danger of doing too little," said Mark Thompson, CEO of The New York Times Company, in a discussion on the evolving media landscape.
Consumers are often the ones demanding change. Laxman Narasimhan, CEO,Latin America, Europe and sub-Saharan Africa of PepsiCo, stressed the need to be global while thinking locally and relating to a specific set of consumers. He discussed targeted advertising and the enormous amount of content produced to appeal to specific audience segments. "At the end of the day, the consumer is buying an experience, not a product. The consumer is always changing and changing what we do," he said.
Romaine Seguin, president, Americas region for UPS, added, "You can't be customer-centric enough. Even if you have the best product in the world, you are going to lose if you don't listen to the customer."
Adaire Fox-Martin, SAP executive board member and president, EMEA and Greater China, Global Customer Operations, and Ivan Caballero, CEO of The Social Coin, addressed corporate social responsibility and serving the local communities where companies operate and employees live.
But while change was a recurring theme, Dean Franz Heukamp noted that IESE will stay true to its long-standing mission of promoting global cooperation. "IESE is a place of global understanding – of different cultures, of different ways to do business – and this is something we need to continue to insist on and build on."
An Inspiring Event
The four-day event ran from October 11 to 14, and also featured visits to companies such as LinkedIn and SAP and guided visits to Grand Central Terminal and the 9/11 Memorial and Museum. There was a gala dinner, a 10k charity run through Central Park and an Open House at IESE's New York campus. The celebration closed with a mass at St. Patrick's Cathedral.
The reunion is an important yearly event for IESE alumni and business leaders alike as it is not only a celebration of IESE and its history, values, and standing as one of the world's top business schools, but also a market for the exchange of ideas for business leaders from disparate industries.
"Beyond the intellectual opportunity," said Heukamp, "the event allows IESE alumni to reunite with old friends and meet new ones, and provides an overall inspiring experience."