With teens increasingly turning their backs on logos or labels as important decision criteria for clothing purchases, retailers are finding the best way of reaching the youth market is by frequently rotating products to feed their demand for changing fads, combined with offering consistently low prices.
This is what is called "fast fashion", a retail model pioneered by Zara that contains useful lessons for other types of businesses looking to innovate their operations at a time of flat sales.
"We have been following fast fashion for several years," says IESE's Víctor Martínez de Albéniz, writing with Felipe Caro of the UCLA Anderson School of Management in the latest issue of IESE Insight magazine. "We have identified the operational keys underpinning the fast-fashion model, which are applicable to many different industries."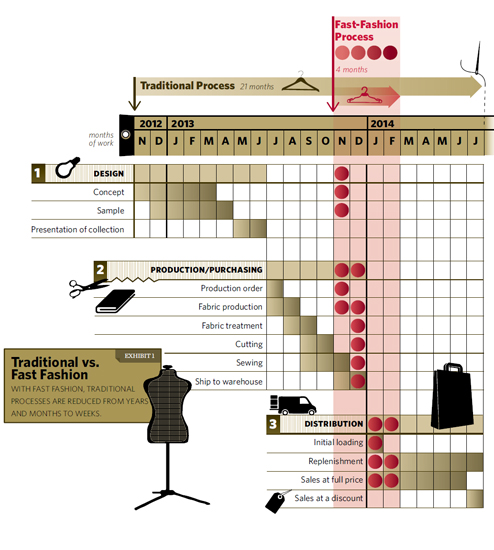 Read the article "How Fast Fashion Works: Can It Work for You, Too?"
The fast-fashion business model starts with a two-pronged value proposition - to be both fashionable and affordable - which forces other companies to have to compete on both price and product freshness.
This value proposition is supported by two operational pillars: Quick Response (QR) production, and dynamic assortment planning with frequent assortment changes.
Yet, as the authors point out, constantly changing inventory has its drawbacks. Critics argue that it encourages waste, and the drive to keep costs down can lead to exploitative labor conditions in low-cost countries where the products are being made. For this reason, the authors stress that the fast-fashion model needs to be grounded in sound people, community and production practices in order for it to be sustainable.
The authors apply the fast-fashion model to other non-fashion businesses, suggesting how keeping your product line fresh, minimizing excess inventory and optimizing the scheduling of new releases can work just as well in convenience stores and restaurants, smartphone updates, and digital content delivery for books, music, movies and other forms of entertainment.
"Whatever you do, make sure your model is built on strong, sustainable grounds that prioritize people and communities," the authors advise.
Víctor Martínez de Albéniz and Felipe Caro elaborate further in a chapter on this subject to be published in Retail Supply Chain Management: Quantitative Models and Empirical Studies (New York: Springer, 2014).
In recent weeks, IESE's J.L. Nueno also cited Zara's parent company Inditex as a business model worth studying. "The essence of the Inditex model is to push the moment of production as close as possible to the moment of sale," he told the Financial Times in a piece on the lessons of fast fashion for business leaders. 
To read the IESE Insight article, IESE Alumni Members can use their usual login details. Non-members can purchase the article from IESE Publishing or subscribe from the magazine site. 
IESE Insight is a quarterly research-based magazine, published in separate English and Spanish editions. Its premium content is linked to articles from the IESE Insight knowledge portal, which contains research and teaching materials, opinion articles, business indices, audiovisual materials and an extensive database of more than 20,000 scholarly references.