An Executive MBA Made-to-Measure for Professionals
The program includes international elective modules
03/09/2014 Barcelona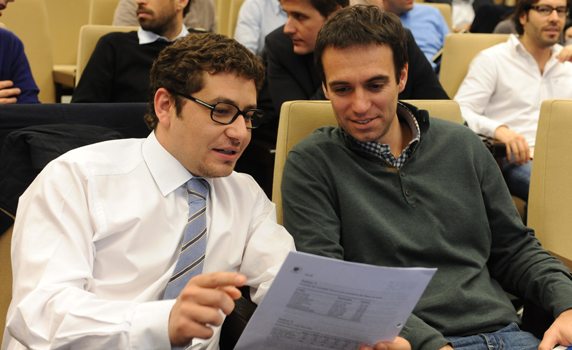 The IESE Executive MBA program fosters team work
Today's business world is more complex than ever before. There is a need for high caliber leaders who can combine a sharp focus on the specific needs of their business with a global outlook.

IESE's Executive MBA (EMBA) is a transformative learning experience that allows participants to acquire a top-tier business education, whilst proactively pursuing their professional career. A fully bilingual program, it is taught in English and Spanish on three campuses: Madrid, Barcelona and São Paulo.

The EMBA begins this week in Madrid and Barcelona, with teaching having already started on August 8 in São Paulo. And this year, for the first time, the EMBA will include five elective courses. Participants can opt for three of the following options as part of the intensive three-week period of their second year:
One week intensive course at IESE New York: Wall Street & Management module;
One week intensive course at CEIBS in Shanghai: Managing Global Operations and China Globalization and The World;
One week intensive course ISE in São Paulo: Doing Business in Latin-America and Cross-Cultural Management;
Executive Management Simulation (EXSIM) program in Madrid and Barcelona: Participants join a company as part of the management team and experience strategic and operational decision-taking;
Elective studies module in Madrid or Barcelona: Entrepreneurship II, Investment Banking and Derivatives, Sales Strategy and Business Law.

Class profile

Participants have an average age of 32 and generally have 7.5 years of professional experience. The majority has a background in engineering (39%) or economics (37%). They represent practically all business sectors, from industry and energy (27%) to consultancy (17%) and banking and financial services (16%). Each year 275 students join the IESE EMBA program at the Madrid, Barcelona and São Paulo campuses.