For Investors
Are you a private investor?
Business angels can be anyone from executives, entrepreneurs or business men and women – active or retired – representatives of family offices, investment companies or other businesses and institutions. Whatever their background, business angels share the following key characteristics: an entrepreneurial spirit, the ability to contribute capital and experience to the project in which they invest and to participate actively in the launch of a company.
Their willingness to invest less capital than venture capital funds and corporations – between 100,000 and 1,000,000 euro – makes business angels particularly valuable to companies in early growth stages and startups. In addition, the social and professional networking that business angels contribute is key to the advancement of new business ventures.
Private investors contribute to new enterprises in many ways and in varying degrees. The result is a diverse investor profile according to the contributions each is able to make:
A diversity of experience
Varying availability of time and capital
Enthusiasm for different projects
Share of ownership
Level of risk they are wiling to take on
Investor advantages
Access to pre-selected projects with high growth potential
The opportunity to exchange ideas, collaborate and co-invest with other investors
Ongoing learning and updating of skills relevant to the investment process
Our Members
69%
Have been entrepreneurs
500K€
Capital available to invest
46%
Run their own companies
85%
Participate actively in the companies in which they invest
26
Hours per month dedicated to their investment
Members profile
Our private investors contribute to the launching of new businesses in diverse ways:
Strategy: Help define the strategic vision and search for industry partners
Support for entrepreneurs: Personal support, coaching, management of conflicts of interest
Administrative support: Report preparation, selection of executives, organization of administrative board
Operations: Introduction of new products and services, process design, production of pilot product, defining margins, etc.
Finance: Attracting additional financing, obtain positive cash flow, preparing company for institutional investors
Marketing: Search for first bidders, defining and consolidating sale process
Other: Improving the business concept, establish basis for future growth, etc.
All members of the Network are required to sign a confidentiality agreement in order to protect their and other members' interests.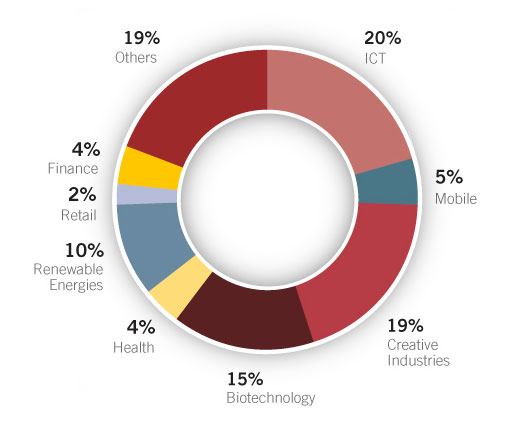 Network investments by sector