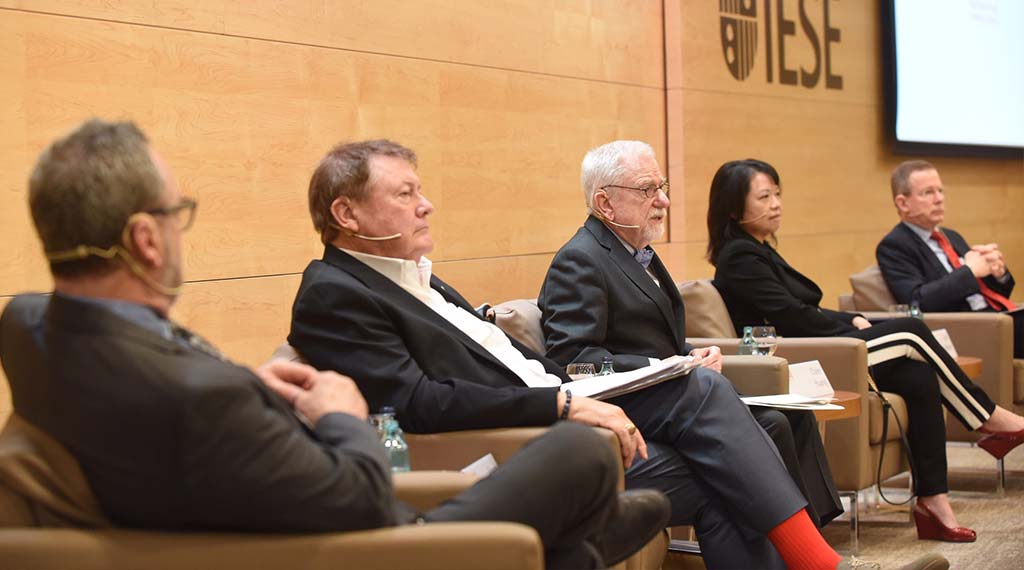 "It's disruptive to the economic system of the last 40 years"
U.S. Advisory Council on how America First is upending global policy assumptions
What does the U.S. government's new America First policy mean for the U.S. and what does it mean for the rest of the world?
Members of IESE's U.S. Advisory Council (USAC) met with MBA students on the Barcelona campus recently to give their take on America First, the seismic shift in U.S. policy priorities under President Donald Trump. The members of USAC, created in 2010 after IESE expanded with a campus in New York, were in Barcelona for their annual meeting.
The speakers agreed that – for better or worse – America First is rewriting the terms of engagement economically and politically for the U.S. "In its current description, it is pretty disruptive to the economic system that we have known and enjoyed for the last 30 or 40 years," said Edward Reilly, head of the American Management Association, International. "I think the real question is whether or not America First survives over a long period of time."
As the speakers pointed out, similar policies have existed for decades if not centuries in the U.S., brought forth most often as an argument to avoid U.S. involvement in wars overseas. But Trump has taken America First to new levels, making it the theme of his inaugural address and using it as the foundational stone of policies that range from capping immigration to imposing trade tariffs to eschewing long-standing ties with allies around the world.
An inequitable U.S. economy to blame
While the speakers had different views on the policies themselves, they agreed that at root was the economy's failure, particularly in recent decades, to deliver benefits to many Americans. "Those of you who are entrusted with the future of the economic system of the world are going to have to work really hard to figure out ways to engage those people," Reilly said. "We can't just leave half the people in the developed world behind. We're going to have to find ways to engage them in a world that seems to reward capital more than labor."
"The economy has been very uneven in America," said William Baker, a former media executive who is now a professor at IESE. While places such as Silicon Valley and New York are thriving, other areas of the country struggle. "The country is not a homogeneous place. It's a very heterogeneous place and it's heterogeneous on a lot of fronts: demographically and also geographically."
Claire Huang, another USAC member, was optimistic that America First policies will correct imbalances in trade and elsewhere, creating a more equitable domestic economy. "There's a backlash that says: We keep helping everybody around the world, but how about helping ourselves? How about fixing our own problems?" Huang said.
And she noted that while the traditional economic influence of the U.S. may be waning, its global prominence in areas such as culture, technology and innovation remains unmatched.
But for Alan Glazen of private community development company Glazen Urban, a world in which the U.S. is not a guiding light of democracy and freedom is a necessarily bleaker world. He's skeptical the America First policies will benefit the American people, and his understanding of patriotism is another. "I think there's a form of patriotism that transcends borders," Glazen said.
Search for moral authority in new sources
Meanwhile, the ebbing role of government as a source of moral authority puts new demands on business and other areas for ethical leadership.
Baker said he takes heart from the fact that, in the #MeToo era, the corporate sector has been quick to respond. "The corporate world has a moral standard that seems to be higher than our own government," Baker said. "I'm kind of proud that American business has really held the line on moral leadership and I think you can expect to see more and more of that."
He added: "I think employees, and America and the world are craving values-based leadership right now. And if you can provide it, you will do well but more importantly those who work with you and for your and are in your orbit will also do well."
"The example that you can make in terms of being successful is an important example," Reilly said of business leaders. That means "treating your people with kindness and humanity, leading your people in a way that is ethical, and still being successful."