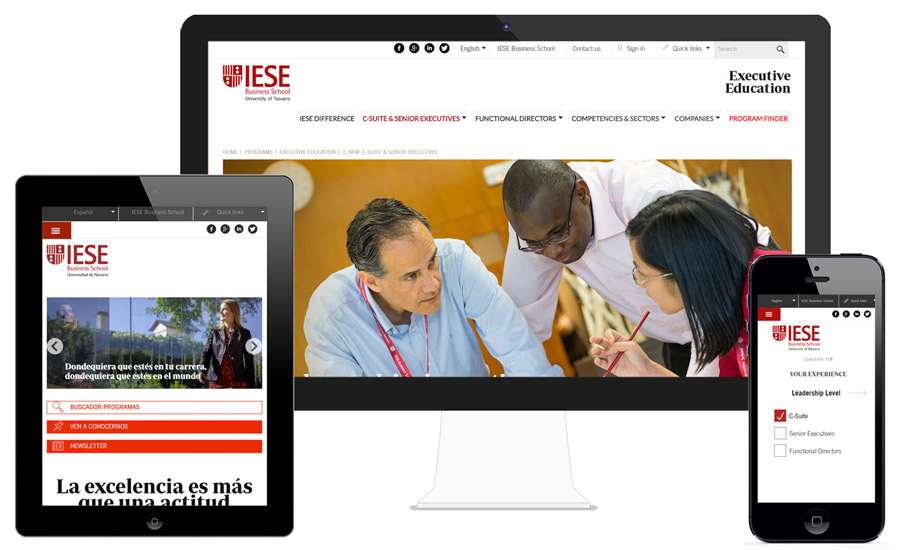 New Executive Education Website: Putting You in the Driving Seat
Brand new program finder matches executive profiles with programs
Which IESE Executive Education program best fits my profile? What differentiates an AMP program from a PLD? Where is the Global CEO Program delivered?
These are just some of the many questions facing participants contemplating taking a program at IESE.
The new Executive Education website resolves doubts and answers questions, giving you the option of navigating by user profile. You can also use the innovative program finder to find and compare the 60+ programs in our top-ranked Executive Education portfolio.
A Section for Each Profile
To resolve complexity, the web has been organized into four key areas:
Users can access each program in one click from the new home page.
Tell Me Who You Are and I Will Tell You What You Need
The web includes a brand new program finder which will help users to find the program that best matches executive experience, geographic area, program type, area and sector.
Once you have selected your search parameters, the finder lets you compare up to three programs, and download the relevant brochures.
Focus on the Learning Experience
The new web also digs deep into the IESE learning experience and showcases personal experience via numerous testimonials from executives and professors.
We have also created a specific section on the key leadership competencies that are developed across each stage of your career, as well as the faculty and teaching methodologies that drive this.
Navigate our new site and and discover why Executive Education programs at IESE have been ranked #1 in the world by the Financial Times.
Go to the Executive Education web