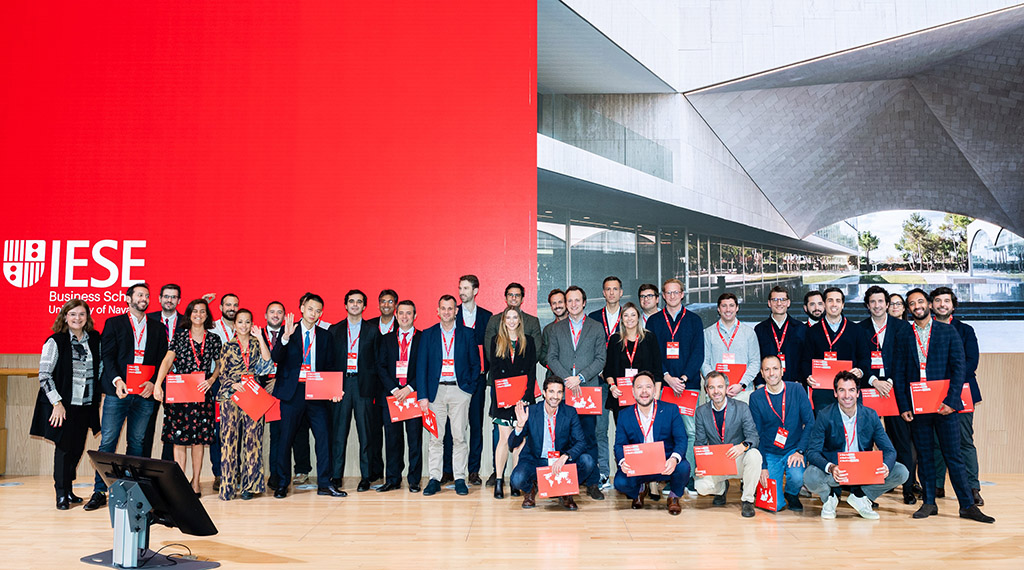 IESE's 40 best
entrepreneurs

under 40 for 2022
TravelPerk, Shayp, Bound4Blue and Peach Payments receive special prizes
IESE has celebrated its 40under40 awards, recognizing 40 leading alumni entrepreneurs under 40 years of age for the outstanding positive impact they are having through innovative entrepreneurial projects.
The 40 winners, who are all current students or alumni from IESE, have collectively created 4,000 new jobs, generated €519 million in revenue and raised nearly €1 billion in capital.
The awards ceremony in Madrid brought together key players in the entrepreneurship ecosystem to celebrate their achievements, and discuss the latest trends and best practices in innovation and entrepreneurship.
"The stories and collective numbers of these IESE 40under40 entrepreneurs reflect the deep, positive impact that we can have on society via entrepreneurship," said Prof. M. Julia Prats, Academic Director of IESE's Entrepreneurship and Innovation Center. The winners are alumni of a range of IESE's programs: the MBA, Executive MBA, Programa de Desarollo Directivo (PDD) and Programa de Dirección General (PDG).
A complete list of IESE 40under40 winners:
Vikram Ahuja (Talent500)
Daniel Alberola Elias (Mr.Boho)
Cristina Aleixendri Muñoz (bound4blue)
Ofir Avny (Avny Group)
Jaume Betrian (Ofertia)
Alberto Cabanes (Adopta un abuelo)
Josep Casas (EuroPistachios)
Antonio Catena Poderoso (Team Heretics)
Oriol Chimenos (Zank)
Guillem Chumilla Ferret (21 de marzo)
Alexia Cook (Quinoa Cafe)
Gregoire De Hemptinne (Shayp)
Álvaro De la Maza Alba (Pharmacius)
Igor De la Sota (Cardumen Capital)
Oriol De Pablo (Vicio)
Vikram Deswal (UnDosTres)
Greggory Elias (Skim AI Technologies)
Rosa Espin (Ambar Partners)
Diego García Morate (Unlimiteck)
Matias Gath (Pulppo)
Sam Glasswell (Arbolus)
Esteban Humet Bañón (Naturitas)
Rahul Jain (Peach Payments)
Martin Keller (Acodis)
Bruno Lea (Haas)
Jorge Lluch (Abacum)
Julio Martinez (Abacum)
Avi Meir (TravelPerk)
Stefan Moller (Klar)
Rafael Odreman (Nubloq)
Claudia Ribas (Qidz)
Julio Ribes (Swipcar)
Pablo Rivas (Global Alumni)
Luis Rodriguez-Ovejero (Alvatross)
Virginie Roge (Dietox)
Thomas Roggendorf (Ofertia)
Borja Sanfeliu (Loyal Guru)
Naveen Sharma (UnDosTres)
Oier Urrutia (Lookiero)
Stan Yu (Nocera)
Four special prizes for growth, social impact, female entrepreneur & innovation
Out of the 40 winners, four were also chosen by an international jury for the additional prizes given out during the event:
Avi Meir, an IESE MBA alum who founded the unicorn startup, booking platform TravelPerk, received the award for the entrepreneur with the best growth track;
Gregoire De Hemptinne, IESE MBA alum and founder of Shayp, which helps reduce buildings´ water consumption, won for the entrepreneur with the most social impact;
Cristina Aleixendri Muñoz, IESE Executive MBA and co-founder of Bound4Blue, which develops sail systems to reduce fuel consumption and emissions for more sustainable shipping, won for the outstanding female entrepreneur;
Rahul Jain, an IESE MBA alum and founder of Peach Payments, a payment processor focusing on Africa and other emerging markets, won for the most innovative entrepreneur.
The four winning companies are involved in very different sectors and businesses:
TravelPerk is a pioneering all-in-one global business travel management platform. Founded in 2015, TravelPerk offers business travellers the freedom they want whilst providing companies with the oversight and control they need. TravelPerk reached a valuation of €1.3 billion earlier in 2022, reaching unicorn status.
Shayp helps buildings reduce their water consumption by 22%. By leveraging real-time water consumption data, Shayp autonomously reveals unexpected water waste with unprecedented accuracy, allowing maintenance managers to track water consumption remotely and eradicate leaks. So far, 5 billion litres of water and 740 tons of CO2 have been saved thanks to Shayp's technology.
Bound4Blue develops rigid sail systems that use wind power for complementary propulsion on a wide range of vessels, delivering fuel consumption and pollutant emissions reductions of up to 40% and ensuring a payback period under five years.
Peach Payments is a payment gateway that makes online commerce and digital payments accessible to small and large merchants across the African continent. It works with businesses in Kenya, Mauritius and South Africa, providing a toolkit that enables them to accept, manage and make payments via mobile and the web.
Global Jury Chooses Winners
The jury for the awards was comprised of experts such as IESE alumni Enrique Linares (Letgo co-founder, IESE MBA) and Gerald Glauerdt (Lazada Group co-founder, IESE MBA) as well as Drew Propson (Head of Technology and Innovation, World Economic Forum).
The 40under40 2022 winners are dedicated to making their mark: creating new companies that generate new opportunities. To be eligible, these alumni startups must have at least €1 million per year in revenue, have raised at least €1 million in venture capital, or have sold their company for €10 million or more.
IESE's 40under40 awards form part of IESE's wider entrepreneurial ecosystem, which provides research, mentoring, networks, funding and programs for entrepreneurs, innovators and investors. Approximately 30% of IESE students start a business within five years of graduation and, in total, IESE alumni entrepreneurs have raised $3.6 billion in funds and created more than 70,000 jobs worldwide.