Open Innovation and Corporate Venturing Institute

Supporting corporations to innovate with startups
500
chief innovation officers in our network
5
continents where those innovation leaders are working
1
million views for our research in past 5 years
500
chief innovation officers in our network
5
continents where those innovation leaders are working
1
million views for our research in past 5 years
The Open Innovation and Corporate Venturing Institute, led by its academic director, professor Julia Prats, aims to generate positive global impact by promoting corporate innovation, with a particular focus on the creative intersection between established companies and startups.
The Institute provides insights and supports chief innovation officers and presidents of corporate venture capital around the world. It is a leading source of expertise and knowledge in the collaboration between established companies and innovative startups, following the paradigm of open innovation.
Every year, the Institute generates publications, brings innovation leaders together for the Open Innovation Conference, provides practical expertise through bootcamps and events, and gathers under one roof IESE's activities related to corporate venturing.
The Institute forms part of IESE's entrepreneurial ecosystem for the development of new ventures, innovation and growth.
---
---
Helping corporations to innovate with startups via corporate venturing
We hold regular conferences, bootcamps and other events, building a world-wide network to innovate and grow.
Thought leadership and research
The Open Innovation and Corporate Venturing Institute has produced a series of studies that together constitute a blueprint for global innovation. Filled with real-world cases, best practices and common obstacles, the studies reflect the experiences of companies and startups working together to innovate. And we have produced special studies on Latin America, Asia and Europe, which reflect the varying situation by region.
Let's speak
Our expertise in open innovation and corporate venturing is unmatched. If you'd like more information or would like to invite us to speak at an event, don't hesitate to contact us.
Get in touch!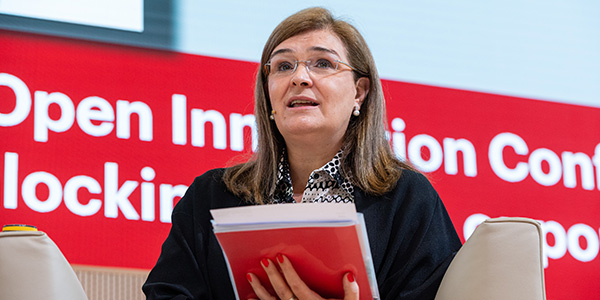 Voice of corporate innovation
The Institute's research has been published in the Harvard Business Review, MIT Technology Review and World Economic Forum. Its impact has received mentions in Bloomberg, Forbes, Financial Times' Sifted, South China Morning Post, and more. Its research has been presented in conferences such as Web Summit, Mobile World Congress and Next Rise.
Discover some of our articles: